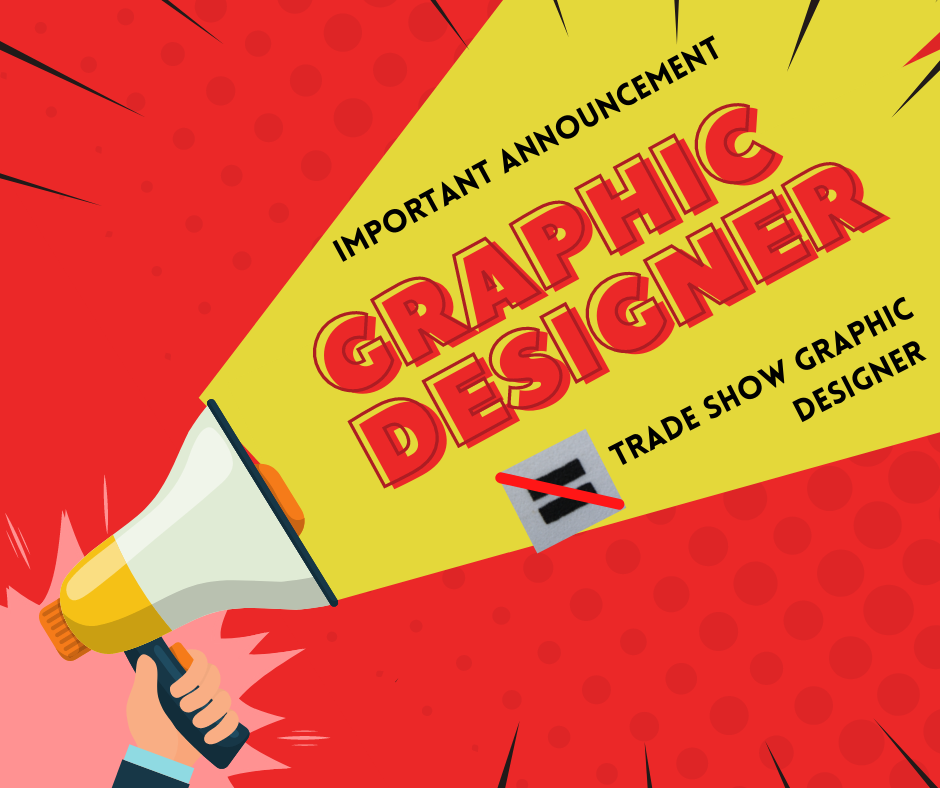 Congratulations! You are exhibiting at a trade show or exhibition. The next step is choosing a design. Actually, multiple designs. Whether you're creating custom trade show exhibits or renting, the structure is just part of it. The bigger thing? Graphic design!
Graphic design on trade show displays can be overwhelming to many graphic designers. Most designers are proficient at print or online projects, but when they shift into large format projects it can be unfamiliar, both in the scale and content. Trade show graphics are like billboards. They must attract attention quickly to be successful. But unlike billboards, they're competing with hundreds of other designs in varying heights in a chaotic environment with loud noises, unpredictable movement, and bright colors.
Graphic Design Trade Shows
Honestly, Graphic Design is TOO broad of a category. Let's run a little scenario. You have a "marketing firm" that helps clients with websites, print campaigns, email marketing, social media, maybe even logo design, and other fun things… Then you decide it is time to design graphics for your trade show exhibit. Who do you turn to? Your marketing agency?
Here's a secret. DESIGNING FOR TRADE SHOW DISPLAYS IS COMPLETELY DIFFERENT THAN ANYTHING ELSE! Hiring a graphic designer with trade show design experience is one of the most important decisions. Why? They've already made the mistakes that a novice at trade show design would make.
A little warning… If your exhibit house or display supplier can't assist you with either in-house graphic design or refer you to a professional 3D graphic designer then you might want to consider working with someone else. It's that important. A professional graphic designer will know how to source quality files, format them, design your graphics, and hit your deadline. If you don't know what resolution, PMS color, vector art and bleed are, trust me, you don't want to be responsible for file preparation. The graphics are as important as your physical display, if not more important, and they can make or break your trade show's success.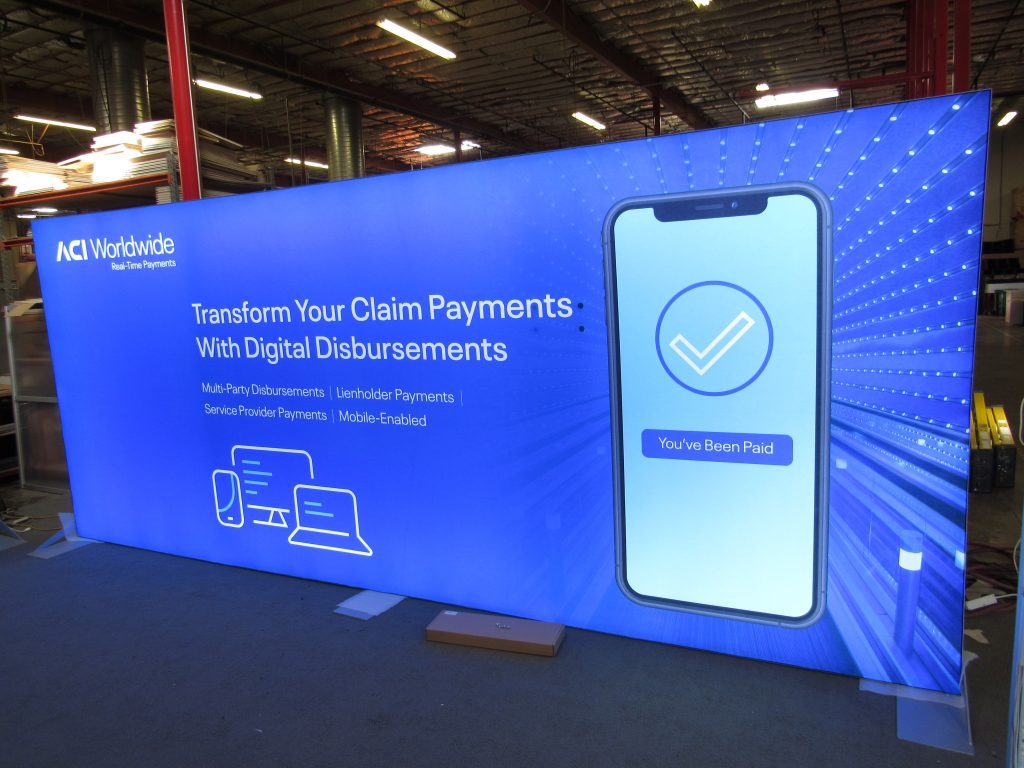 Trade Shows Graphic Design Tips
There's an often cited rule regarding trade show design and graphics. You have 2.5 seconds to catch someone's eye at a trade show or event. Here are some high-level things to consider.
People are NOT going to read every bullet or every line of your copy. Your trade show exhibit is not a white paper or an instruction manual. It's a 3D billboard meant to quickly communicate a problem and a solution.
Did you put graphics behind a counter, a table, or a monitor? It's a common but avoidable mistake.
Aligning images across structural seams is VERY difficult for fabric graphics. Consider how you can create visual continuity without a line or image spanning separate panels.
Is your tagline, URL, or contact information at the bottom of your display? No one will see it…
Graphics with lots of images, color, and text can be tricky. Sometimes they're amazing but more often they're cluttered and busy.
Know your DPI. What works for a website or print media may not scale up for large print graphics. If you've ever seen a fuzzy or blurry graphic on a booth, that's why.
Don't forget the floor. Done well it can extend the graphic canvas available in a display. Often doubling it.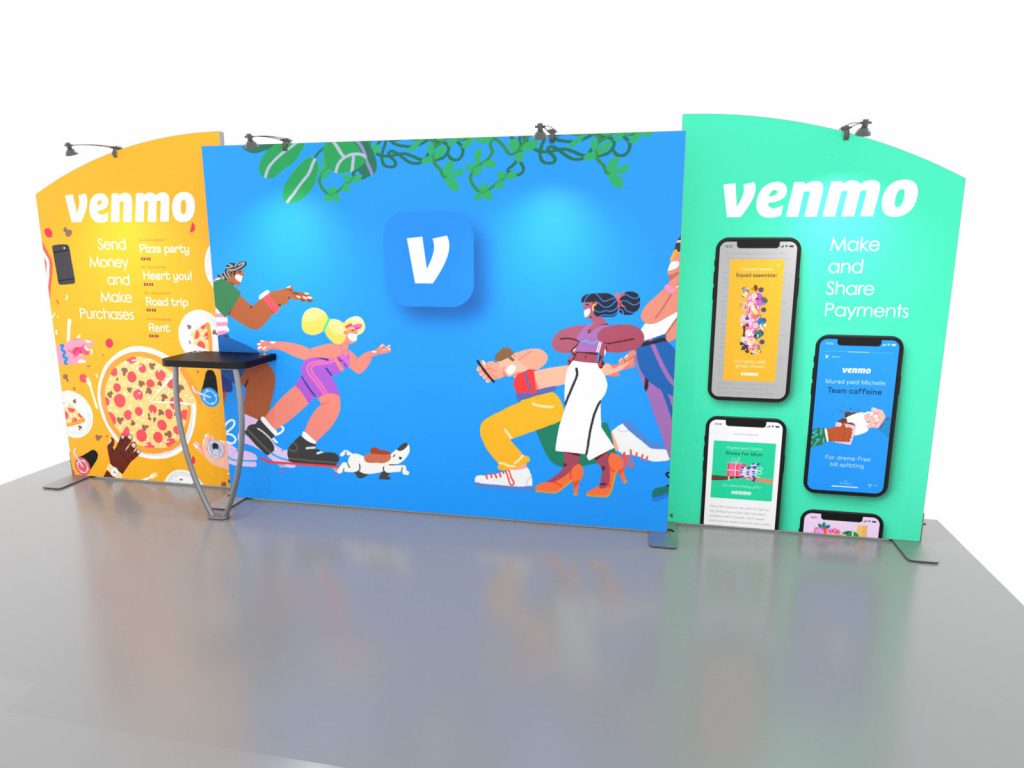 Tips for Hiring a Graphic Designer or Design Firm
If you are hiring a designer or design firm to create your trade show graphics, consider the following suggestions:
Ask for references from your agency of choice for large format, trade show exhibit design clients.
Check their website. A bullet item that says they do trade show booths or graphics, doesn't mean they excel at trade show graphics. Ask them for examples of previous trade show work.
Is most of their work is digital marketing, web design, and social media marketing? Find another designer. Your bank account will thank you. Your patience will thank you.
Create a library of your marketing assets, logo source files, high-resolution images, etc.
If you don't speak graphic design, then find someone who does. It's a highly technical field and knowing the lingo will make everyone's life easier, more efficient, and save you money.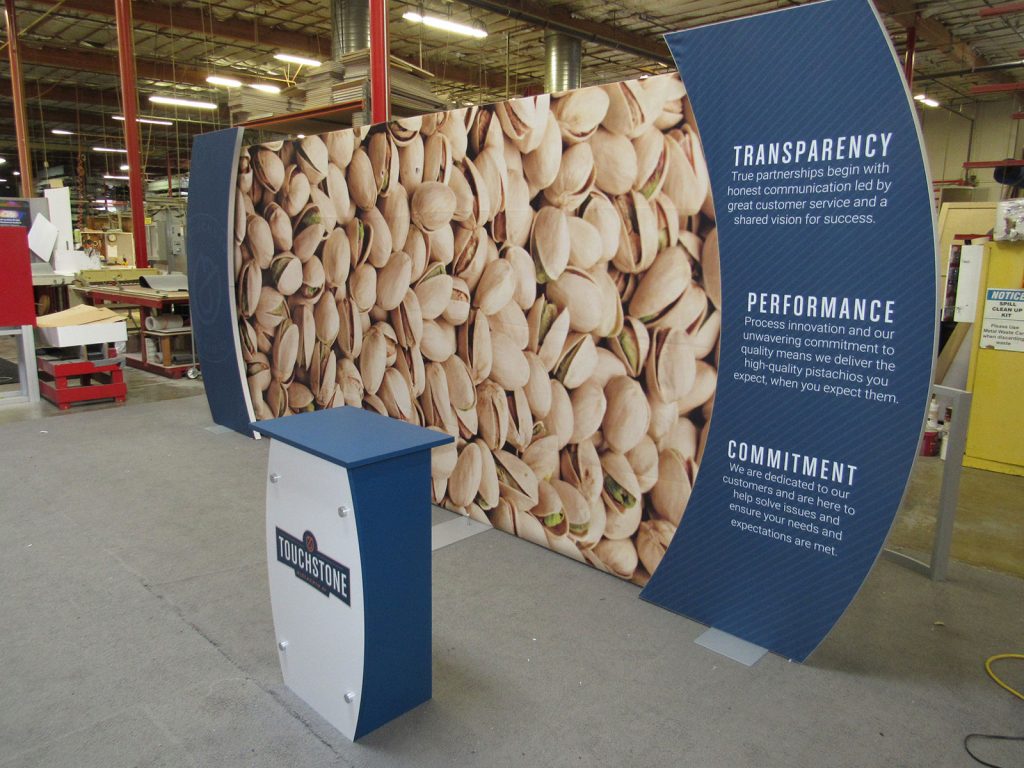 Professional Tips for Exhibit Graphics
Here are some simple, tried and true suggestions for trade show graphic design:
Viewed from a Distance. Trade show graphics are meant to be viewed from a distance. Think about what elements you want to be seen either 6 ft. away or across the show floor. Avoid putting important elements at floor level. Higher elements will draw your customer's attention. Those should be the ones you emphasize. Don't use strange fonts or fancy fonts.
Up and Away. Put important messages or images, like your logo, up high for visibility. There's a reason companies put their logo on hanging signs.
White Space Rules. Use white or empty space. Don't be afraid of white space, especially with backlit graphics. Backlighting colors, like blue or yellow for example, will make your canvas pop.
Pantone Color Match. Use PMS colors to be sure to stay true to your brand. Reference specific Pantone swatches when color matching is critical. This goes back to working with a professional when possible. No one wants to have graphics shipped directly to the show only to find out that the nice mustard yellow they were expecting printed peach or pea green.
Don't Font It Up. One or two fonts is enough. Any more and you've got an identity crisis on your hands. Legibility is key with any graphic design but especially graphics that are being viewed from a distance. Look for a clean, easy-to-read type, and then if you want a little flare, add an accent font that is more unique, but don't overuse it. And please, don't use a cursive or handwriting font in all caps. Just don't. As a side note, avoid any fonts with names like Giddy-up…
Have a Plan. If this is for a large exhibit, make sure your graphics have a plan and/or coherency, don't just place random product images on a wall because the wall is there. Be purposeful with your graphics. You have the opportunity to create graphics of a larger-than-life magnitude. Seize the day!
Graphic Design for Trade Shows with Classic Exhibits
If you need help with trade show graphic design, start with your trade show exhibit company. A good partner will either have internal resources or partners with extensive experience in large format, trade show exhibit design.
Classic Exhibits has been in the industry since 1993 and we have been honored as an Exhibitor Magazine Find-It Top 40 Exhibit Producer and an Event Marketer Fab 50 Exhibit Builder multiple times. Reach out to our team to get started on your next exhibit or graphic design project!