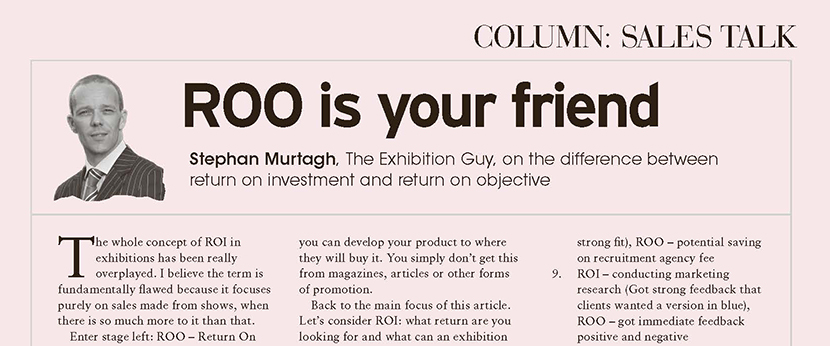 There's a good chance you've seen Stephan Murtagh's posts in LinkedIn, under the nom de plume of The Exhibition Guy. His posts are always educational, informative, and creative, but it's his warmth and enthusiasm that captures your attention. He's a genuine person trying to present real problems and practical solutions. All of which I appreciate.
A while back, he published a post entitled "ROI is a Good Acquaintance but ROO is Your Friend" in LinkedIn. I didn't discover it there but in a UK exhibition magazine called Exhibition News. No one displutes that ROI, particularly as it relates to trade shows, can be challenging to measure. Nor should you forsake that challenge, particularly if the CFO is breathing down your neck. However, Stephan argues that ROO (Return on Objectives) may be equally, if not more important.
To Quote Stephan,
"The real point here is that the ROI of any exhibition can be judged on many other things rather than cold hard sales. There are many facets and advantages to exhibiting over traditional promotions and ROI is not solely about money but also the return you get from having more time. More time to develop other facets and parts of your business."
To anyone interested in trade show marketing, it's a thoughtful read. It may not make the trade show budget meeting any less painful, but measuring your success may have gotten a little easier.
Since the image below may be challenging to read, I've provide alternate links to the article.
Exhibition News (see pg. 39):
https://view.joomag.com/exhibition-news-december-2017/0417291001511775557?short
Linked Article:
https://www.linkedin.com/pulse/roi-good-acquaintance-roo-your-friend-stephan-murtagh/
PDF (extracted from the magazine):
https://classicexhibits.com/tradeshow-blog/wp-content/uploads/2019/07/Return_on_Objectives-1.pdf