Stranger in a Strange Land
Three months ago, we embarked on a new relationship with an IT vendor, and it has been nothing short of stellar. The vendor, Convergence Networks, has quickly vaulted into one of our best relationships. because they are responsive, knowledgeable, and totally customer focused.
Last month, Convergence came to Classic Exhibits asking for our assistance. They had agreed to be the main sponsor of a business-to-business event organized by the Portland Business Journal. This would be their very first trade show of any kind, which made their sponsorship commitment even scarier. Needless to say, we were delighted to guide them through the maze that is trade shows.
It proved to be an interesting experience for both Mel and me. Like many veterans of this business, we tend to forget what it must be like going to your first event. What we have all come to assume as second nature is actually totally foreign to those new to the game. Just having to traverse through all the rules, regulations and complexities that come with attending a show meant learning a new language and a new business model for them, one that doesn't always seem transparent and logical.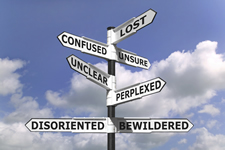 For example, navigating your way through the exhibitor manual can be daunting. Recall the first time you read through that manual and attempted to complete those forms. It's a nightmare. At one point, I asked Convergence if they knew how much electricity would be provided for their booth, which was the largest space in the show. Had we not asked, they would have had just enough juice to power a Crest Spinbrush or a cell phone charger.
Even for us, there were surprises like the move-in and move-out schedule. Except for Convergence, everyone had a 10 x 10′ (but more on that in a moment). We built them a 10 x 20 Visionary Designs Hybrid Exhibit with two computer counters along the front aisle. All packed into a small crate. You can imagine our surprise when we noticed that the move-in was limited to 5-7 p.m. and that there were no drayage services! This important fact was not shared with them when they paid for their sponsorship. Maybe show management thought that they could conjure up a display using a magical incantation and then levitate it into their show space. 🙂
Anyway, I am not beating anyone up here. In reality thanks to DWA Tradeshow Service (the general contractor) everything came together very nicely. And Convergence was the class act of the show by having a custom hybrid exhibit with tension fabric graphics, counters, lighting, and carpet. Everyone else had banner stands, posters hanging from the pipe and drape, or a pop up. They were the McMansion on a street of manufactured houses. Convergence really stood out as the title sponsor, which brought them lots of leads. The owner told me that he expects to recoup his investment many times over and put much of the credit on their "presence" at the show.
Please share your example(s) of helping a First Timer with their first trade show experience. What did they learn (or not learn) and how did those experiences influence how you assist other First Timers. I know you "old timers" have many humorous, painful, and interesting stories to pass along to the Classic Distributor Network.
Have a safe and restful weekend.
–Kevin Carty
http://twitter.com/kevin_carty
http://www.linkedin.com/pub/kevin-carty/3/800/32a