If you only have a hammer, you tend to see every problem as a nail.
— Abraham Maslow
Pointing your finger is almost a rite of passage in sales. It's always the "other guy" who has a limited set of tools or your competitor who doesn't listen to the client. Unlike the "other guy," you would never guide your client toward a product or solution that "just so happens" to fit your product assortment.
Or would you? We are all a little guilty of steering customers toward products where we feel more comfortable or where the margins are better. In the exhibit industry, there's some history to this. Twenty years ago, not only was there a significant split between those who sold portables and those who sold custom, but there were even finer divisions among the portable and custom folks. Some sold primarily panel systems. Others pop ups. Some custom houses would only work with Fortune 500 companies. Others concentrated on environments and museums. And then there was the perceived pecking order with its own set of problems . . . One of which was the creating of a perceived "class" division within the industry.
Just a few years ago, there was a very divisive line between those distributors who sold online and those who sold face-to-face. You couldn't go to an industry meeting without hearing accusations about the bathrobe wearing Internet jockeys destroying our industry. Who can blame them. They were scared. I understand that, but in hindsight, there were far too many Luddites who needed to walk away from their looms and embrace technology.
The Shifting Playing Field
Economic hard times have a way of shifting the playing field and opinions. During the Great Recession, Classic Exhibits saw a surge of custom houses knocking on our doors for affordable inline and island solutions. We were delighted. We had been knocking on those doors for many years, and although we enjoyed modest success, our success skyrocketed post-2008 (there's something to be said for being the pursued rather than the pursuer). Post-recession, the smarter custom houses have recognized the value of having a full toolbox when working with their clients. And, to be fair, that's most of them. It's clear we are sitting at the same table these days when it comes to meeting the needs of the corporate exhibitor.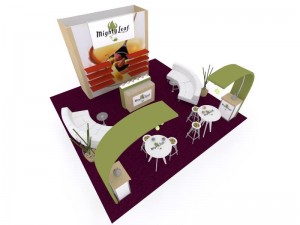 Along the same lines, the portable/modular distributors went two directions. Who can blame them for heading downstream and promoting $99 banner stands and $799 pop ups? Customer's were demanding inexpensive displays, even if they knew those displays were not ideal or would not last. But, what was surprising and perhaps shouldn't have been, was that the portable/modular distributors also headed upstream. Many distributors recognized that custom exhibitors were being ignored by their custom house when it came to budget-friendly displays. Many exhibitors were unable to purchase another $150,000 exhibit, but they could convince their CMO to spend $65,000. Those same portable/modular distributors have since added design, storage, and exhibit management services to their arsenal.
So what does that mean? There's some blurring right now between what it means to be portable/modular and custom. That's not to say that anyone is confusing a $300 million dollar custom house with a $6 million dollar distributor. No one is that naive. But, what is true, now more than ever, is that the $300 million dollar custom house can't neglect their clients who want to add inline hybrid displays to their exhibit inventory. And, it's no longer unusual to see a traditional portable/modular distributor win large island orders ranging from $50,000 to $225,000.
Design and Capabilities Always Win
In the end, design and capabilities win business. Whether that design or those storage services are handled in-house or through leveraged partnership relationships. Custom Houses with in-house design are winning more "budget" conscience opportunities by having their manufacturing partners build smaller footprint exhibits. And portable/modular distributors, leveraging design and services provided by system partners, are winning larger budget island opportunities.
Yes, some lines are blurred. But not the idea that great design, account management, and customer service wins business. I personally like the growth and diversity the Great Recession created in our industry.
Do you agree? How did the Great Recession change your business?
Be well.
–Kevin
http://twitter.com/kevin_carty
http://www.linkedin.com/pub/kevin-carty/3/800/32a