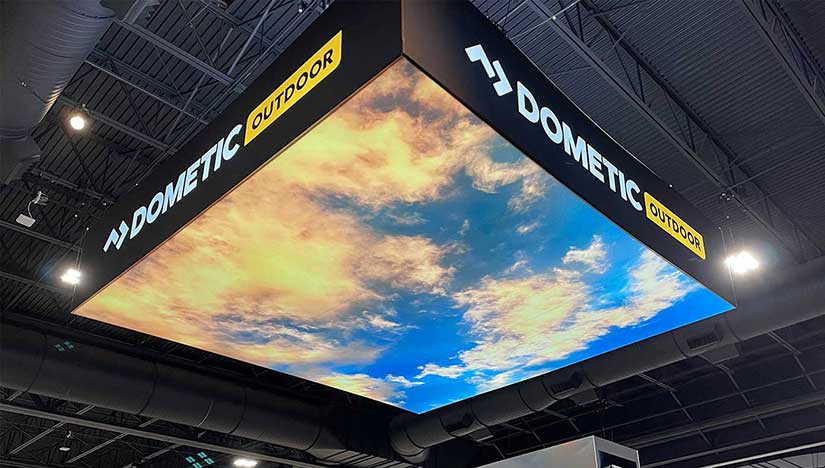 Starting August 2, I hit the road for two very different exhibit industry events Together Again Expo and Summer Outdoor Sports Retail Expo and Conference. Those events demonstrated that we're an industry in active, long-term recovery.
Together Again Expo and Job Fair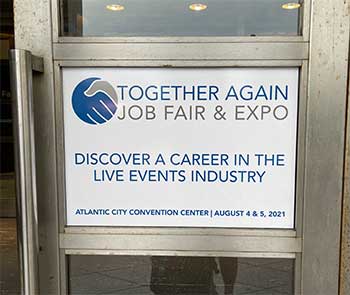 Last Monday, I took a red-eye flight to Philadelphia and then a short drive to Atlantic City for the Together Again Expo and Job Fair. This is an event organized and managed by the National Trade Show Alliance. The NTSA is not another association; rather, it's a group of Live Event Professionals dedicated to getting our our industry back to work. NTSA showcases the excellent programs available from industry associations like EDPA, IAEE, SISO, EACA, MPI, IAVM, and many more.
The Together Again Expo took a regional approach with the help of Mark Yuska and Alliance Exposition. They work to attract workers (new and old) to our great industry and promote employment opportunities.
The event was held in Atlantic City for many reasons. The NE and Mid-Atlantic markets are strong tradeshow markets, and Atlantic City is a great venue for shows of all sizes. With the amazing help of Meet AC, we were able to pull off the first "post-pandemic" event in the Atlantic City Convention Center.
The event was a one-day Job Fair and Expo with featured speakers and panels from EDPA, IAEE, MPI, and the Exhibitions and Conference Alliance (ECA). While the event was small, it had solid content including wonderful keynote speakers.
Odie Parkins from the Eastern Atlantic States Brotherhood of Carpenters on the meaning of "service" and representing an entire city,
Paisley Demby from Goldman Sachs on their 10,000 Small Businesses program, which is transforming business leaders and their companies,
And an Industry Updates Panel Discussion with Dasher Lowe (EDPA), Tommy Goodwin (ECA), Don Svehla (Exhibit City News), and me
In the panel discussion, we learned about the extensive and aggressive advocacy work being done by EDPA and ECA over the past 18 months and the continued efforts on Capitol Hill happening every day.
Our road to recovery is going to be long. But there's an overwhelming feeling of togetherness. In the great words of my (our) friend Chris Griffin from CrewXP, "This is what recovery looks like. It's going to be up and down and lumpy."
Summer Outdoor Retailer
On August 9, I traveled to Denver for the Summer Outdoor Retailer event at the Denver Convention Center. Walking onto the show floor on Day 1 was a rush, seeing the crowds filing into the convention center. Major kudos to Emerald Exposition, the show organizer, for their dedication to safety. I received my badge electronically a few days before the event. When I arrived at the registration desk, I scanned my phone over a QR Reader which in turn printed a paper badge with lanyard. After getting my badge, I received a complimentary spray bottle of hand sanitizer.
Riding the escalator up to the show hall, I could feel the excitement and hear it in the conversations around me. At the entrance, there was a sign about masks, which, following CDC Guidance, stated you had the option to wear your mask or not (if you are vaccinated), but recommended everyone wear masks. Next I noticed the wider concrete aisles. Concrete aisles have become the default standard for many shows. I wasn't sure if I was going to like that change, but I prefer it to be honest.
The floor was smaller than in the past, approximately 30% smaller in the main hall. There were more 20 ft. inline exhibits than they normally have. Food services were in the back, and the tables were large and with comfortable distances between them.
Exhibitor Feedback
I spoke to every exhibitor that would talk to me… which was most. The tone was upbeat. Over and over I heard, "Yes there are fewer people here, BUT the attendees that are here are the buyers which is great!" One of the staffers from Lowa Boots was very generous with her time. What stuck with me was her comments regarding having the right people in attendance which meant they could have longer, more productive conversations.
In-booth experiences were managed well. One of the exhibitors was a whiskey company. Their in-booth game had attendees cast a fishing rod for prizes. After each person used the rod, the rod and their hands were sprayed for safety.
As a show for outdoor sporting, there were a lot of wood products and faux greenery in the larger exhibits creating a natural environment. Many of the smaller non-portable exhibits were built by the exhibitors themselves, with the same rustic outdoor feel.
Again, tremendous kudos to Emerald Exposition for showing the world that a live event CAN happen and be SAFE for their exhibitors and attendees.
Recovery is Just Beginning
This recovery process is just beginning. My compliments to those industries pressing forward safely and not abandoning ship on their events. Not trying to shame anyone because it's a tough call, but clearly face-to-face marketing creates a level of commerce that cannot be found anywhere else. And part of our overall recovery as a country requires that we get back to business sooner rather than later. I applaud those taking the proper precautions to hold and participate in trade shows and events.
Onward and upward folks! Be patient because it will be a bumpy but worthwhile ride.
Be Well!
Kevin Carty
kevin@classicexhibits.com