You Love Your Children Equally.
But you have a favorite, even if just a little. Yesterday, we talked about the Top 5. Today, we discuss five online children who deserve more love and attention.
Tip #16 — Graphic Inspiration Galleries
Glenna Martin, our Graphic Design Manager, is the genius behind the Graphic Inspiration Galleries. She knows, as do you, that most graphic designers rarely tackle 3D graphic design. They understand print and web, but designing for a display is a foreign language. Glenna lends a hand.
She created four galleries from Past Five Day photos. In each gallery, she describes why a graphic is successful. There are over one hundred examples. All positive. It's a wonderful instructional playground for any graphic designer.
Tip #17 — Distributor Login
In the old days, every exhibit manufacturer had a top-secret distributor section. It was the vault of prices, literature, policies, etc. Those days are largely gone. However, we still have a condensed version where you can find literature, forms, and other helpful tools. It also contains a link to the Rental Gallery wholesale prices. So, how secret is it? Here's the username (classicexhibits) and password (easypeasy). But don't share!
Tip #18 — Printable Literature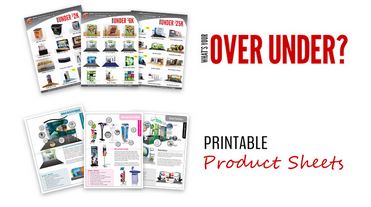 At the top of the Classic home page, there is a rotating banner. If you click on it at just the right time, you will be taken to a magical page where you can download printable literature. This includes 22 product and "Under" brochures. I'm not opposed to using guilt as a motivator. So… You'll hurt my feelings if you don't click on this link.
Tip #19 — Hear Audio
The "Hear Audio" buttons are my baby. Most kits have a Hear Audio button where you can listen to a 30-60 second description of the product. All are done by professional voice talent. Ditto on the "hurt feelings" if you don't click on them.
Tip #20 — Trade Show Tips
Trade Show Tips is a happening place, much like a middle child who wants attention. End-users find it via Google or Bing. I often hear from newbies in the industry who tap into it as their "Introduction to Trade Shows and Trade Show Marketing." And like the Trade Show Tales blog, new articles are added to keep it fresh. We encourage you to suggest article ideas.
Wondering about the latest trends in Trade Show Land? Check out #21 thru #25 tomorrow.
–Mel White
mel@classicexhibits.com
http://www.linkedin.com/in/melmwhite
https://twitter.com/melmwhite