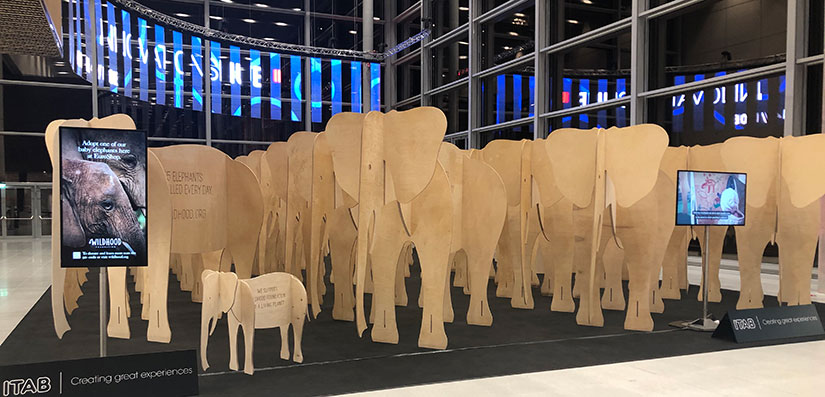 Held every three years, EuroShop is like a candy store for designers. While many of the trends on display at EuroShop 2020 were not new, they were reinvented in fresh ways. Also worth revisiting are the ways in which technology has become more sophisticated, incorporating movement and advanced LED lighting techniques into almost every exhibit.
Our Instagram contains many more examples and video's of these trends: @classic_exhibits
Movement
Short-throw projectors, touchscreens, 3-d Holograms
Video walls both flat and curved and on every surface from ceiling/floor/wall/ hanging structures
Programmable LED lights both as simple accents and behind lightbox graphics or on a raised floor
Motion detecting interactive cameras tied to projectors/touchscreens/video walls
Physical objects controlled by magnets or gravity, robotics
Smart glass that has an image or mirror finish and can fade to transparent
Polarized glass that we had to look through to interact with content
VR interactive, AR interactive, mechanical movement like gears rotating.
Programmed LED panels were mesmerizing, continuously changing patterns with quite long programs. It was hard to stay long enough in one space to see the entire program of movement.
Materials
Mirror-finish as an accent or to cover a wall and make the space feel twice as big
Felt as an interesting shape texture and acoustic material
Velvet, crocodile, unfinished wood, and pressboard with wash of color that still reveals the texture
Marble, sheer fabric, high gloss paint, clear acrylic, draped fabric
Chains, corrugated plastic and cardboard — cardboard was even used as a structural material in numerous places
Metal mesh, brick and wood were very prevalent textures sometimes printed on a flat surface and sometimes fully 3D
Colored string stretched between surfaces to create a pattern and hanging fringe
Almost all metal structures were covered in some way
Structural
Peaked roof frame – sometimes a simple 2D frame, sometimes built out as a 3D structure
Elongated roman arches – tall and elegant with a perfect half-round curve at the top
Semiprivate meeting spaces
See-through barriers around the edge of an exhibit space
Cubes/boxes/squares, circles/spheres
Slats most often unfinished wood, vertical, straight, of the same width and at even intervals, but we saw them tweaked in numerous ways to make many unique and custom applications
Colors/Color Combos and Patterns
Black and White
Either Black or White or both with a Bold Accent Color
Either Black or White or both with a Natural Wood Accent
An all-white booth might consist of glossy white finish, flat white finish, white washed wood, white LED light accents. Solid shapes and relief patterns out of white materials. White fringe shielding the conference area. Clear acrylic furniture – lots of textures, but all in the same color story
Tropical print – palm leaves and flowers
80's inspired neon or brightly colored pop-art patterns
Lighting
Throwback Neon signs (accomplished through LED technology)
Edison bulbs of all shapes and sizes
Programmable LED Lights as edge light lightboxes
Programmable LED tile floors
Pendant lights
LED lights are used more strategically in the edge-light capacity and are often dimmed down so they really enhance the structure of the design rather than blind us with their power
Plants
Greenwalls with different heights and textures of foliage
Hanging plants
"Tufts" inset, spotted on every surface from ceiling to floor, even light fixtures
Organic Design Elements
Faces, hands, and animals were used as very effective shapes in the exhibit designs at EuroShop
Booths made completely of organic cut curved slats felt like intricate caves
Tags: Classic Exhibits, EuroShop 2020