One Quarter Down . . . 3 to Go!
It's hard to believe how quickly the first quarter flew by. But it did, and what an interesting first quarter it was. January was strong. February a little dicey. March was a monster! I am glad to report that Q1 2011 was one of the best in Classic's history. We owe it all to your hard work with your customers and to the positive attitude of the Classic team. Thanks so much!
It's always a little dangerous in our business to predict Q2 sales based on Q1, but, what the heck, let's put on our Jeanne Dixon psychic hat for a moment and peer into the crystal ball. The second quarter looks to be upbeat from what we are seeing and are hearing. This past week I spoke to quite a few distributors who told me that expect more of the same in the second quarter. They are seeing more activity from both existing and new customers, who are adding to existing structures, changing graphics, and in quite a few cases, purchasing new displays.
It would be easy to see Q1 as an anomaly, but the first quarter was a blend of sales with a healthy mix of larger exhibits, custom inlines, counters and workstations, and standard kits. In 2010, you may recall that we had a lot of kit sales without much customization, especially 10 x 10's and 10 x 20's. But so far in 2011, while kit sales have continued to set the pace, we are building more "souped" up kits and a lot more high-budget islands.
Product Mix
We continue to sell quite a few hybrids like Visionary Designs, Sacagawea, Magellan, P10, and SEGUE, but we are also selling Intro Folding Fabric Systems, Quadro Pop Up Displays (both S and EO), and Aero Table Tops. And I can't even keep track of the Aero Overhead Hanging Sign sales. It seems like every time I walk onto the setup floor there is another Aero Overhead Sign being assembled. Some are part of larger exhibits, but also a lot are add-ons to a client's existing exhibit.
Looking forward, it appears the mix of sales is continuing. Most of what we have quoted or have headed for Production in April and May is either customized kits or larger island exhibits.
So what does all this mean? I was watching a video from EXHIBITOR interviewing attendee's who were asked about the climate of business. Most of the responses were "We're back!" or "We're on the way back." And I have to agree that it certainly feels that way, despite all the news you hear regarding the state of our economy.
What Have We Learned?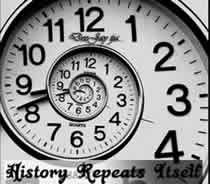 However . . . I want to ask you a question before we get too comfortable with the "recovery." What did we/you learn about our industry, about business, and about our customers over the past two plus years?" Did we learn anything that will make the industry stronger, our businesses healthier, and our sales increase?
I suspect the answer is not as transparent we would all like to believe. Not to rely on a cliche, but as we all know, history tends to repeat itself when we don't analyze and understand the past. We are already getting hints of this it relates to inflated trade show charges, arbitrary rush fees, and inflexible customer service within our industry.
Let me know your thoughts, and next week I'll share mine as well as your comments, observations, and rants. Give me a call, send me an email, or simply reply in the comments section of the blog.
Thanks again for making the last quarter so great. Have a great week ahead.
–Kevin Carty
http://twitter.com/kevin_carty
http://www.linkedin.com/pub/kevin-carty/3/800/32a