My nose is bleeding, my eyes are burning, and I am exhausted! Yep, you guessed it, I was in Vegas for the past week. 🙂
Like many of you, the Classic Team descended on Vegas starting last Friday for both EXHIBITOR Show and GlobalShop. Since we exhibited at both shows, let me break this into two blog posts starting with EXHIBITOR.
EXHIBITOR 2014 was nothing short of spectacular for Classic Exhibits, Classic Rental Solutions, ClassicMODUL, and Eco-Systems Sustainable. I know that sounds a little "sales-ish" to say spectacular, but it really was one of the best, if not THE BEST, EXHIBITOR in my nearly 20 years with Classic.
Our "Sweet Solutions" exhibit was well received and showed WHO we are and WHAT we do. The main structure was a Custom Rental Solutions, a design that was up for an award in the Design Awards this year.
New Products
We were also showing several new products.  The new OTM Furniture debuted at EXHIBITOR. We had the portable tables and chairs in our booth as well as three other exhibits. The response could only be compared to that of the iPad kiosks we debuted two years ago. The OTM Table and Chairs are going to be a big, big hit.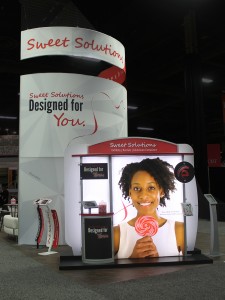 We also introduced the SEGUE VK-1118 SuperNova Backlit Inline. The VK-1118 takes its cue from our very successful Visionary Designs iPhone and iPad inlines, two designs iconic to Classic Exhibits. The difference is the backlighting. While there were many lightboxes at EXHIBITOR, the VK-1118 and the 20 ft. VK-2959 are the only inlines on the market with storage, headers, standoff graphics, large monitor mounts, and accessory options. This is a game changer my friends. Inlines will never be the same going forward.
Across the show floor, we had a great presence of Classic designs. We built exhibits for PRG, EliteXpo, DS&L, Cort, Slim Furniture, and EXHIBITOR Magazine. In addition, there was a Sacagawea, a Magellan Miracle, and an eight year old Visionary Designs VK-1001 hybrid that looked brand new. We appreciate being a part of our key vendor partners look and presentation at EXHIBITOR. Thank you for trusting us with your brands once again.
The mood in the building was inspiring. There was a lot creativity, and a lot of new innovative products and services. As a whole, the industry should be very proud. Well done all. I felt a great sense of pride as I walked the show floor this year. In particular, there was more originality booth to booth and competitor to competitor. Which is not always the case.
There were a few lows, such as companies that would rather COPY than innovate through design. But I won't dwell too much on that since a few four letter words come to mind that describe these iPad solutions copycats.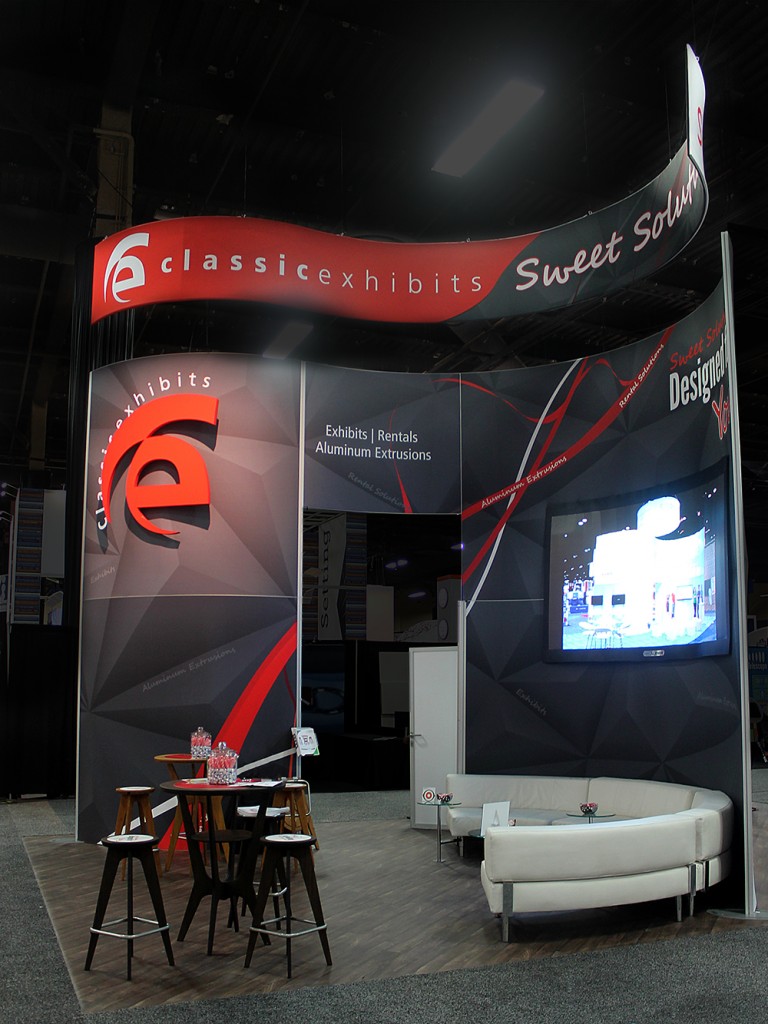 EDPA Portable/Modular/Hybrid Summit
On a personal note, I would like to thank everyone who attended the Annual EDPA Portable/Modular/Hybrid Summit on Tuesday afternoon. I really appreciate the insights by the audience. And a special thanks to the panelists — Greg Beach, Cindi Cody, Maureen Borzachello, Anita Mitzel, and Jocelyn Welles. Your perspectives we invaluable.
I do have a challenge to my fellow competitors in the Portable/Modular/Hybrid segment. So many of you weren't there. Why? Your perspective and input matters to the growth of our segment, whether you are an F, N, S, O, L, or one of other letters of the alphabet. You had distributors at the meeting . . . but not many of you came. So, hopefully, when we hold our next meeting at EDPA ACCESS, you (and you know who you are) will participate. Special thanks to ExpoDisplays, Octanorm, Highmark, and Classic Exhibits for supporting and participating in the session. Yes, we are competitors, but we are also a community. Don't let others chart your future and the tone of our segment.
Exhibit Design Awards
The Inaugural Exhibit Design Awards ceremony was held on Tuesday night, an event near and dear to my heart. I could do a blog on just that. What a great event! Special thanks to the entire team from EXHIBITOR Media Group. Especially Randy Acker and John Pavek. I personally appreciate that you took one company's suggestion, truly listened to it, and then ran with it. I know this event will only grow to be bigger and better over the coming years. But for a first time event, you need to take a bow for a job very well done. Our industry is led by design on all levels, and to spend an evening celebrating the designs that are shaping the industry was a pure joy for me and the team from Classic. Finally, my congratulations to all the winners in all the categories. You have a reason to celebrate.
GlobalShop 2014
GlobalShop 2014 was happening right above EXHIBITOR this year. It ran from Tuesday thru Thursday. GlobalShop is a very different show for Classic. Those who came by to visit our booth can attest. We are a bit of an outlier in that world, but it is a market that continues to grow  for Classic. And we are seeing more and more distributors join us in that world.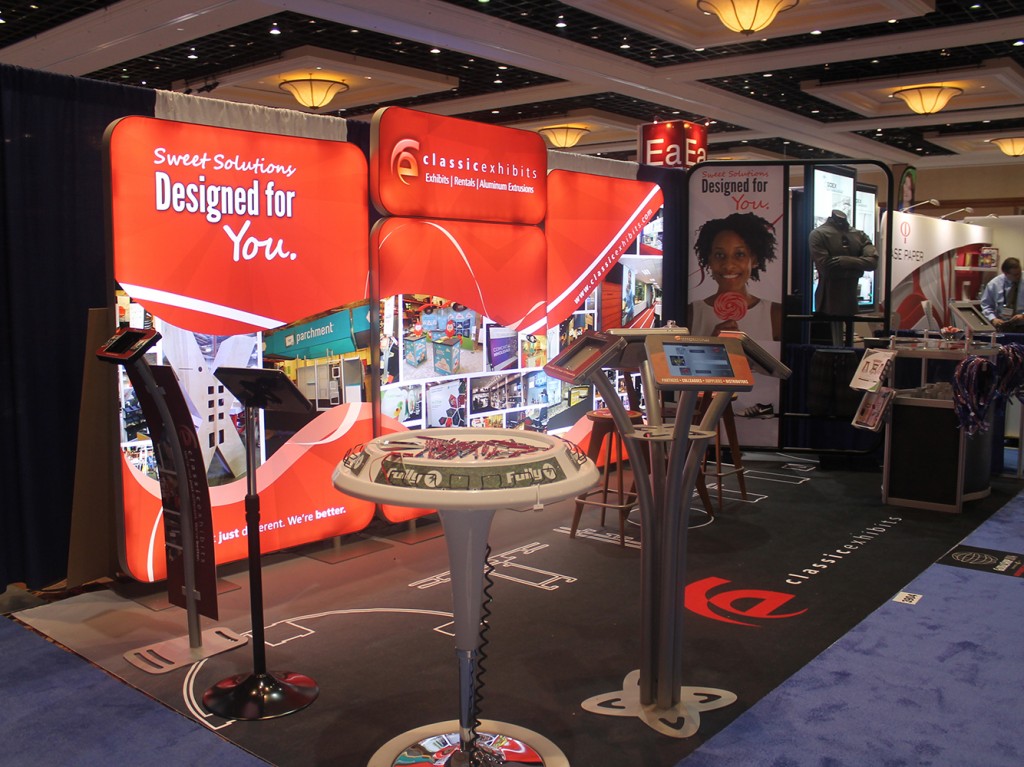 The show was great, and since we do not sell direct, we focused on gathering leads for our distributors and finding new Retail Design partners. iPad Solutions, Charging Kiosks, SuperNova Lightboxes, and the new OTM Counter and Chairs were the stars.
That's all I will say at this point on GlobalShop. Look for a separate blog. I think there are more and more opportunities for us all in that market.
Thanks
Overall, I want to say thanks to our entire team at Classic Exhibits. This past week provided huge challenges. Two shows to assemble/dismantle. Two booths to staff. Two clienteles to entertain (the easy part 🙂 ) .But as you can imagine, two of everything makes it more difficult at the shop/office. So to those who stayed back and manned the ships — THANK YOU!! We appreciate you covering for us all.
And to the staff that came to Vegas. Thanks again for making me so very proud to be a part of this great organization. We have a terrific family at Classic, and I hear from so many during the events that our "family" atmosphere really shines through at EXHIBITOR.
To all my industry friends and partners, all I can say is I wish we could spend more time together. A busy show means you get less and less time to spend with your partners at the show. But we all agree that's a good sign for the industry. So let me say this — Our partners are a big part of the success we experience at Classic. Without you and your partnership, we would not be doing as well as we are. So thanks to you all.
Get some rest now that you're home and more importantly get some quality time your families this weekend. They and you deserve it.
Be well.
–Kevin
http://twitter.com/kevin_carty
http://www.linkedin.com/pub/kevin-carty/3/800/32a