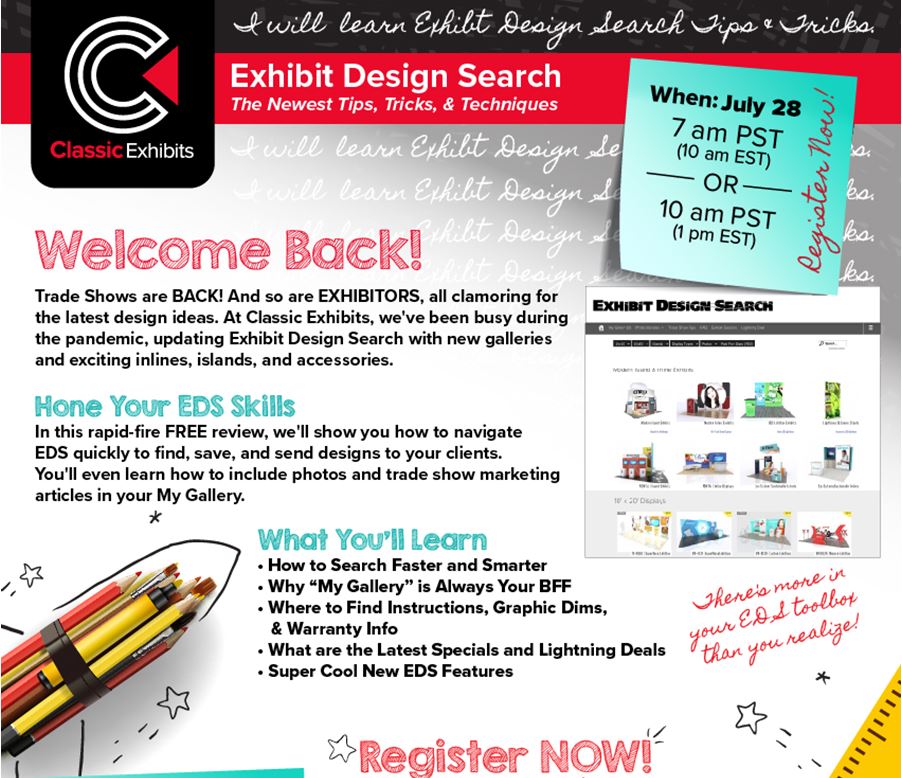 Trade Shows are BACK! And so are EXHIBITORS, all clamoring for the latest design ideas. At Classic Exhibits, we've been busy during the pandemic, updating Exhibit Design Search with new galleries and exciting inlines, islands, and accessories.
Hone Your EDS Skills
In this rapid-fire FREE review, we'll show you how to navigate EDS quickly to find, save, and send designs to your clients. You'll even learn how to include photos and trade show marketing articles in your My Gallery.
Come One. Come All!
Whether you're a newbie to EDS or hardened veteran, you'll discover new techniques to make your life easier. That's a guarantee! Open to all Classic Distributors and all roles — account executives, project managers, designers, sales professionals, and owners. There will even be a drawing for free prizes.
Register NOW!
Spend 45 minutes with us. We'll save you hours and hours of time this fall as you juggle requests and close deals 4X faster than your competition.
Tags: Classic Exhibits, Exhibit Design, Exhibit Search Search