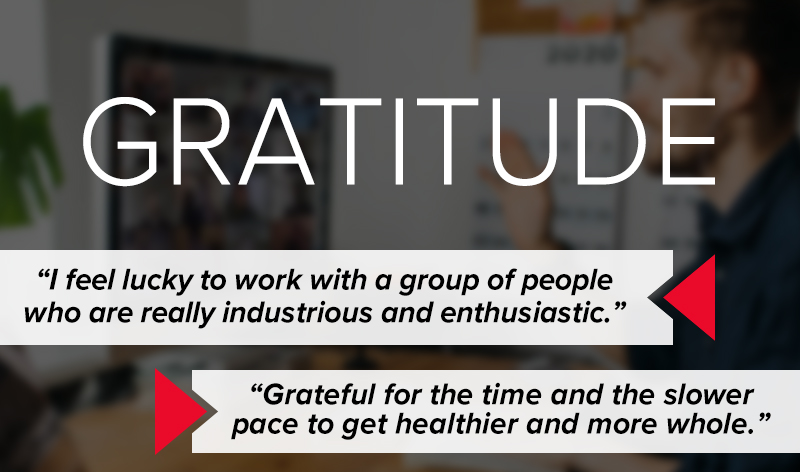 "Feeling gratitude and not expressing it is like wrapping a present and not giving it." —William Arthur Ward
Back in October, we launched monthly Classic Conversations Groups as a way for Classic Distributors, Suppliers, and Partners to discuss common concerns. Each group includes 15 to 20 participants, who meet via Zoom or Teams for an hour each month. Kevin, Jen, Tom, Harold, Jim, and Mel serve as moderators for the groups.
In December, our topic was "gratitude." Specifically, "What are you grateful for considering all the upheaval and uncertainty in our industry?" The responses, quite honestly, are both humbling and inspiring.  
We thought you would enjoy reading a small sample. Some quotes have been condensed but the intent and meaning wasn't changed. For the sake of privacy, we didn't include any names. Just the quote. We hope you find them uplifting (and entertaining).
Please share what you're grateful for in the comments. We would love to hear from you.
37 Gratitude Quotes
"I've appreciated the slowing down. As husband-and-wife business partners, we've had time to walk the dogs in the morning since March… to be introspective… and to enjoy more family time with our daughter who's senior in college and our son who's a senior in high school."
"I'm happy to be in our industry. I've been in it for 30 years. I'm grateful for the government support we've received, particularly for how fast they moved with PPP in the beginning and the extended unemployment benefits for myself and my employees."
"…The time I was able to spend teaching my granddaughters French via Zoom meetings."
"I'm glad Classic organized these meetings. I think they are really useful spiritually and for my business."
"I've been able to drop my daughter off and pick her up from school each day."
"I wish I could build a time machine and go back to 1994 and tell myself to quit whining because it isn't going to get better than this."
"I started with this company a year ago. I am grateful for the new owner who has been nothing but gracious through the entire process. I am so happy and excited to be working here and look forward to growing with this team."
"I am grateful for being healthy, that we're still working, and that we have a place to go to every day. Over the past few months, I've had time to reassess my business and what's important to our clients and where our focus should be as we move forward."
"Thankful for Classic and everything they've been doing the past 9 months to keep us informed and engaged."
More Quotes
"Thank God for STORAGE!"
"Grateful for the small victories and the time I've been able to spend with my family."
"Grateful for the time to nurture family and friend relationships. It's allowed me time to learn more about what's happening in people's lives."
"I'm grateful for my wife. While I deal with graphics and exhibits everyday, she works in a long-term care facility. Daily she is dealing with life and death. Every day she puts those people ahead of herself and her health and safety. It's been very humbling for me to see."
"Thankful to still be working and to still come in each day and turn the key."
"Grateful for the time to accomplish a lot of the tasks we normally could not. Feels good to complete stuff that you have procrastinated on forever."
"Grateful for the health of my family. Grateful to have conversations like this so that we are not alone during this time… to know that we are not the only ones going through these challenges."
"I feel lucky to work with a group of people who are really industrious and enthusiastic."
"I appreciate the compassion and enthusiasm that I have seen in the industry. I have a lot of friends in this industry… many who are on this call. I will never ever take them for granted again… because the support I have gotten from them has been tremendous."
"I'm thankful that my family and I are healthy."
Even More Quotes!
"While it's been extremely difficult from a business standpoint, I have appreciated the time to reset and think through the most important things that I should focus on going forward."
"I've been able to take daily walks with family members and get more exercise."
"I am grateful I bought my company on February 14th, and I don't mean that sarcastically but with honesty because I still have a future. I feel very, very grateful that I can rebuild this company in a way that's going to be better suited for the next few years."
"I'm reading more than ever and truly enjoying it."
"I've been able to complete a lot of home projects that I never had time for before."
"I'm very grateful for these calls. It's so nice to be able to talk and share with others in our industry who are experiencing the same challenges."
"Grateful for the time spent in introspection."
"Grateful for the time and the slower pace to get healthier and more whole."
"Grateful that I'm going through this at my age. I've still got 30 years to go."
"Grateful for the life lesson, even though I'd much rather it had been a 4-month lesson."
A Few More…
"Grateful for the change in perspective of how to work to live rather than live to work."
"Grateful that our clients want to get back to live events just as much as we do."
"Grateful that as a team we've been able to innovate to kept us afloat."
"Grateful for the opportunity to get my creative juices flowing: writing and playing guitar."
"Grateful for being able to see doctors and take the extra time to get healthy."
"Grateful for the industry disruption to provide meaningful change to how we do things moving forward."
"As a collective, our conversations over the past 8 – 10 months have been on a deeper and more meaningful level than at any other time in my career."
"Grateful for this remarkable time to pause. Seeing fall in New England because I'm not traveling… it's actually REALLY pretty."
Classic Exhibits Extends our Best Wishes to Everyone in the Exhibition and Event Industry in 2021. Fingers Crossed! Stay Safe!
If you are interested in participating in a Classic Conversations group, please contact mel@classicexhibits.com. All are welcome.