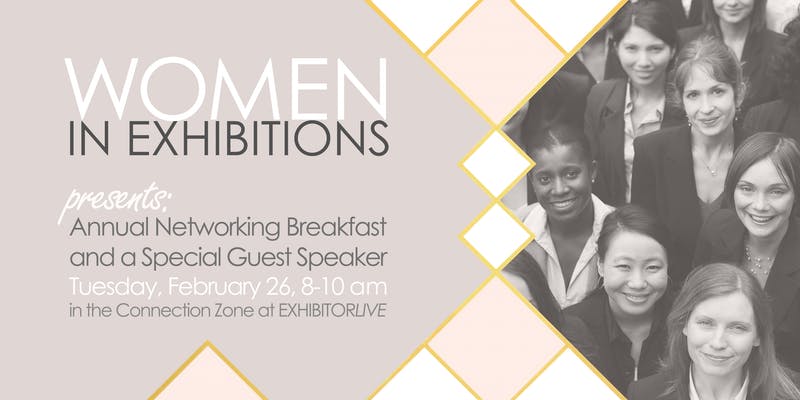 Las Vegas, NV, February 2019 – The 2nd Annual Women In Exhibitions Breakfast will be held at EXHIBITORLIVE in the Connection Zone, February 26, 2019 from 8-10 am. This once a year opportunity brings women in the Exhibition and Event industry together to discuss challenges and success strategies, network with peers, and make new contacts.
Cost of admission includes a buffet breakfast and a special presentation from international speaker and best-selling author Sandy Jones-Kaminski. As a mentor and coach with 20+ years of marketing and business development experience, Sandy helps professionals, entrepreneurs, and business owners grow their own careers through proactive personal branding, online and offline networking activities. Sandy's presentation will illuminate strategies for making the most of the Women In Exhibitions mentorship program and more.

Here's What Last Year's Attendees are Saying about the Event:
"It was empowering to be sitting in a room full of women who were actively pursuing their careers in the exhibit industry. There's nothing quite like being with a group of career-oriented women who want to see each other succeed. I am already excited to attend this event next year." — Jessica Diers, Diers Exhibit

"The breakfast was the highlight of my experience at the show, and I am so glad the Design Factory could be a part of it. I feel the event was a wonderful opportunity for so many women to meet, mingle, and share ideas. I hope to participate in the future." — Chris Harvey, The Design Factory, Las Vegas
"From the initial meeting of Women in Exhibitions in Tucson in 2002, I have had the opportunity to attend many WIE meetings. The breakfast event at EXHIBITORLIVE 2018 was amazing. There were many bright, enthusiastic, experienced women sharing information and ideas. Having a guest speaker was a bonus, especially since it was interesting. I was able to connect with several women, which will be of benefit to my business. Bottom line is that it was the best meeting we have ever had for WIE." — Jocelyn Welles, Exhibit Expressions
Register Now:
Early bird tickets are on sale now for $30, and there's an option to sponsor a student ticket for the same price. Space is limited, purchasing tickets in advance is STRONGLY recommended. Ticket prices go up on the day of the event.
Many thanks to our Sponsors for making the 2nd Annual Women In Exhibitions Breakfast possible:
Diamond Sponsors: EXHIBITOR Media Group, Classic Exhibits Inc.
Platinum Sponsors: Optima Graphics, Exhibit Concepts
Gold Sponsors: Access TCA, Live Marketing, Highmark Tech, Pinnacle Exhibits, ProExhibits, Skyline-Holt, AFR Furniture Rental, Brumark, and Condit
Silver Sponsors: Exhibit Expressions and Steelhead Productions
If you would like more information about this event, please call Katina Rigall Zipay at 503.652.2100 x 215 or email katina@classicexhibits.com.
Tags: Classic Exhibits, ExhibitorLIVE, Katina Rigall Zipay, Sandy Jones-Kaminski, Women in Exhibition