We are delighted to announce two additions to Classic Exhibits:  Stefania Toscano and Paraskovia Semenov. Both are new project managers. Stefania works for the Classic Rental Solutions team. Paras handles orders, quotes, and customer service for Classic Exhibits.
New project managers undergo an intensive training program which includes working with other divisions, time on the production floor, and extensive mentoring by senior project managers. Stefania and Paras are about six weeks into a program that usually takes a full year to master. However, based on their performance so far, they'll blow that time frame away. Sometimes you get lucky and hire superstars. We did.
We asked them to introduce themselves to the Classic Distributor Network.
Stefania Toscano
Thanks for the warm welcome from Classic Exhibits. It truly feels like a family here, where everyone works hard and everybody looks out for each other.
My name is Stefania, (pronunciation: S-Teh-Fah-Knee-Ah, but I will answer to any sound similar to that). I grew up in Italy, and I moved to the United States with my family a few years ago. I'm still polishing my English, so please bear with me if I sound like a character from "The Godfather."
I've spent most of my life working in marketing communications and events. I started as a consultant, and then I spent time at a PR agency working on media relations and events. Finally, I spent 10 years working for large renewable energy companies managing corporate and crisis communications, advertising, and organizing events.
After moving to the U.S., I started (and later closed) a food business, maintained a consulting job for an international renewable energy company, and worked on a global development project for Apple.
I have three boys — two I gave birth to, the third is the man I married.
I love the outdoors when I can I spend time hiking, kayaking, or camping. I have a passion for food, and I spend a lot of time in the kitchen cooking traditional Italian dishes and exploring new Northwestern flavors.
I believe a fun, energetic, and creative workplace is a key component of every successful company. I always prefer a good laugh to silence. I love the camaraderie and unity at Classic Exhibits and look forward to contributing to the company's success.
Paraskovia Semenov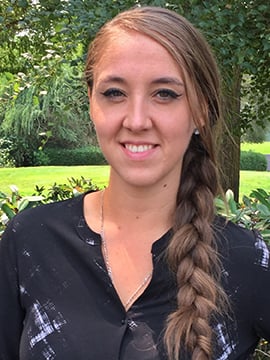 Born and raised in the Portland Metro area, I lettered in Art and Orchestra during my high school years. I tried pursuing art in college, but decided college wasn't for me after a year or so. But that's when I got involved with customer service/direct sales and realized that not everyone is like they are in high school. I started to enjoy talking with people and figuring out their needs.
After a few years of sales, I took my creative talents to the cake decorating world. It gave me a chance to freehand designs from wedding cakes to cartoons to a simple theme cake. Sometimes customers would give me an idea and tell me to run with it. Honestly, it was the highlight of my day when a customer would come in saying their friend got this awesome cake and they would like one as well.
During my cake decorating years, I also worked as a waitress for two years at a Jewish retirement home serving meals to the elderly. I worked on both the independent living side and the hospital side. I was able to chat with everyone as if they were my grandparents swapping stories or chatting about their life. Everyone always had advice or something positive to say.
After about five years, I moved onto a customer service job at my uncle's company where I became familiarized with metals, plating, standoffs, custom machined parts, blueprints, and the world of machine shops. This was both a change, and a positive challenge. I took my skills of organizing and planning to make Production run smoother and more efficient. After a couple of years and a change in ownership, I decided to leave the family business and venture out.
With a recommendation from a friend, I started at Classic. I could not have made a better choice. Classic is giving me the opportunity to grow with a company along with expanding my skills. Can't wait to see what the future holds!
When I am not working, I enjoy car cruises, working on BMW's with my husband, watching WWII documentaries, playing with my two cats, hanging out with family and friends, learning about my heritage/culture, fixing up our house, and trying to complete one of many unfinished art projects.
**********************************************
Classic Exhibits Inc. designs and manufacturers portable, modular, and custom-hybrid exhibit solutions. Classic Exhibits products are represented by an extensive distributor network in North America and in select International markets. For more information, contact us at 866-652-2100 or www.classicexhibits.com.