It's Showtime!  EXHIBITOR SHOW 2011.
It is that time of year . . . and if you have been "peeking" at Peek-a-Booth, you probably already know what a creative and exciting display we have in store for the show. It's a  "Home" (of sorts) where you can relax and learn about all the great things happening at Classic Exhibits, Exhibits Northwest, Eco-systems Sustainable, and ClassicMODUL.
The Booth
We are in Booth #1455 this year — a dynamic 20 x 30 space that will showcase all the divisions of Classic Exhibits and its sister company Eco-systems. The theme is "Your Home" for Hybrid, Modular, Portable, Rental, and Green Exhibits. Be sure you stop by so we can take you on a tour on the latest and greatest from your friends at Classic.
Customer Appreciation Reception (Tuesday)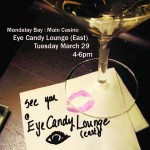 On Tuesday, we are hosting a party from 4-6 pm in the Eye Candy Lounge of Mandalay Bay. During show hours, please come by and get your drink ticket and then join us for some good old fashioned networking and downtime afterwords. The reception is proudly sponsored by Classic Exhibits, Display Supply and Lighting, and Optima Graphics. You can get your drink tickets at any of our partners during show hours. Quantities are limited, so come by our booths early.
The Optima Graphics Reception (Monday)

Make sure you come by Monday evening for this annual event which is always an excellent place to catch up with old friends and network. It is being held in Mandalay Bay, Islander Ballrooms D and E, after the show breaks until 7 pm. Classic Exhibits is a proud sponsor of this event as well.
One-on-One Meetings During the Show
If you would like to schedule time with one of us during the show hours, please email Mel White at mel@classicexhibits.com . He is handling the scheduling for the meetings on the show floor. Take advantage of this one-on-one time!
Wondering what to expect at the show? Take a look at the blog posting Mel wrote last week regarding the recent ExhibiTrends event he attended. It is a great snapshot of what you can expect from the show overall this year.
Multiple Displays on the Show Floor
Classic Exhibits is very proud to have more than just our 20 x 30 island unit on the show floor this year. Please make sure to see our handiwork at our vendor partners booths: Cort Furnishings, Optima Graphics, DS&L, New Leads, EliteXPO and the EXHIBITOR Magazine display. Not only are they great partners of Classic, but we also built all or part of their exhibits for the show this year.
Portable Modular Summit (Wednesday)

EDPA will host the Portable Modular Summit again this year. This session will meet on Wednesday, March 30 from 9:30 am to 10:30 am in Tropics A-B of the Mandalay Bay North Convention Center (look for the NORTH Convention Center sign on the right side of the main entrance hallway, just past the Starbucks). For more information, click here.
On a personal note, for the first time in 16 years I will not attend the show this year. A combination of being busy with several large projects, being very busy at Classic overall, and managing some staffing changes requires that someone stay behind and manage the ship. So I will be doing that. I will miss seeing those who are attending and want to personally thank you as always for your continued support of Classic Exhibits.
Be well and have a restful weekend. I am sure you will need all the rest you can for your week in Las Vegas.
–Kevin Carty
http://twitter.com/kevin_carty
http://www.linkedin.com/pub/kevin-carty/3/800/32a