Guest Post by Jamie Edwards, Director of Marketing, Momentum Management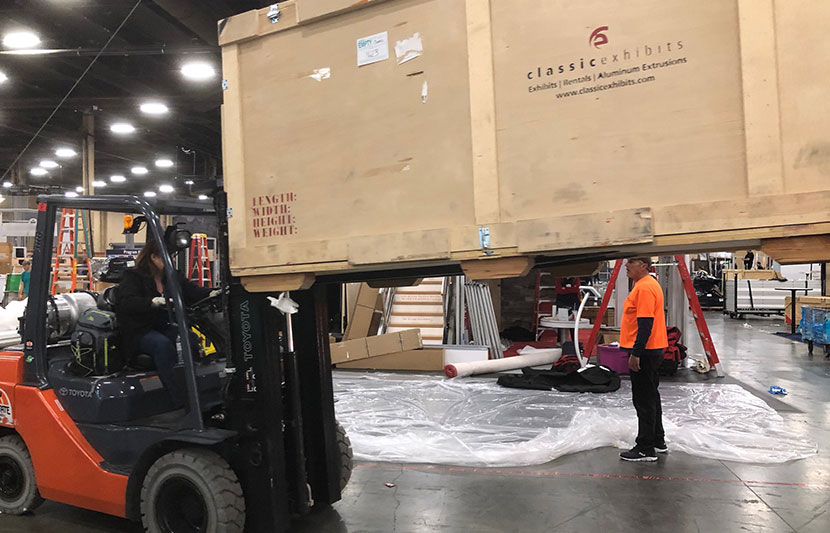 As your National Trade Show Labor Service Partner, Momentum Management wants to help you save money during your trade show or event installation and dismantle. When it comes to saving money, it comes down to "time used" or "time wasted."
Some Tips to Save Money
Items to consider for Labor Service Estimate – It is important to provide the most accurate information possible in order to avoid additional costs that weren't factored in at the time the estimate such as:
Will there be hanging signs?
Any specific equipment needed?
What are the booth materials?
Who will install your flooring?
Will electric need to be installed?
Is there furniture to be assembled?
Who will provide the supervision the show floor?
After the estimate is complete, place your order early – Many show cities have multiple events going on simultaneously. The sooner you submit your order, the sooner Momentum can identify the best labor.

Shipping Direct to Show or Shipping to the Advanced Warehouse – If timing permits, it is almost always best to ship to the advanced warehouse. Your freight is more likely to be in your booth space by your targeted move-in time. When shipping directly to the show, there can be extensive delays due to the truck driver having to check into the marshaling yard, getting the paperwork, and waiting to be called up to the docks to unload. Always delay your labor start time by at least 4 hours after your target time to allow your freight to make it to the show floor.
Scheduling Dismantle Start Time – When scheduling with your labor and shipping companies, always take into account the entire move out schedule to avoid delays. The return of empty freight can take a long time based on the size of the show, so it is often safest to schedule labor for the next morning and your shipper for that afternoon. Please note: there are many shows that require the floor to be cleared by 12 pm the next day. In this case, you may want to schedule your labor a couple of hours after the show breaks. While this will add some additional over-time vs standard-time, it will save money compared to having your labor waiting on the freight to return.
Momentum Management is happy to help you save money on Labor Services, and we welcome the opportunity to work with you on your next project. Momentum Management has been a national provider of outstanding installation and dismantle labor for over 25 years.
Tags: Advanced Warehouse, Classic Exhibits, Exhibit Appointed Contractor, Momentum Management, show labor, Trade Shows