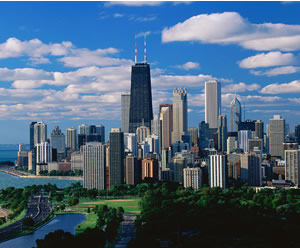 CLASSIC HAS A CHICAGO RENTAL DEPOT
by Jim Shelman

Yes, you read that correctly! We're excited to announce that we have added a rental depot in Chicago. We've teamed up with ELITeXPO to produce rentals at their corporate headquarters in Elgin, IL (right outside of Chicago). We'll work with you on the sales end, and they'll handle the fulfillment. And you'll save big time on shipping costs!
Over the past several years, our rental division has grown at a rapid rate, and with this growth, we've expanded our capabilities and added an enormous amount of inventory. But one question keeps coming up, "When are you going to open an East Coast rental depot?"
This is something that we've been mulling for quite some time. Our main concern was duplicating our Portland production process so we could offer the same quality rentals elsewhere. When the opportunity presented itself to work with ELITeXPO, a company we respect and admire, we knew it was time to act.
Founded in 1987, ELITeXPO began as a carrier of computer hardware, software, and high tech materials. Then in 1990 transitioned into trade show materials. From that point, the trade show industry has been the focus of their company. And in 2009, they launched their Tradeshow Services Division, which has been a perfect compliment to their founding core. With over 26 years of experience, Dave Mihalik (President & CEO) understands our industry and recognized this as a great fit for his company. According to Dave, "We already had all of the key components in place to duplicate Portland's production process, and we were in the process of expanding our warehouse space, so it was perfect timing on our end. We're excited to already have several rental projects lined up and on our production schedule."
Dave and Chuck Michel (Vice President Tradeshow Services) recently spent time in Portland at our production facility to gain a full understanding of our production process and inventory management. A few weeks later, Jim Hayes (Executive Vice President/COO) flew out for more intensive training and planning, so he could implement our system with his staff at their facility. As a side note, I want to express that these are really good guys! It's great to work with people you consider good friends. And that's the type of relationship we have. Quite honestly, that's the only reason we decided to move forward with this. We knew they were the right people/organization to team up with!
Chuck Michel jumped on the opportunity. "We've worked with Classic as a distributor for over four years, and with Jim on a ton of rental projects," said Chuck. "We've always been impressed with their operation, quality, and high service level.  So when I heard that there was interest in setting up a rental depot for East Coast rentals, I was all over it."
We're also offering round trip delivery services and I & D supervision for local Chicago shows and events (Quoted on an individual project/event basis).
For those who may have reservations knowing that ELITeXPO is a fellow distributor, please don't. This organization is a class act, and they have no interest in competing with you. It's a small world in our industry, and we completely understand how important it is to honor your relationships with your clients. We're in this for the long haul, not for short-term gain. Dave and Chuck ask that Classic distributors reach out and discuss any concerns you may have prior to any rental project. Dave added,"We could also partner with distributors to assist with shipping and logistics. And there are preview and storage opportunities in our second warehouse, which would work well if there are any concerns about coming to our main place of business. The bottom line is we want this to work for everyone!"
All Classic Rental sales will continue to be channeled through Exhibits Northwest in Portland (Exhibits Northwest is a division of Classic Exhibits, Inc.). Continue to contact me for designs and quotes at (503) 624-2905, or jshelman@exhibitsnw.com.
Whether we ship from Portland or Chicago, you can count on the same high quality service. Every order gets staged and photographed before it leaves our dock. And we'll continue to email setup diagrams and staging photos before shipping, so you can share them with your clients. And we're always available in case you have questions.
UPDATED WHOLESALE RENTAL GALLERY
We just added a new feature to the Wholesale Rental Gallery that should help you gather pricing information for your clients. Along with the wholesale hardware and graphics rental price, we've added a "Retail Pricing Calculator" that shows our wholesale rental price, wholesale graphics price, and retail prices calculated at 40% and 50% margins. You simply click on the button underneath the wholesale price shown in each of the individual rental designs, and you'll see the detailed pricing information.
We look forward to working with you! And for those who we haven't worked with, please consider contacting us for your next rental project.
You have our full commitment to a quality experience from start to finish!
Jim Shelman
General Manger of Exhibits Northwest & Classic Rentals
jshelman@exhibits.com
[subscribe2]
Tags: Chicago, Classic Exhibits, Classic Rentals, Elitexpo, Jim Shelman, Rental Depot, Rental Trade Show Displays