Perhaps we should be more corporate, more dignified. But that's not our style. Heck, we're the folks with the ongoing Urban Exhibitionary ads in EXHIBITOR Online. A few of those ads have struck an exposed nerve, like Showgasm and Bundling. Ouch!
Here's our tongue in cheek "Help Wanted" ad in Exhibit City News for ClassicMODUL. This is for everyone who has worked with a temperamental co-worker, supplier, or customer.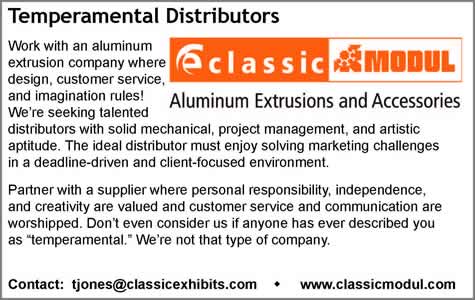 Our thanks to the good folks at Exhibit City News for allowing us to break the rules and have a little fun. Thanks Kathy and Jeff!
–Mel White
http://www.linkedin.com/in/melmwhite
mel@classicexhibits.com
*********************************
Based in Portland, Oregon, Classic Exhibits Inc. designs and manufacturers portable, modular, and custom-hybrid exhibit solutions and engineered aluminum extrusions (ClassicMODUL). Classic Exhibits products are represented by an extensive distributor network in North America and in select International markets. For more information, contact us at 866-652-2100.