Quadro EO and iPad Kiosk "Summer Crush" Savings
The Summer Crush Specials feature the Quadro EO Pop Up combined with the newly released iPad Kiosks MOD-1312 and MOD-1314. The savings are ginormous. Literally GINORMOUS!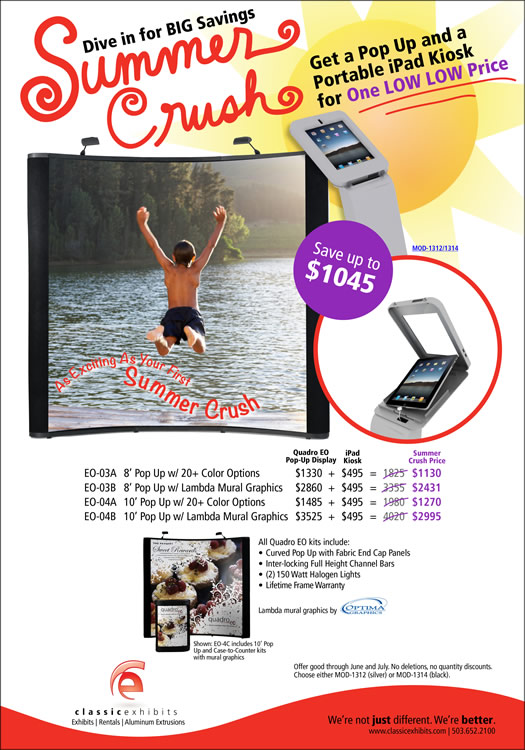 Download the unbranded Summer Crush PDF.
Those who saw the units at EXHIBITOR 2012 know that the Classic iPad Kiosks are the real deal. They combine function and value never before seen in an iPad kiosk with a lockable clamshell case, integrated wire management, an internal power strip, and powder-coated steel and aluminum construction. Plus, it wouldn't be a Classic without accessory options like graphic wings, graphic clamshell halos, literature holders, and a nifty keyboard shelf. Check out the links below to see all the great options.
But my personal favorite . . . the clamshell case with an extrusion connection similar to how Literature Brochures attach to our hybrid systems. This gives you the ability to add an iPad to any new or existing hybrid inline or island from Classic Exhibits (and a competing extrusion line as well).
Kudos to Mike Swartout for the great demo video. Pay special attention to the cool theme music. I love it!!
See the details in the Exhibit Specials gallery. But like all summer crushes, this one is 2 Good 2 Last 4 Ever.
For the iPad Kiosk Product Sheet and Price List, click on the links.
— Mel White
http://www.linkedin.com/in/melmwhite
mel@classicexhibits.com
*********************************
Based in Portland, Oregon, Classic Exhibits Inc. designs and manufacturers portable, modular, and custom-hybrid exhibit solutions. Classic Exhibits products are represented by an extensive distributor network in North America and in select International markets. For more information, contact us at 866-652-2100 or www.classicexhibits.com.
Tags: Classic Exhibits, iPad accessories, iPad kiosk, pop up displays, Quadro