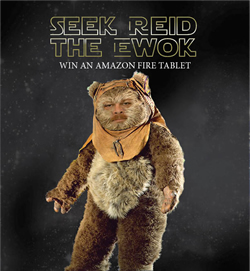 Classic Distributors:  Seek Reid the Ewok in EDS
Locate Reid Sherwood, our National Sales Manager, on Classic's Exhibit Design Search to win one of two Amazon Kindle Fire Tablets. To be eligible, send your correct answer to Mel White by Friday, October 21.
Note to George Lucas and Star Wars fans: we apologize for disrespecting Ewoks and the Star Wars franchise with this promotion. Please do not sue us. However, with all due respect, you may want to consider hiring Reid as your mascot since he actually resembles an Ewok (or a really, really short Wookiee). No joke. It's uncanny.
EDS Changes and Enhancements:
28 Product Galleries
NEW 30 Second Audio Clips
Comprehensive links to Renderings, Photos, and Accessories
Updated Design Detail Pages
Site Specific Email and Design Request Tools
Still Only $300
Discover why so many Classic Exhibits Distributors rely on Exhibit Design Search to drive sales. For more information about EDS and how you can add it to your website, contact Mel White, VP of Marketing and Business Development.
May the force be with you . . . Destroy the Death Star and the evil Galactic Empire!
–Mel White
http://www.linkedin.com/in/melmwhite
mel@classicexhibits.com
*********************************
Based in Portland, Oregon, Classic Exhibits Inc. designs and manufacturers portable, modular, and custom-hybrid exhibit solutions. Classic Exhibits products are represented by an extensive distributor network in North America and in select International markets. For more information, contact us at 866-652-2100.