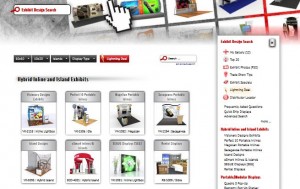 Twice a year, we conduct an Exhibit Design Search webinar. The title always changes, but it's always a "Tips, Tricks and Techniques" session on how to use EDS more effectively. Typically, I don't record it because, well, I forget. I'd love to give you a better excuse, but I can't. This time I remembered.
The session is 45 minutes, about normal for a webinar. If you struggle with how to navigate EDS like a rock star, then I would suggest watching it. You may already be the Mick Jagger of EDS. Who am I to judge. Me? I've dominated the EDS rock and roll charts for eight straight years, and I still uncover lotsa new stuff each time.
The webinar is book-ended with a slide show. The first half is a quick overview of EDS.  The second half (which everyone seems to love) summarizes the differences between all the Classic Exhibits Hybrid lines. If you have ever struggled to explain what makes a "Sacagawea" different from a "Magellan," then this is the perfect cheat sheet of all cheat sheets.
The webinar is first (in YouTube). The slide show is below that (in Slideshare). Share your thoughts, good or bad, in the comments.
There are no cats, no one gets hurt, and there are no celebrities. Sorry.
Full Webinar (on YouTube)
Slideshow (on Slideshare)
http://www.slideshare.net/melmwhiteor/exhibit-design-search-hybrid-systems-review
–Mel White
http://www.linkedin.com/in/melmwhite
mel@classicexhibits.com
**********************************************
Based in Portland, Oregon, Classic Exhibits Inc. designs and manufacturers portable, modular, and custom-hybrid exhibit solutions. Classic Exhibits products are represented by an extensive distributor network in North America and in select International markets. For more information, contact us at 866-652-2100 or www.classicexhibits.com.
[subscribe2]