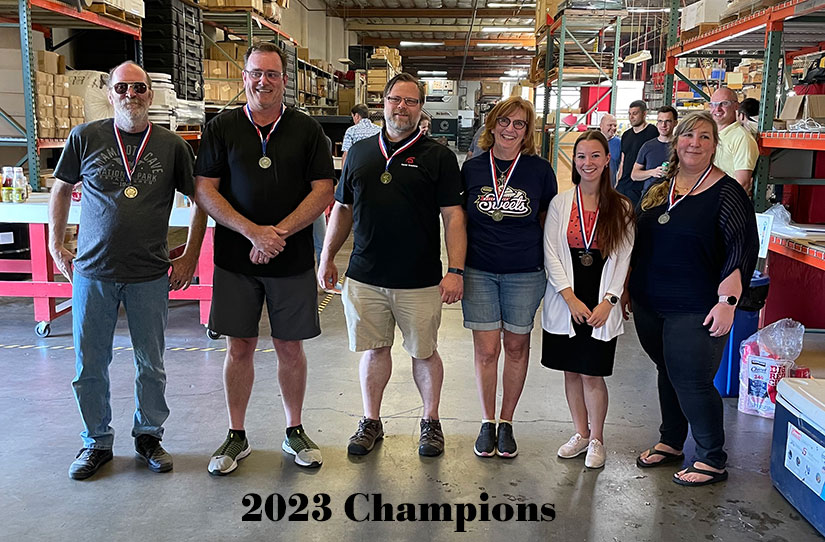 It was a summer day like any other… until it wasn't. So many questions… "I've never done this before. How am I supposed to spit?"
Temperatures all week were flirting with 100 degrees. It has been toasty. But when came Friday, the day of Classic Exhibits Annual Company Potluck, the barbecue gods heard our pleas… the temp dipped to a beautiful 84 degrees with light breezes to cool one's brow.
With Chef Boy R Kevin behind the grills pushing out burgers, dogs and veggie patties, the company stuffed itself on traditional picnic fare. With the noshing complete, it was time to unfurl the Official Seed Spittin' Tarmac and begin launching watermelon seeds.
The slight breeze was fickle, sometimes coming in on your face and other times gently cooling your back. Choosing when to spit was just as important as choosing the perfect seed.
The rules are clear and simple:
Each Spitter gets 2 (two) spits.
There is a toe line. DO NOT CROSS.
To be registered as an official spit the seed must come to rest atop the tarmac. If it is off the tarmac, that's a DQ (disqualified spit).
Let there be spit. As the initial spitters began to launch their seeds, it was clear that records would soon be falling. While the breeze was minimal it was just enough to lift an average spit to a good spit status while a fairly good spit could be elevated to Olympic Spit Repute.
I shall keep you waiting no more. Here are the results:
CLASSIC EXHIBITS 2023 CHAMPIONS
Women's 2023 Champs
1st Place/Gold Medal Gail C 16'-7 1/8"
2nd Place/Silver Medal Edie A 15'-7"
3rd Place/Bronze Medal Gergana H 13'-11"
Men's 2023 Champs
1st Place/Gold Medal James S 50'-0"
2nd Place/Silver Medal Kevin C 39'-3"
3rd Place/Bronze Medal Ted C 29'-11 ¾"
Yes… you read that correctly. James' spit of 50' was unbelievable. It was outrageous. It didn't just have distance – of which it had plenty. But it also had accuracy keeping his seed on the 60" wide tarmac a massive 50' away from the toe line.
In the 40 years I've been hosting Watermelon Seed Spittin' Contests, I've never, ever seen a seed launched that far and that accurately. It was a spit for the ages. Those in attendance will be telling grandchildren about the spit heard round the world.
CLASSIC EXHIBITS ALL-TIME CHAMPIONS LEADERS BOARD
Women's All-Time Champions
1st Place/Gold Medal Jen L 23'-9"
2nd Place/Silver Medal Lindsey C 19'-7"
3rd Place/Bronze Medal Gail C 16'-7 1/8"
Men's All-Time Champions
1st Place/Gold Medal James S 50'-0"
2nd Place/Silver Medal Kevin C 39'-3"
3rd Place/Bronze Medal James Z 35'-3"
Best Worst Spit Champion