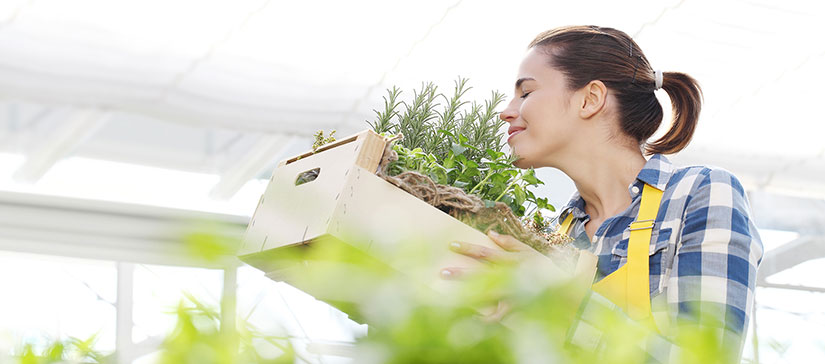 Nearly every city in North America has a Home and Garden Show that attracts thousands, and often tens of thousands of attendees. For homeowners (and future homeowners), the Home and Garden Show is a "must-see" event. It's the ideal one-stop-shop for the latest trends, and the perfect place to find suppliers for indoor and outdoor renovations, remodeling, and landscaping. There's a good chance you've attended one, two, or a dozen over the years to see the latest in landscaping, kitchen renovations, interior design, and home repair services.
While most are called Home and Garden Shows, there are many variations on the theme. There are garden, patio, and outdoor shows, Others even include gifts and furniture. Here are a few examples:
Unlike most exhibitions which are industry specific, Home and Garden Shows are open to the general public. Even if you don't have anything specific in mind, wandering through the convention center filled with creative trade show exhibits can be inspiring. While your only goal may be to get a little exercise on a rainy Saturday afternoon, you would be hard-pressed to find a better indoor activity than at your local Home and Garden Show.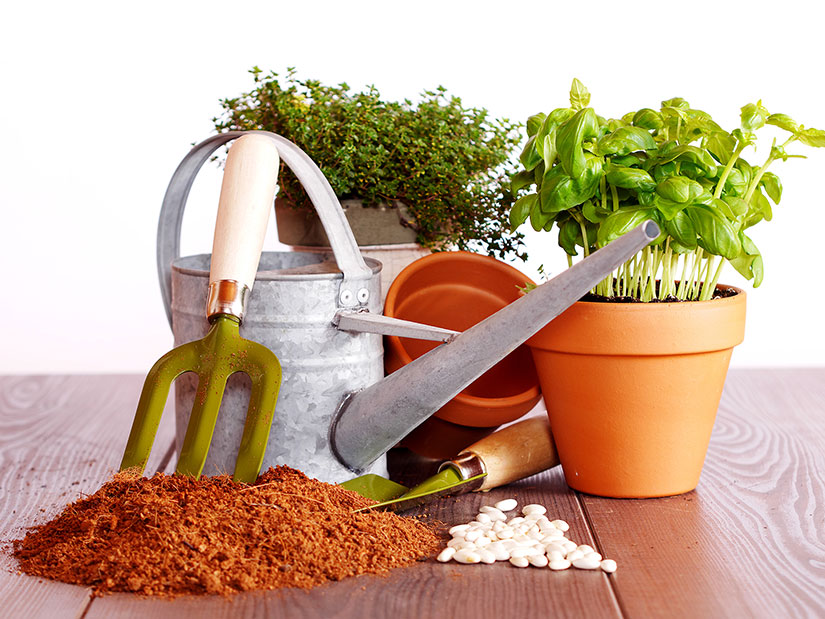 Preparing for Your Home and Garden Trade Show
For exhibitors at a Home and Garden Show, creating the perfect experience for attendees can be challenging and stressful. You are probably wondering, "How do I attract attendees wandering the show hall into my booth space?" Unfortunately, there's no one perfect answer. It depends on your product or service, your goals for the show, your budget, and "your team."
Yes… your team. You need to evaluate their strengths. Do you have a group of outgoing "anything is possible" employees? Or is your team quieter? When you design your booth space, you need to take your team's strengths into account. You want a booth that plays into those strengths.
Let's say you are a landscaping company with more "doers" than "sellers." Consider a larger space that demonstrates creative walkways, flower beds, and borders. Then within these, place large photos of past jobs along with testimonials. This allows your work to "sell" your services and your team to consult with interested potential clients.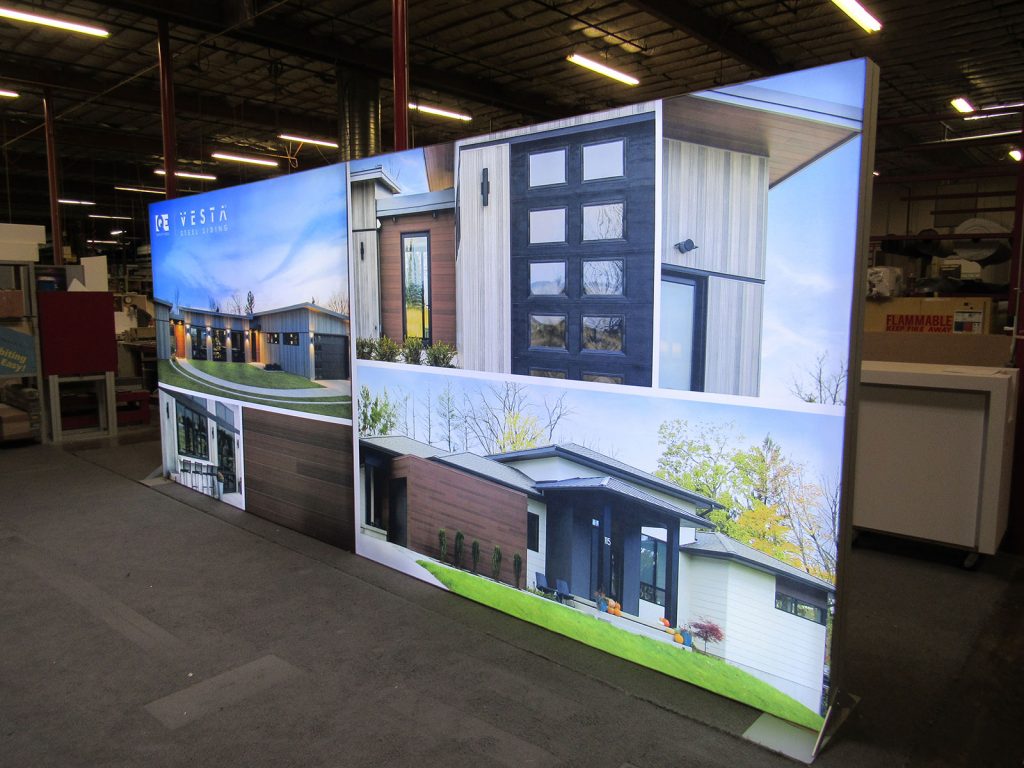 Home and Garden Trade Show & Garden Exhibits: Tips and Ideas
Ask yourself this: "If I was attending the local Home and Garden Show, rather than participating as an exhibitor, what would attract my attention?" Home and Garden Trade Shows are an excellent place to show your work with either images or demonstrations. If your product or service solves a problem, then show potential clients how it does that.
Some quick tips and suggestions:
Demonstrations: Home and Garden Show attendees are there to learn. And you're the expert. A demo accomplishes three things. First, it validates your professional services. Second, it forces them to linger in your booth space. Third, it gives you an opportunity to hear about their needs. In some cases, an ongoing demo makes the most sense, like showing how a tool will transform their garden. In other situations, scheduling demos at a specific time and taking reservations allows for longer presentations.
Experts: Do you have in-house experts? Why not promote them? Putting a face to a skill personalizes it to your audience. You're not just an excellent company that does kitchen remodels but you have Sarah who has an MA in Interior Design. Sara has been creating award-winning kitchen designs for your clients for 15 years. Make her the star – someone potential clients would want to meet and ask her questions.
Exhibit/Booth Design: This can be tricky for many Home and Garden exhibitors. They want to build their exhibit, which is fine, or they decide to bring fixtures in from their store. However, it's important to remember that a trade show is a specialized marketing event. If you want to truly succeed at your next show, then consider working with a trade show professional. They'll be able to guide you on your booth layout, display options, strategy, and even giveaways. Too often, Home and Garden Show exhibitors "wing it" and then don't understand why the show wasn't successful for them. They blame the Home and Garden Show or trade shows in general rather than on their booth presentation or poor planning. Like you, trade show professionals are professionals and there are proven techniques to maximize your success.
Sponsorships: If you can afford it, being a show sponsor can bring added recognition before, during, and after the event. But not all sponsorships are equal. Make sure your sponsorship has tangible benefits for your company… and not just the show. The show organizer may have classes you can teach. Or demonstrations that they'll promote. Or financial incentives for attendees if they visit your booth. Most show organizers are open to ideas and will gladly tailor the sponsorship to match your specific needs. They want you to be wildly successful and if you have an idea that benefits the show, the attendees, and you, then they'll most likely be on board.
Attendance: All too often, exhibitors assume the show organizer is 100% responsible for driving traffic to the show. And they are. But that doesn't mean they're funneling attendees to your booth. Smart exhibitors tap into their existing clients and promote their participation in the show. They drive attendance to their booth. Sometimes it's an incentive, like a coupon, other times it's educational. We all want to feel special and giving your exhibits customers a reason to visit you will feed their ego and drive traffic to your booth. And there's nothing more appealing to attendees than wondering why Company XYZ has a crowded booth.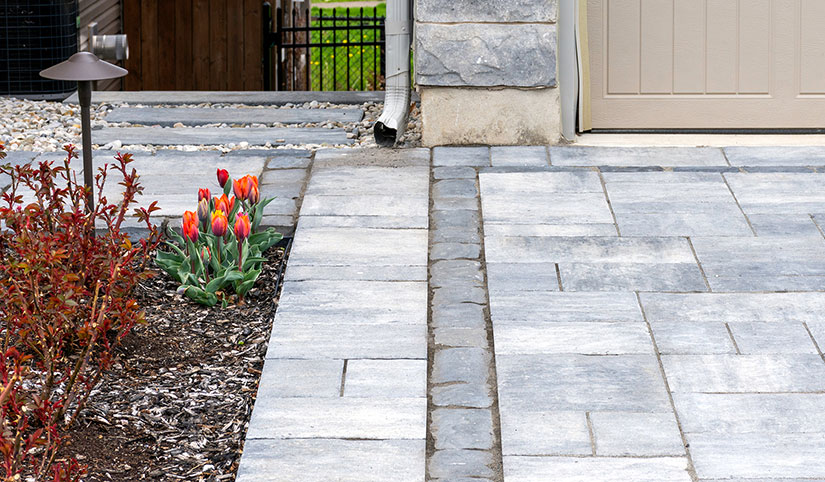 Professional Insight For Home Improvement Exhibits
Are you a remodeling contractor? Finding the right contractor can be a challenge for most people. They don't know what questions to ask, what should be included in a quote and whether a contractor is bonded and licensed. Consider giving potential clients a guide, either in paper or electronic, that guides them through the process. And then encourage them to use it not only with you but also with other contractors.
Are you a flooring specialist? Potential clients want to see and touch flooring products. That can be a problem at a trade show since it's impossible to bring your entire inventory to the show. However, it's not impossible when the physical is combined with the virtual. Whether it's laminate flooring, rugs, carpeting, tile, or vinyl, consider a touchscreen display with each product category. That way, potential customers can see and touch the sample and then click to explore more colors and textures along with photos of past jobs.
Are you a lighting specialist? Lighting can be tough to show in a large convention center. Many vendors will bring lots of examples, which can be expensive. However, most attendees don't understand how the correct lighting can enhance their living space aesthetically and visually. Consider focusing on how your professional expertise will improve their home and their lives. Anyone can sell products. But expertise is much more valuable.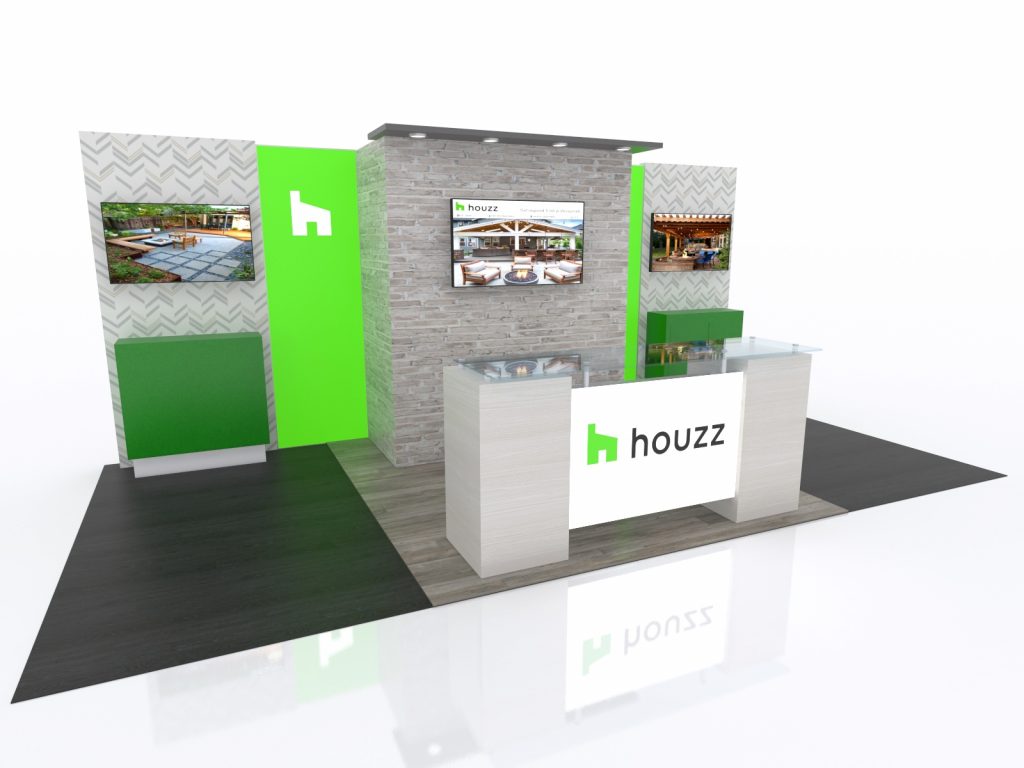 Interior Design Tradeshow Tips
For many people, working with an interior designer can be intimidating. They might not understand the many benefits of having an interior designer on your side. Overcoming their hesitation may be the biggest part of your messaging.
Why should they consider professional interior design services?
What are the benefits?
Will it save them time, money, and headaches?
How are your firm's services different from your competitors?
Those can be challenging messages to convey to attendees who are strolling past your booth at the show, but it's not all that different from any other exhibitor at the Home and Garden Show. All too often, there's a tendency to overwhelm attendees with information. As a result, it becomes difficult for them to absorb and internalize your marketing message, it all just becomes visual noise.
Consider working with a graphic designer with trade show experience. They know that designing graphics and text for a trade show isn't the same as a website, a magazine, or even a brochure. They'll be able to help you create a targeted and compelling message that entices attendees into your booth.
Your Home and Garden Trade Show Guide
Our team at Classic Exhibits has been in the trade show industry since 1993. In our many years of experience, we've happily supported clients in a wide range of industries including tech, financial, health, and clients showing at home and garden trade shows. We think it's best for your team to do what they're great at and to hire professionals to spearhead your trade show design and execution. Reach out to us today and see how we can help you have the best home and garden show you've ever had!