As a faithful reader of the Trade Show Tales blog, you've probably wondered, "Why hasn't Classic posted the link to the annual JWT Intelligence Trends Watch?" Perhaps, the Brogawear trend scared me just a little (yep, yoga-wear for men).

Did you know that millennials are drinking less alcohol than their parents? Or that South Korea may be the next epicenter of cosmetics? Or that Me Branding reflects the next wave in personalization? Or that the tin can has suddenly become hip again as upscale packaging? Lots more, including Bone Broth, the New Hot Beverage. Yikes.
http://www.jwtintelligence.com/the-future-100/#axzz3OXVB5ToM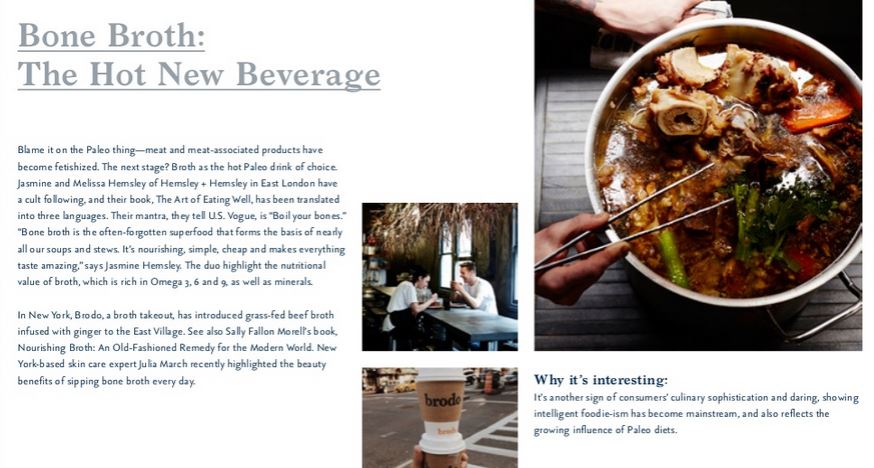 According to JWT Intelligence, "In our ninth annual forecast of trends for the near future, we see how consumers are both welcoming and resisting technology's growing omnipresence in our lives. For many, technology serves as a gateway to opportunity and an enabler of hyper-efficient lifestyles, but those who are most immersed are starting to question its effect on their lives and their privacy. One result is that more people are trying to find a balance and lead more mindful, in-the-moment lives."
Immersive Experiences
Do You Speak Visual?
The Age of Impatience
Mobile As a Gateway to Opportunity
Telepathic Technology
The End of Anonymity
Raging Against the Machine
Remixing Tradition
Proudly Imperfect
Mindful Living
Read more: http://www.jwtintelligence.com/the-future-100/#ixzz3UPdQ2NZk
Enjoy.
–Mel White
http://www.linkedin.com/in/melmwhite
mel@classicexhibits.com
**********************************************
Based in Portland, Oregon, Classic Exhibits Inc. designs and manufacturers portable, modular, and custom-hybrid exhibit solutions. Classic Exhibits products are represented by an extensive distributor network in North America and in select International markets. For more information, contact us at 866-652-2100 or www.classicexhibits.com