Classic Exhibits announces the addition of Glenna Martin as a full-time Graphic Design Manager. Glenna is not new to the trade show industry, as her bio reveals. She's been working with Classic and Classic Distributors for eight years as a contract designer and has been instrumental in the branding of Classic Exhibits since 2005. Now she's at our beck and call, and we couldn't be happier.
Should you need graphic design services for your client's exhibits or for your company, such as website design, please give us a call. Our rates are very reasonable. And Glenna is a terrific designer.
Glenna Martin's Bio
I grew up in Eastern Kentucky and started dabbling in web design at fourteen. My love of art combined with technology drove me to pursue graphic design. I was one of those annoying people who always knew what they wanted to be when they grew up. In 2004, I graduated with a Bachelor of Fine Arts with an emphasis in graphic design and almost immediately (I think two weeks after graduation) started working for an ad agency in Berea, Kentucky. It was the perfect position for me:  no project was too large or too small and I got to delve into the software head first. I quickly picked up the ins and outs of the full Adobe Creative Suite, and the on-the-job training was perfect for further developing the skills that I learned in school. As an added bonus, being the only designer on staff meant that I got experience in every facet of graphic design such as traditional identity design, hand illustrating signage, building websites, creating email blasts, and designing print pieces all while working with a wide range of businesses.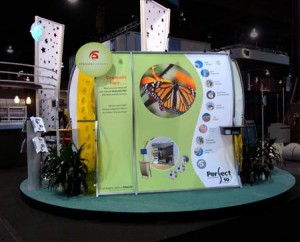 It wasn't long before we broke into the trade show industry by designing identity materials and trade show graphics for Classic Exhibits Inc. This was back when tension fabric was still a cutting-edge new material and not yet the industry standard. Since then, I've worked in some capacity on nearly every piece of Classic branded material that has been created:  from hanging ivy on their EXHIBITOR booth in 2007 to the cheesy Aeroman and Kevio campaigns. My skills and creativity have grown with Classic's success. As our agency built a name for itself in the exhibit industry, we also worked with several Classic Exhibits distributors on everything from identity and creative campaigns to large format graphics.
In 2010, I switched direction and started doing graphic design for a large newspaper, but maintained my relationship with Classic in a freelance capacity. While at the newspaper, I further developed my skills in Photoshop, InDesign, and Illustrator while learning a ton about color theory and optimizing files for offset print. Designing exclusively for print didn't have the same creative appeal for me as trade shows so when the opportunity to join the Classic and Exhibits NW presented itself, I was thrilled to jump back in. In true Mel White fashion, there were lots of projects waiting for me. When I started in mid-July, he immediately asked me to complete the Classic website redesign (look for it to launch soon!). I've also worked on projects with Classic Distributors who wanted to WOW their clients with professional graphics but didn't have a designer on staff. I'm excited to see what the future holds and even more excited be part of such an amazing team.
Contact Glenna
If you are planning to attend Shared Knowledge University (SKU) on Sept. 30 and October 1, I look forward to meeting you. If not, don't be shy about contacting us about our graphic design services. We're here to make you and your client look better.
Glenna Martin
Graphic Design Manager
glenna@classicexhibits.com
**********************************************
Based in Portland, Oregon, Classic Exhibits Inc. designs and manufacturers portable, modular, and custom-hybrid exhibit solutions. Classic Exhibits products are represented by an extensive distributor network in North America and in select International markets. For more information, contact us at 866-652-2100 or www.classicexhibits.com.
[subscribe2]
Tags: Classic Exhibits, Glenna Martin, Graphic Design, trade show graphics, tradeshow graphics