The Randy Smith Memorial Golf Classic is Right Around the Corner!
Berkeley Hills – Duluth GA | Monday, October 4, 2010 | www.RSMGC.org
Many of you know that I revere the "Randy Smith" as the most important event of the year in our industry. And it has nothing to do with Sales, Revenues, Competition, Marketing Plans, etc.
Rather, it is the one event where we come together to give back to those who have either died or experienced severe hardship in the previous calendar year.
This year is no different. We have seven wonderful recipients and/or recipient families that we are honoring. The cost to play is small, the cost to sponsor is small, but what you get in return is not something you can assign a dollar amount to.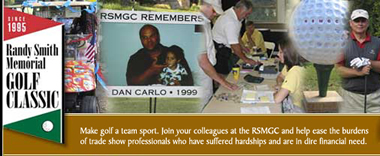 For me, it is the one event I always put on my calendar first each year. I hope you all will consider coming and experience the best the trade show industry has to offer.
Hope to see you there.
Be well and have a wonderful week.
–Kevin Carty
http://twitter.com/kevin_carty
http://www.linkedin.com/pub/kevin-carty/3/800/32a