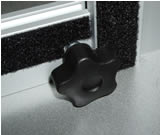 Let me begin by saying, this is probably more information than you need to know about knobs. But . . . .
Effective immediately, Sacagawea and Magellan Hybrid Displays are "knobbier." Don't shake your finger at me, "knobbier" is the correct term. I should know . . . I coined it.
What's the difference between a tool-less knob system, such as the Perfect 10 trade show display, and "knobbier" systems like Sacagawea and Magellan? Depending on the configuration, about 2 to 10 knobs.
Confused? The Perfect 10 and Perfect 20 Displays require no tools to engage the MODUL locks. The T-knobs replace the hex key tool for all the 90 degree and straight connections. Replacing the hex key tool for knobs on the Sacagawea and Magellan has proven to be more problematic since these systems use a larger MODUL lock for the 90 degree connections. A larger lock requires a larger knob, which has its own complications. For nearly a year, we searched for the ideal knob — it had to be relatively small but with enough surface area to maximize torque. We sampled knobs from Europe, Canada, USA, and China. Lots and lots of failures. But, eventually, we discovered one clear winner (after tweaking the mold to meet our specifications).
Now back to the "knobbier" issue. The Sacagawea and the Magellan are now ALL knobs, except for:
Attaching the base plates (Sacagawea)
Attaching the support legs (Magellan Miracle)
Attaching the workstation and counter top
Assembling the pedestals
In a nutshell, the backwall has gotten simplier and faster to assemble, because it's even knobbier than before. Ideally, this would be the perfect spot to link to a "How To" video showing the Magellan Miracle assembly, but we don't have an updated version yet. So, for now, here's a link to a PDF showing the VK-1062 set-up instructions for the Miracle. The Sacagawea kits are very similar.
Let us know if you have any questions.
–Mel White
http://www.linkedin.com/in/melmwhite
mel@classicexhibits.com
Classic Exhibits Network (LinkedIn)
Tags: Classic Exhibits, Magellan Miracle, Perfect 10 Hybrid Displays, Sacagawea Hybrid Displays, trade show displays