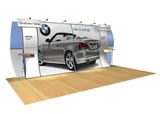 PORTLAND, OR – Classic Exhibits Inc., a designer and builder of portable, modular, and custom hybrid displays, has received two patents on the Perfect 10 Hybrid Display System. The Perfect 10 and Perfect 20 systems were introduced at EXHIBITOR 2008. Classic was awarded both a design patent and a utility patent from the United States Patent and Trademark Office. These patents cover, among other design and construction details, the Perfect 10's unique reverse "S" shape and its modular, no-tools assembly. Additional patent applications are currently in process in the European Community.
According to Kevin Carty, VP of Sales, "From the moment we began designing the Perfect 10, we knew we had a system that would stun the industry and set new standards for portable hybrid displays. The Perfect 10's curves, portability, tension fabric graphics, and easy assembly made it uniquely different. There's nothing like the Perfect 10 anywhere in the world. But we wanted to be smart and ensure that the shape and function were protected. We've all seen designs quickly spread through the industry without any patent protection."
The Perfect 10 is available in 14 designs, starting with the "Ava" and progressing to "Nina." There are also four Perfect 20 designs and five Banner Station configurations. For more information, view Perfect 10 details and download literature at http://www.classicexhibits.com/perfect-10-portable-hybrid-displays.
Tags: Exhibitor, Kevin Carty, Patent, Perfect 10 Portable Hybrid Displays, trade show displays