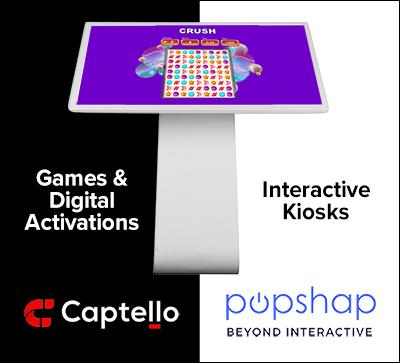 Trade show booths with clever, interactive games are often the most popular destinations on the show floor. Attendees want to have fun while conducting business.
If you haven't visited the Games & Digital Activations gallery in Exhibit Design Search, you might be surprised by the varied offerings. It includes 12 games with digital activations by Captello — like Memory Match, Invaders, and Wheel of Riches — along with interactive kiosks by Popshap.
Not sure which game is the right choice. Then click on the demo links and spend the next 2-3 hours "researching" games for future clients. Your boss will be happy you invested the time to become an expert in Whack-a-Mole.
Reminder
Contact Captello and Popshap for information about their products and how to place your order. Same process as with the other strategic partner galleries in EDS (Taylor, Brumark, DS&L, and CORT). Be sure to tell them you're a Classic Distributor.