There was a time about two years back when that phrase made me cringe. Only because it was part of the theme song to "The Wonder Pets," a program my kids loved for a couple of years.
But no one can argue that teamwork is critical to any mission, workplace, event, etc. Often, it's the "Team" that makes it the most fun and successful.
Hood to Coast Relay
Well, a couple weeks ago, I had a team that joined me on one of my annual/crazy adventures, and it was a great team that included some Classic Family members. Every year for 12 years I have run in the Hood to Coast Relay — "The Mother of All Relays." It's one of my favorite things to do every year . . . as crazy as that sounds. It's a relay run where you and 11 of your closest friends run 199 miles from Mt. Hood to the Pacific Ocean. NONSTOP! For 30 hours. Without measurable sleep. Rain or shine. Including the occasional bobcat, like this year.
Like I said, its one of my favorite things to do every year. You can see why right? 🙂
This year was truly the most enjoyable year ever and a big part of that was the Team! We trained together, and we kept accountability for each other through apps like MapMyRun and MyFitnessPal. But the real difference maker for me was that I was able to include work friends this year. Both Bob Beuhl and Mel White ran with my van, and Cynthia Geddis and Stan Henderson volunteered along the race course for our team –"Race to Beer." For the second year in a row, my great friend Tom Beard from ELITeXPO flew out from Chicago to be on the team.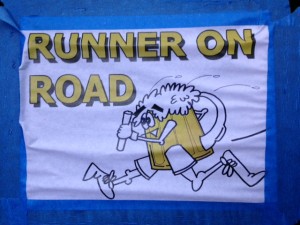 I have spoken about the fun that HTC provide me and my friends, and this year I was finally able to share it with Bob and Mel. And I "think" they enjoyed it as much as I did, especially the Van Life which can get, shall I say, "interesting" at times. Just think, you have a driver and six sweaty runners in a van together for 30 hours straight. One of the runners was pumping milk as a new mom, another had a regretful reaction to breakfast, and then of course there was the smell of it all after about hour 12. You sort of get use to it believe it or not.
Doesn't this sound like fun?
Anyway, it was another great year. Only made better by the fact that the team was so good. Everyone supported each other and cared for each other along the way.
Congrats to Bob and Mel in particular! They both did an incredible job! Bob seemingly ran every leg uphill earning his the name King of the Hills. And Mel brought us into the beach proudly with his third leg, the last leg of the entire race. Very well done Mel!
For me, another year in the books and already planning for next year. And as usual, the part I am looking forward to the most –Van Life with my teammates. It why I do it every year!
Hope you have a great week. It's getting busier.
Kevin
http://twitter.com/kevin_carty
http://www.linkedin.com/pub/kevin-carty/3/800/32a
[subscribe2]
Tags: Classic Exhibits, Hood to Coast, teamwork