Effective today, there's a new feature on Exhibit Design Search — Lightning Deal. The Lightning Deal (LD) button appears on the Home Page between Display Type and Search.

Lightning Deal vs. Specials
Currently, there is a Specials Gallery. Specials last anywhere from 30-60 days and include a range of products and price points. A Lightning Deal will be priced more aggressively than a Special, typically 5-10 percent more. There will be only (1) one "active" Lightning Deal per week; however, we will honor the LD price for another week. So, technically, all LD's are two weeks long. All LD's are pre-configured kits, with no substitutions or modifications.
Why the Lightning Deal?
Although Exhibit Design Search is first and foremost a search tool, it should also be seen as a transaction tool. The LD button will reinforce that with exhibit buyers.
"Weekly" deals should increase visits to Distributor-branded EDS sites. Those visits are already very good, but increasing them even more is always a plus.
It's our hope that aggressive deals with shorter time frames "may" assist in closing certain orders faster. When the clock is ticking . . . .
Let us know if there are any kits or product lines you'd like to see featured as a Lightning Deal. We are open to any and all suggestions.
This week we are featuring the VK-1240 Magellan Magic Hybrid Display. Next week? Well, you'll have to come back and check. 😉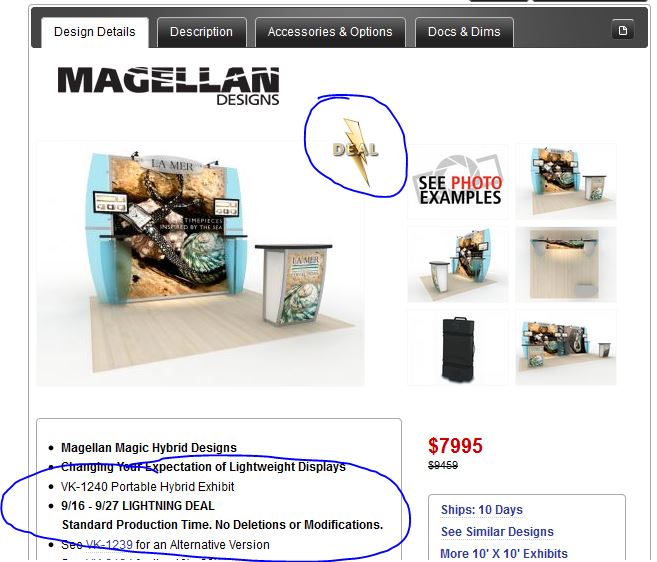 –Mel White
http://www.linkedin.com/in/melmwhite
mel@classicexhibits.com
**********************************************
Based in Portland, Oregon, Classic Exhibits Inc. designs and manufacturers portable, modular, and custom-hybrid exhibit solutions. Classic Exhibits products are represented by an extensive distributor network in North America and in select International markets. For more information, contact us at 866-652-2100 or www.classicexhibits.com.