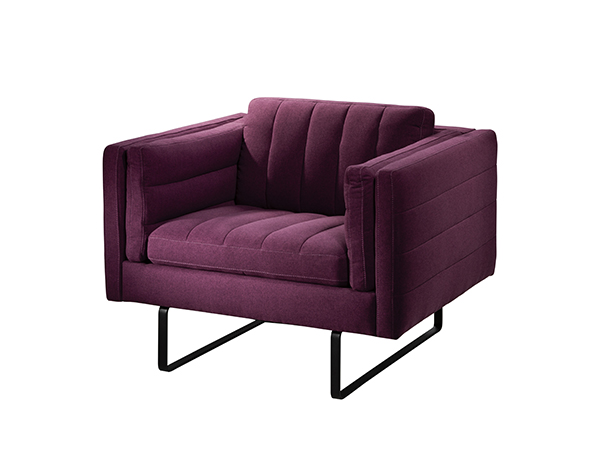 What does "trade show exhibit furniture" mean to you? This is not a trick question. If you said, all the components in a booth that you sit on, lean on, or write on, you would generally be right.
In my experience, newer exhibitors have a broader definition of trade show booth furniture or furnishings. To them, it includes counters, pedestals, and workstations, in addition to tables, chairs, plants, and ottomans. Those with a few more exhibition gray hairs tend to separate the counters, pedestals, and workstations from the more casual furniture like sofas, office chairs, bistro tables, and charging stands. Nothing wrong with that. Historically it's been the difference between what an exhibitor buys and what an exhibitor rents. However, that's changing… rapidly. Let's explore the when, why, and what of trade show furniture. The who and where are probably self-explanatory. 😉
Why Invest in Exhibit Furniture?
Not long ago, exhibit furniture was mostly an island exhibit luxury. Inlines would occasionally have a basic bistro table and chairs, but it was considered an Exhibiting 101 faux pas.
Not anymore. Exhibit furniture, like tables, chairs, sofas, and even ottomans, in custom and rental exhibits are ubiquitous. Clients are encouraged to linger, charge their phones, and chat. In fact, many exhibitors are adding food and drink options to create a casual and comfortable environment. If you've ever attended a European trade show, you know that offering guests something to eat and drink is both polite and customary.
As you explore your exhibit furniture options, you just might be surprised by the wide range of contemporary, upscale, and affordable designs.
Renting vs. Buying Exhibition Furniture
You've decided to add furniture to your booth. First, you'll need to decide whether to buy or rent furniture. Both are viable options, depending on your budget and design requirements.
Buying Exhibit Furniture
Pros:
You own it. It's yours after the show.
Unlimited design options
If used multiple times, it's less expensive than renting
Branding options
Cons:
Shipping cost and inconvenience
Possible damage
Possible assembly
Initial expense
Renting Exhibit Furniture
Pros:
Lower upfront cost
No shipping or storage
No damage concerns
No assembly
Design flexibility from show to show
Cons:
Fewer design options than purchasing
More expensive over multiple shows
Limited branding options
Types of Trade Show Booth Furniture
Trade show furniture delivers style and service to create a comfortable and productive space. Below are the most common types of exhibit furniture.
Casual Seating
Bar/Cafe Tables and Chairs
Bar Tables – 30" R x 42" H Bar Height Tables
Cafe Tables – 30" R x 29" H Casual Tables
Barstools – Bar Height Chairs and Stools
Bars – Curved Bars with and without Accent Lighting
Conference Tables and Chairs
Conference Tables – Rectangle and Round Conference Tables
Conference Chairs – Adjustable Chairs for Desks or Conference Tables
Office Furniture – Dividers, Desks, Bookcases
Other
10 Exhibit Furniture Examples
1. Key Largo Chair, Loveseat, and Sofa: Comfortable upholstered black fabric chair with wood legs. Also available as a loveseat and sofa.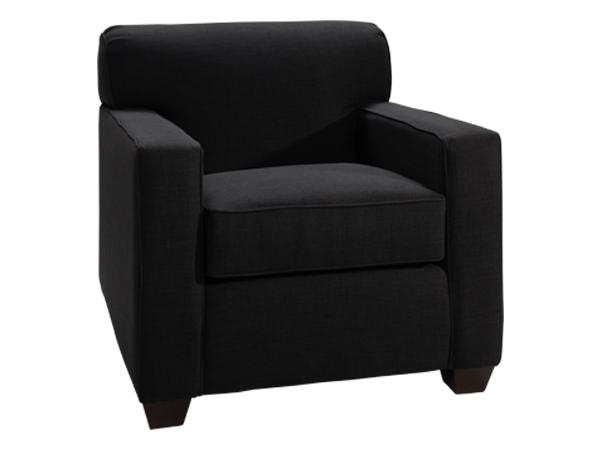 2. Malibu Chair:  Distinctive teal velvet chair with armrests and black legs.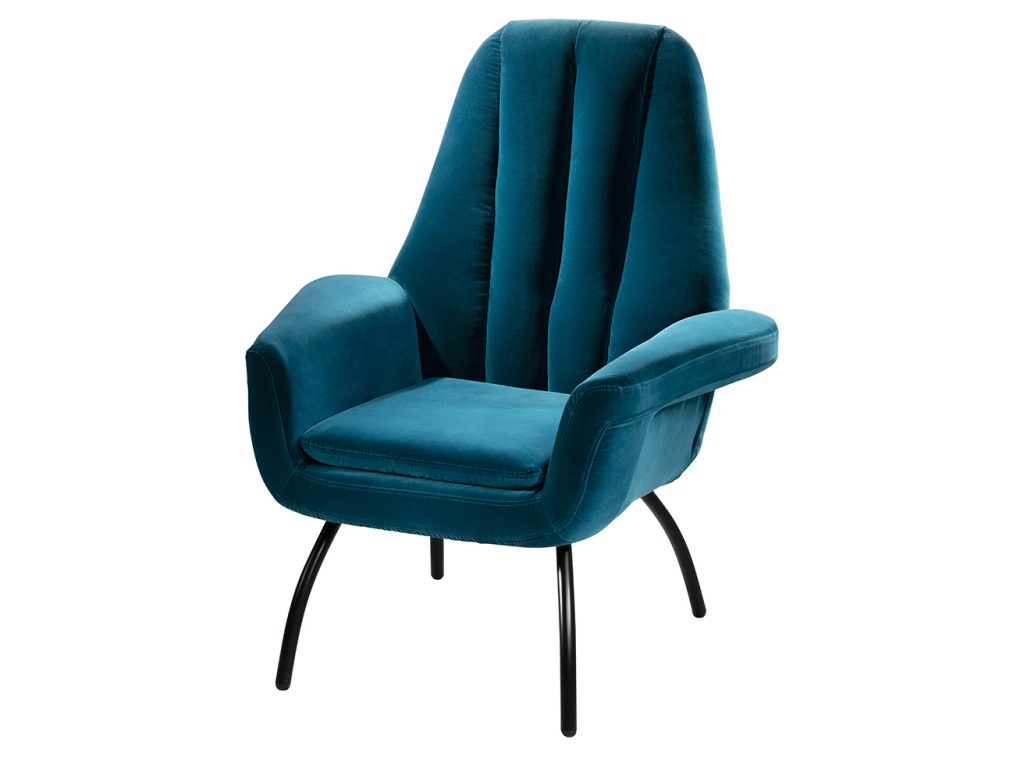 3. Beverly Oasis Small, Medium, and Large: Modern sectional group in three sizes and 11 colors like lavender, orange, red, and olive green.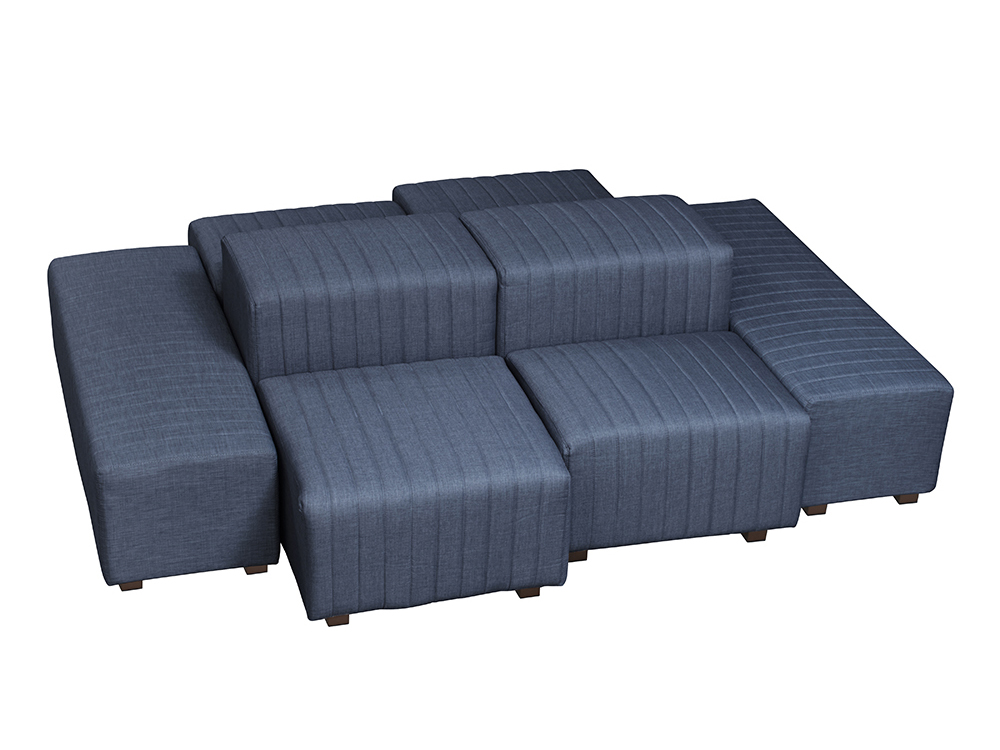 4. Endless Low Back S Curve Sectional: Fabulous and funky green velvet sectional with channel stitching. Complete with 6  curved chairs and two half-round ottomans.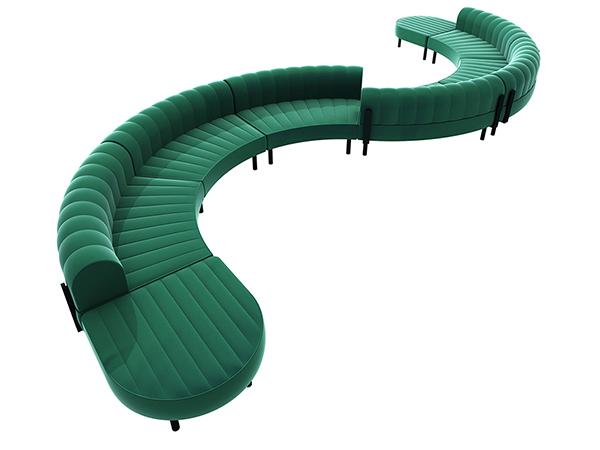 5. Geo Cocktail and End Tables: Upscale cocktail and end tables with either chrome or back base and glass or wood countertop.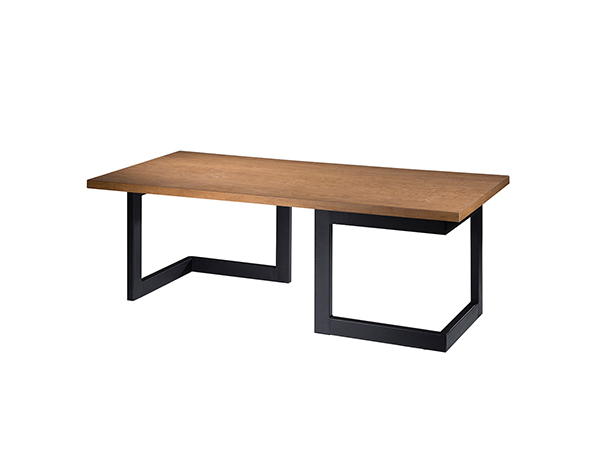 6. Cafe Table with Black Base: 36" round cafe table (29" H) is a trade show favorite as an informal meeting table. Four countertop colors:  maple, white, graphite nebula, and black.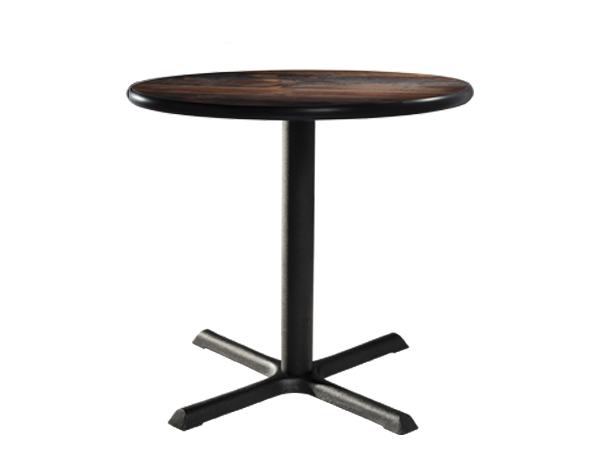 7. Christopher Chair; Distinctive conference chair with woven back and padded vinyl seat. Great for exhibits, lounges, or dining.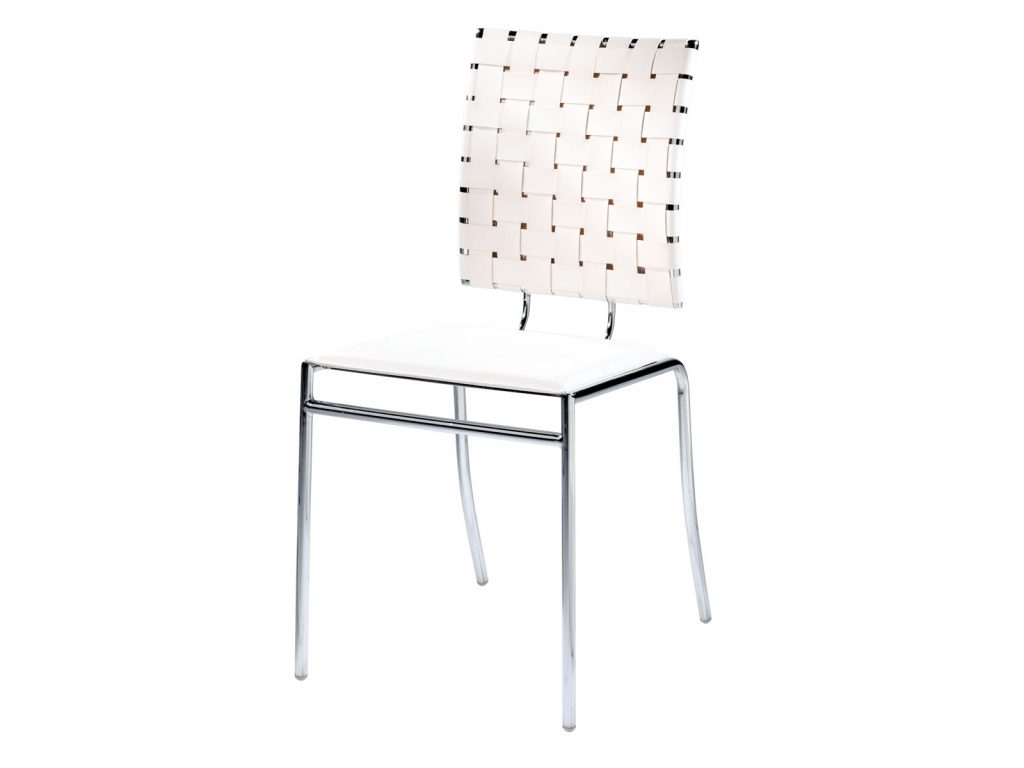 8. 8 ft. Powered Conference Table:  AC-powered conference table with two outlets and 4 USB ports. Black laminate top and silver base.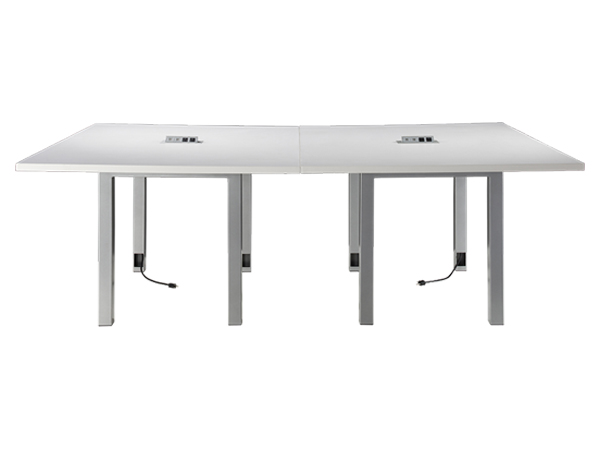 9. Midtown Powered Counter:  Metallic pewter gray curved counter with taupe-colored glass top, charging outlets, and locking storage cabinets. Countertops are available in multiple colors.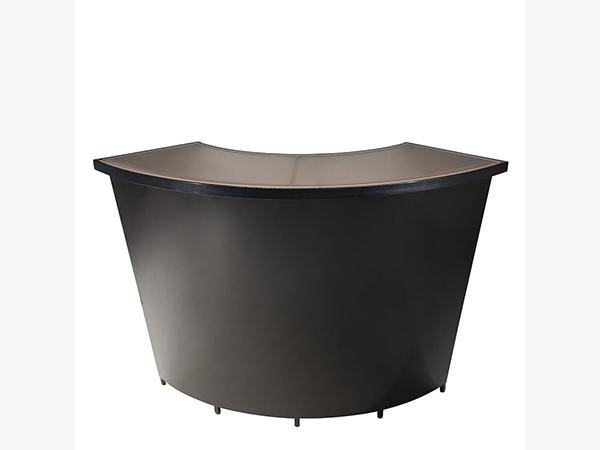 10. Banana Barstool: The iconic banana barstool is both attractive and comfortable. Available in black and white vinyl with chrome frame.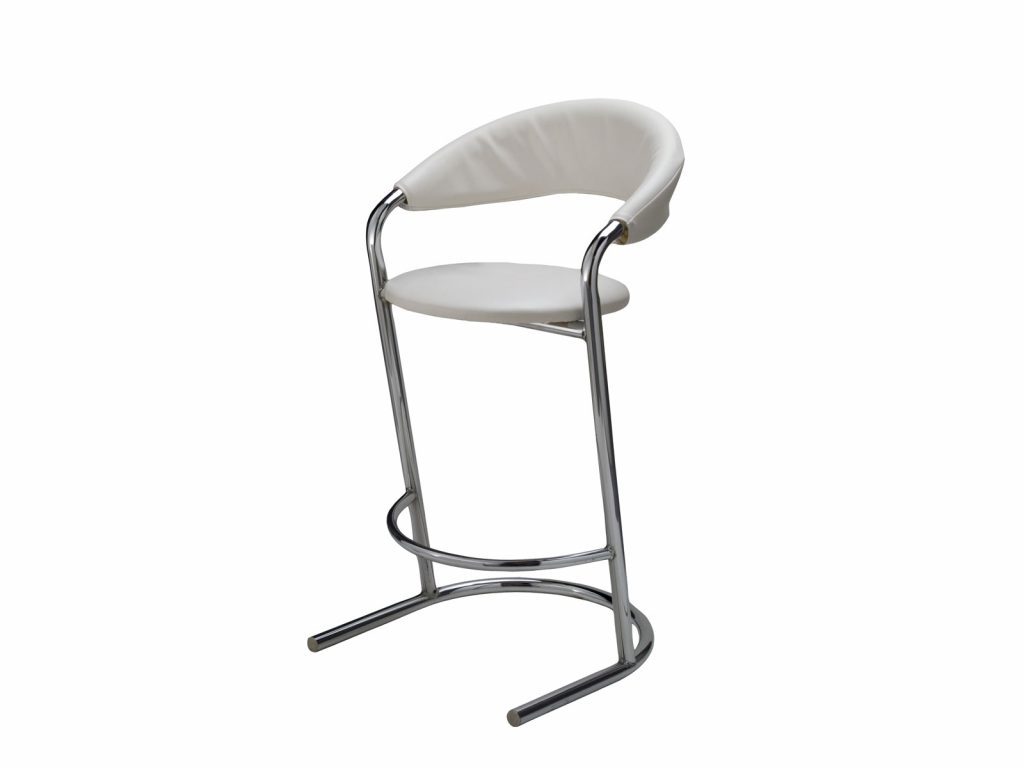 Trade Show Furnishings: Factors to Consider
Trade shows, events, and meetings are more productive by creating interactive environments with functional furniture and furnishings. Consider the following with choosing the right rental options:
Style
Rental furniture and furnishings should be functional, attractive, and match the overall design of your booth. Sometimes that's easy. Sometimes not. For larger shows and popular trade show destinations, like Las Vegas, Orlando, and Chicago, there are multiple furniture companies with varied inventories. Work with your exhibit house when choosing your rental furniture. They have resources and contacts that may not be readily available to the typical exhibitor.
Budget
Rental furniture may seem pricey at first glance, but it's important to remember that you're paying for convenience, design, and cleanliness. Rental companies update their inventory often and clean them after each show.
Functionality
This may sound obvious, but rental furniture should be functional and serve a purpose. All too often, choices are made for aesthetic or design reasons (it's the right color or it looks comfortable or it's cheaper than other options). Don't make that mistake. For example, if you're going to be giving presentations, you'll need tables and chairs that can accommodate your audience.
Delivery
This can vary so always ask for details. Some rental furniture companies have agreements with the General Service Contractor. The agreement enables them to deliver furniture and accessories directly to your booth, often without drayage or material handling fees. That's a big deal. What may seem to be an amazing price from one rental provider may in fact be painfully expensive once the drayage fee is included.
Customer Service
No one wants headaches on the show floor. Most rental furniture companies will respond quickly to issues before and during the show. Stuff happens but how companies respond sets them apart. Be sure to ask your exhibit house about their experience with the rental furniture provider.
Standout Exhibit Furniture with Classic Exhibits
Classic Exhibits makes the selection process easy with over 200 rental furniture designs, Choose from a broad selection of casual soft seating in an array of colors, tables in multiple heights, diameters, and finishes, and chairs ranging from funky to functional.
Classic Exhibits has been designing and building solutions since 1993. We've been honored as an Exhibitor Magazine Find-It Top 40 Exhibit Producers and an Event Marketer Fab 50 Exhibit Builders multiple times. Along with numerous Portable Modular Awards.
With over 200 Distributor Partners throughout North America, there's a Classic representative close by to assist with any project. Contact us today whether you need an inline rental display, a double-deck island exhibit, or a contemporary kiosk rental. At Classic, we're not just different. We're better.