So close. We're a mere two weeks away from another EXHIBITORLIVE. And yes, out of respect for EXHIBITOR, I add the LIVE in italics and caps (but noticeably wince each and every time).
Gravitee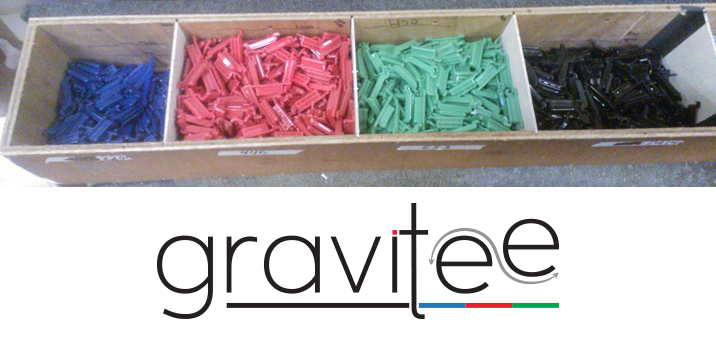 What should you expect from Classic Exhibits? BIG BIG stuff! Over the past month, you've received two teaser ebroadcasts about Gravitee™, our new exhibit system. You're probably thinking, "He's about to make the big reveal!" Nope. But, the image to the right is a hint. We're excited about Gravitee and what it represents for our distributors. We could make extravagant predictions and bold claims. Perhaps even a live video simulcast with the production values of an "As Seen on TV" product. But, we're not that company.
If you are interested in a sneak peek before the show, contact Jen or Reid. They're hosting a very casual meet and greet from 9-11 am on Monday in a Mandalay Bay conference room.
What Else
We're showcasing two new Lightbox Extrusions, including the narrowest double-sided lightbox in the industry.
Charging Stations are HOT, HOT, HOT! And I don't mean hoverboard on fire hot. Expect to see several standard kits, many with LED lights. Plus, we will show the magic behind turning almost any Classic counter, pedestal, or monitor stand into a charging station. All for less than $300.
iPad and Surface Stands. This category continues to grow. Tablet sales may have flatten, but not tablet stands. See our newest solution for the iPad Pro.
On the Move Portable Furniture. We've added a new feature to the chairs — a seat back. They're just as portable, attractive, and brandable as ever, but now they're even more comfortable.
Exhibit Design Search. Sit down, relax, have an apple, and let us to show you the latest features in EDS. The best just got better.
Eco-Systems Sustainable Exhibits. Join Lisa, Lauren, and Matt at #2059 to see their latest designs and talk about green exhibit trends.
Finally…

We invite you to attend the Portable Modular Awards on Tuesday, just after the show hall closes. We want you there, and not because we're up for several awards and not because Classic is the co-sponsor of the event. Let's face it gang. As a group, we don't get as much recognition as we deserve in spite of our considerable economic influence in the industry. By showing up in force, we tell EXHIBITOR that these awards are meaningful and our segment MATTERS. It's free. So why not. Join your colleagues and friends and celebrate the design excellent showcased by the PMA.
See you at the show. We're at #1645. Just look for the exhibit with the very colorful apple tree motif. Get a free show hall pass by entering code 4044.
Happy Presidents Day!
–Mel White
mel@classicexhibits.com
http://www.linkedin.com/in/melmwhite
https://twitter.com/melmwhite
**********************************************
Based in Portland, Oregon, Classic Exhibits Inc. designs and manufacturers portable, modular, and custom-hybrid exhibit solutions. Classic Exhibits products are represented by an extensive distributor network in North America and in select International markets. For more information, contact us at 866-652-2100 or www.classicexhibits.com.
Tags: Classic Exhibits, Eco-systems Sustainable Exhibits, Exhibitor, ExhibitorLIVE, Gravitee, People's Choice Award, Portable Modular Award, Tradeshow Awards