It's Human Nature
We ignore the familiar. After a while, the pile of messy papers doesn't exist, and the big coffee stain is invisible. Then, someone comments on it, and we can't not look at it. Until it disappears — again.
Trade show exhibits are no different and maybe even worse. Do you remember your first show with a brand new display? Everything was packed neatly. You took your time to install the graphics perfectly with clean hands. You wiped down every surface and vacuumed the carpet, not once but three times. The brochures were neatly arranged. The promotional products organized. If you had a drink, you hid it from view, either behind the display or tucked away in a counter.
Three days later . . . you're standing in your booth drinking a latte from a 30 oz cup with a half-eaten crumb cake on the counter. The brochures are dog-eared, the monitor screens are smudged, and the carpet looks like it smells. Now multiple that by fifteen shows and you begin to see what others see.
To be fair, if you are reading this post, you are not that person. You care on Day 1, Day 3, and Show #7.  However, what you see when you walk the show hall probably makes you cringe. So let's take a stroll and visit a few of our neighbors on the show floor.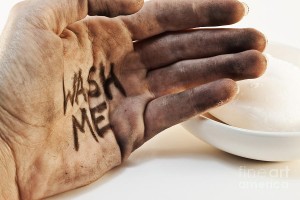 Booth #1172. Are those fabric graphics or dirty hand towels from the men's room?
Booth #980. Wow! You really can create an entire backwall graphic with an HP Deskjet printer.
Booth #1067. Who knew they made carpet in a 3.2 oz grade?
Booth #1388. Excuse me. What's the score of Chicago Bears/Green Bay Packers game?
Booth #712. They must sell used coffee cups and candy wrappers.
Booth#213. Is that pop up display waving at me?
Booth #405. Two possibilities. They crushed a truck, disassembled it, and built an island booth from the scrap metal. Or, the exhibit should have been recycled in 2002.
Booth #1677. Do you think they would share their curry chicken with us?

Booth #214. Pardon me. Over here. Now above my waist. A little higher. Perfect.
Booth #2105. Cool ink pens, stress balls, chip clips, and green calculators. What was the name of that company again?
Booth #113. There must have been a family emergency on Day 3 at 2 pm. Tragic.
Booth #884. Options to consider for the next show: No electricity. No carpet. No display. One big vinyl graphic with grommets. Five folding chairs. Five staffers in a 10 ft. booth. Seated in a circle. Jeans, t-shirts, 8 smartphones, and a bag of Cheetos.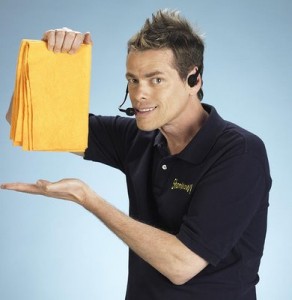 Booth #1862. Hmmm . . . Keeping all your cases and crates in the booth would save time on the dismantle.
Booth #307. NOW I UNDERSTAND why the printer wanted a HIGH RESOLUTION image!
Booth #1436. Isn't a hanging sign supposed to be hanging?
Booth #853. Four 42″ monitors. I understand the effect can be very impressive . . . when on.
Booth #103. Say again. What? Sorry, I can't hear you over the music and the Shamwow dude pitching your products.
Booth #1473. Answer:  Sunglasses, wrinkled clothes, large coffee, breath mints, forehead cradled in palm. Question:  How to spot a hangover on the show floor?
Booth #614. I've seen more padding in a Victoria's Secret catalog.
Booth #2007. So it leans a little to the left. And a lot to the right. What's the big deal?
Booth #777. Can you make the magician disappear? I'd like to learn more about your company.
Booth #666. Remember the old saying, "The devil is in the details"? Obviously not.
Booth #747. Is that a display or the Inflatable Escape Ramp they stole from their flight?
Booth #4077. The only thing missing from this mess is blood, funny doctors, and Klinger.
Finally . . .
Booth: #970. "Did you literally mean 'Line of Sight'? I thought that was just a suggestion."
It's easy to be the casual critic of others. But addressing our own marketing shortcomings takes courage, self-awareness, and most of all, caring. How often do we walk the trade show floor and say to ourselves, "They clearly don't care or their booth wouldn't look like that." Or, "How can they let their exhibit staff act that way?" Someone has to care. It might as well be you.
Share your comments. I would enjoy hearing your thoughts about trade show marketing and perhaps some less than kind (but constructive) comments as you walk the imaginary show floor.
–Mel White
http://www.linkedin.com/in/melmwhite
mel@classicexhibits.com
**********************************************
Based in Portland, Oregon, Classic Exhibits Inc. designs and manufacturers portable, modular, and custom-hybrid exhibit solutions. Classic Exhibits products are represented by an extensive distributor network in North America and in select International markets. For more information, contact us at 866-652-2100 or www.classicexhibits.com.
[subscribe2]