Material Handling Calculator
Enter increments of 100 lbs.
200 lb min. per shipment
Standard Crated Straight Time Rate:
$
Your Shipment lbs.
Includes 3% petroleum surcharge
Calculation is an estimate based upon past rate schedules that show contractors have used and is not intended to represent a service contractors final billing.
Drayage (or Material Handling) is the term for the handling of exhibit materials from the dock at the show location to the exhibitor's booth within the show hall. Trade show exhibitors pay a fee, based on the weight and number of packages, to have their show materials received at the dock and moved to their show space. The calculator allows you to estimate the drayage price you'll pay at trade shows.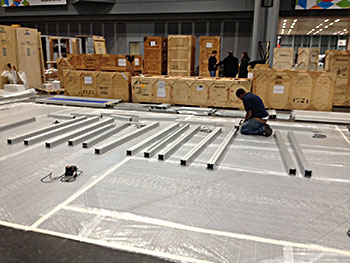 The formulas that go into creating this calculator are averages from a variety of show contractors in a wide variety of markets and venues (eliminating the highest and the lowest). The calculator tracks price increases from a base rate which is the advance warehouse rate for straight time on the set up and dismantle, up to special handling, overtime, and off target rates which is freight that arrives outside the target dates or times.
Every show contractor sees the drayage landscape a little different, which is why a calculator such as this can never be 100% accurate. However, we hope this calculator will be within +/– 10% about 90% of the time compared to your actual invoice. Remember that the dollar amount you calculate is determined to a large part by the information you enter, so understand what you are shipping, how you are shipping, and when you're shipping in order to receive the most accurate estimate.
NOTE: If you're using your own shipper to pick up the freight at the end of the show, be sure to read fine print of your service kit. It will specify the day and hour that your driver must show up and sign in at the marshaling yard. Failure to meet the deadline will disqualify the driver from picking up your freight, and the general service contractor will ship it back using their preferred contractor (which is always MUCH MORE EXPENSIVE).