Chief Wacko
On August 22, 2014 @ 3:30 a.m. 12 whackos and 2 dedicated drivers woke up to take on a challenge, one that they called FUN. I am one of those whackos — the Chief Whacko if you will.
The event is called Hood to Coast, aka …The Mother of All Relays. It's an event in which 12 people with two support drivers and two vans run 197 miles from about 6000 feet on Mt. Hood to the beautiful Oregon Coast, Seaside, Oregon to be specific.
I have done this run before. This was actually my 13th year, but this year was truly different. Why? Because this year we ran for a purpose and with a purpose. Not just to finish but to help put a finish to cancer.
The Providence Cancer Research Center
This year our team, The Classic Exhibitionists, ran to raise money for The Providence Cancer Center, a leading research center in America. The Cancer Center focuses on the development of immunotherapy for cancer patients. Immunotherapy works in conjunction with traditional chemo and radiation therapies and has altered how cancer is being treated when compared to the treatment I received 14 years ago.
But this years' Hood to Coast was way more personal for me and many others on the team. We also were running for and in honor of many family and friends — friend and family of ours and YOURS. Because of your generous donations and your trust and honor, we ran with the names of many of your loved ones on our t-shirts. As one teammate said during the event, "Yeah I am tired and I feel like crap, but I just look at that shirt and those names and I recharged."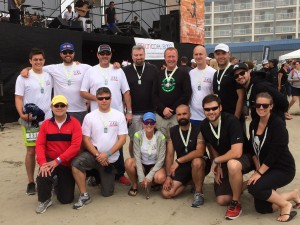 For the Classic employees on the team, one name stood out on the shirts, Mike Swartout, our Design Director. Two of the game-changing therapies brought to market from Providence were as a direct result of the trials that Mike participated in as a patient at Providence Cancer Center. Mike is thankfully still with us four years after his diagnosis when he was told that he had only months to live because of his advanced stage 4 prostate cancer. Many patients now getting diagnosed are reaping the benefits of the work done in those trials that Mike volunteered for.
So we RAN. Nearly 32 hours later, we reached the beach and the beautiful Pacific Ocean. Along the way, we had nothing but fun. Van life is something you have to experience to really understand — the banter, the lack of sleep, and the SMELL! It was all great.  🙂
To our team, I am proud of you all. For several of you, this was the first of many Hood to Coast adventures. For others, this was yet another great year of which there will be more to come. For me, this one was THE BEST EVER. I had the great fortune of spending time with co-workers/friends, lifelong friends of mine, and family members such as my sister-in-law. But more than anything, this was my first first Hood to Coast that had purpose beyond a good time.
To Our Donors
I can't put to words how truly blessed and honored we were to run with your names and the names of your loved ones on our backs and in our hearts. It truly was the fuel that powered this runner. So thanks so much once again. We raised over $13,000! Something, as the team captain, I am truly proud of achieving. And something that would not have happened without your support. THANK YOU!
Take a few minutes to review the photos. You can get a picture what it was like for us. You can see that while there was pain, the fun clearly outweighed it.
Be well.
-Kevin
http://twitter.com/kevin_carty
http://www.linkedin.com/pub/kevin-carty/3/800/32a
Tags: Classic Exhibits, Hood to Coast, providence cancer center