What is Personal Branding?
Personal branding is the practice of people marketing themselves and their careers as brands. Branding has reached a new level  because of the rise of the Internet. The growth of the virtual world created the necessity of managing online identities. [Wikipedia]
Personal branding isn't about coming up with a complicated strategy. Rather, it's about knowing who you are and what you stand for, and then finding ways to make that visible. It's about amplifying your skills and passions, which is key to rising up in the messy middle. [Forbes]
I am fascinated by personal branding as a marketing strategy. And it's not as if it is a new concept. In its most basic form, it's just Public Relations. What has changed is the democratization of branding with the Internet and Social Media. We all follow and/or connect with people who have established a personal brand. Some are famous. Some semi-famous. Others are part of our business or social circle.
Recently, I asked Erica Dougherty, an Account Executive at Exhibits Northwest Seattle, about her strategy of personal branding. From the photos, you can tell it's distinctive, creative, and memorable. It's also genuine as you'll discover in the interview below.
Who is Erica and where did that pink hair come from?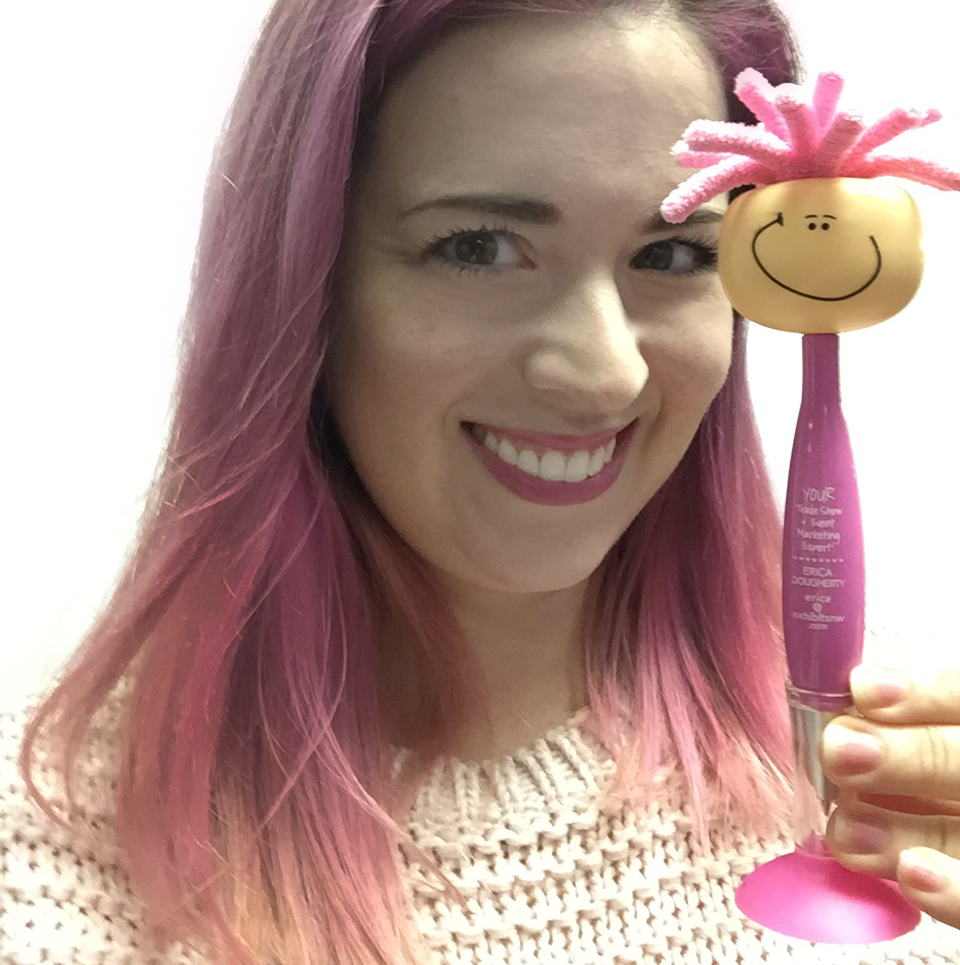 Obviously, the hair is natural! No really… it is. It should just grow out of my head this way, but it doesn't, so I help it out "a little." I am a designer by education/past life, with a Bachelor's Degree in Graphic Design, so I've always been dialed into trends and design-life. Sales and Marketing are both large parts of my background in various forms and should work in tandem. Social media, quite obviously, has forced us all to be personal branding experts; we all do it whether we mean to or not and it can be for the good of our personal brand… or not.
Intentional self-branding must be strategic, but I won't pretend that my own was strategic: it sort of happened organically. When my hair became fully pink (it was a gradual transition), it wasn't as popular of a trend as it is now. I would show up to networking events, and it seemed to be how people naturally remembered me from one event to the next. That was my ah-ha moment — the Pink Hair is a part of ME now. Might as well use it to my advantage!
How have you used your identity to your benefit in the business of trade show exhibit sales?
I'm definitely more than my pink hair. Some would say I have a big personality too. I'm truly an extrovert, ready to talk to anyone. I suppose I'm easily approachable because I tend to make friends where ever I go. It drives my husband crazy sometimes. However, I believe successful salespeople should be memorable in some way, something positive that people remember about them that makes them unique. The pink hair concept just found me and it works. The whimsical pink hair is paired with my friendly, professional, and authentic self, thus (hopefully) it doesn't seem unbusinesslike.
It's all about balance. But being a little out-of-the-box does help specifically in our industry. Trade show exhibits are NOT something an individual really ever needs (like insurance, for instance), and not something companies purchase every day. It is my job to be sure that if there's someone in Seattle tasked with sourcing a new trade show exhibit for their company, that they think, "Oh, I know someone!" and give me a call at Exhibits Northwest. So, HOW do you guarantee you are top-of-mind and easy to contact? Repetition, knowledge, memorable appearance and obviously, a bobble-head pen with my contact info on their desk!
So what is your strategy to be top-of-mind?
For the first year of in-person marketing efforts, I have be actively engaged in local Seattle networking events and groups. People remember me from event-to-event (and I remember them… that's super important too!). Thus I am slowly infiltrating their memory and instilling a positive perception of Exhibits Northwest. Some new business has resulted from my efforts, in addition to event marketing opportunities and community sponsorships in 2018. Each of these is an opportunity to be in front of hundreds of local business representatives. Ironically, much like that face-to-face relationship building that trade shows provide.
Late 2017, my strategy evolved finally when I began planning for my first "Lunch + Learn" and wanted something as a leave-behind. The answer was on my desk for a year — a swag silly bobble-head pen given to me by a wonderful client (from a trade show).
What's the pen's story?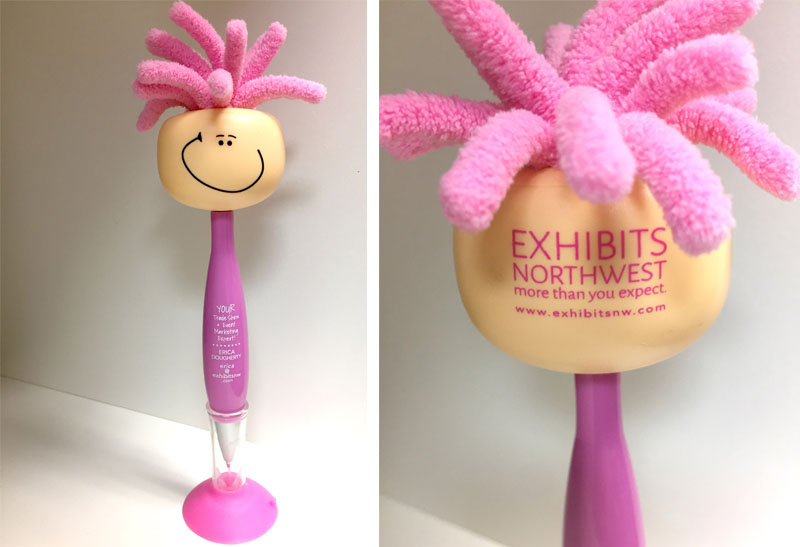 The blue pen with a giant smile and orange troll-doll hair sat on my desk for about a year, making me smile. It's just weird and funny, especially coming from my client, QCash Financial. Yep, a silly bobble-head pen from a digital lending company. Seattle's WeWork locations (which are full of growing new businesses, likely many never or novice trade show exhibitors) are perfect locations to start my Trade Show Marketing 101 Lunch + Learns. I really enjoy working with Trade Show newbies and helping them find success.
What I needed was a fun, memorable and personal take-away,  a small token of thank you swag. I brainstormed ideas, but then it hit me. I should give out a mini-ME, pink hair and all. Each time I give one out, I am sure to say, "It's ME!" Hopefully, she'll sit on your desk, waiting for that moment when the trade show booth is registered and the "What's next?" happens. Me. I'm next. Call me. I'm your trade show support, ready to help!
Where do you go from here?
First quarter 2018 is already filling up with scheduled Lunch + Learns in Seattle, plus other networking events. I'll toss a few pens in my bag and go! It's all about awareness, so my continued goal is repeating Exhibits Northwest in conversation, being me, and getting a mini-me pen on as many desks as I can! (Well, my first order was 150 pens, so we'll start there!) These pens are certainly not the quick answer to gaining tons of new business… but they certainly make the process more fun.
Thanks Erica. How can you to contact Erica, whether you need a banner stand or custom island exhibit? You can reach her at www.exhibitsnw.com or erica@exhibitsnw.com. You can also find her at her LinkedIn page (https://www.linkedin.com/in/erica-dougherty-7431ab110/). You'll recognize the distinctive pink hair.
–Mel White
mel@classicexhibits.com
http://www.linkedin.com/in/melmwhite