As I write this, we are 10 days from the opening of our industry's premiere event — EXHIBITOR2013. It's no secret, if you know me on any level, that I LOVE the EXHIBITOR Show. The folks at EXHIBITOR Media Group do an unparalleled job of organizing and promoting it every year. And I, as well as everyone at Classic Exhibits, take tremendous pride in participating.
But every year I get frustrated by two problems that inevitably happen at EXHIBITOR, as well as other trade shows. While I won't say these problems are epidemic, I will say they are very real problems that should be addressed. I am not blaming EXHIBITOR Media Group. To the contrary, it is incumbent on exhibitors to curb these problems.
Suitcasing and Outboarding
If you're unfamiliar with these terms, let me explain. Suitcasing is the "selling from the trade show aisles without having an exhibit." Outboarding is "taking meeting space at a hotel near the convention venue and using it for hospitality/demos/meetings/competing events."
Now before you say, "People in glass houses Kevin" . . . Yes, Classic does sponsor a hospitality suite every year from 3:30-6:30 pm on Tuesday. As do other companies. But there is the big difference. Classic and other companies hold our events during a time when there are no "EXHIBITOR sponsored" events, like the Opening Reception. The idea being, we are respectful not to interfere with the events that the EXHIBITOR Media Group has invested money, time, and effort into on behalf of the exhibitors and attendees. Plus, we are a paid exhibitor. That's an important distinction.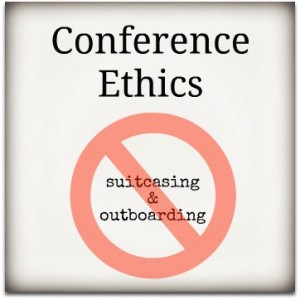 But others, sadly, do not show the same regard for the show's management — year after year. Instead, they blatantly ride the coattails of EXHIBITOR2013 to draw people to their own private event. And they do so under the guise of creating a Partner Event that somehow is supposedly beneficial to exhibitors, attendees, and show management. I would respectfully disagree. Unless you're in Iowa, if it smells like "you know what," it's rarely fertilizer.
Who's to Blame?
Some of the blame falls on show management. They could nip this in the bud by creating an event or gala event on Tuesday evening that recognizes the "Best of the Best" over the past year. Or that integrates the Sizzle Awards. The now defunct TS2 did something similar, and it was always a highlight of the show.
But some of the blame rests on our shoulders, the exhibitors and attendees. If we did not sponsor and attend such events, they wouldn't succeed. And, they wouldn't benefit from all the hard work and money the EXHIBITOR Media Group has invested in drawing the attendees and exhibitors to Las Vegas. Yet, when I see the list of sponsors, I am honestly dismayed.
Suitcasing on the other hand can be curbed by exhibitors. Nothing frustrates me more than to be working our booth and have some one pitch their product or service, someone who is not an exhibitor. The condensed EXHIBITOR hours make every minute valuable and when someone distracts me from speaking with distributors, partners, or potential customers, I resent it. They are effectively stealing my time, time that we paid dearly for.
By comparison, Classic invests somewhere in the ballpark of $125k to participate in EXHIBITOR. That includes booth space, the display, I&D, airfare/hotel/meals for staff, marketing, entertaining, etc. Yet, this same individual who is pitching me their product may have invested as little as $100 to get a badge to attend the show for one day.
Might I suggest that, as a group, we make a concerted effort this year to send a message to these Suitcasing individuals.  First, do not allow them into your exhibit space. Second, get their name and company and report them to show management.  Third, do not buy their products or services. If they really want to or have a product or service worth selling, then they should take a space in the show.
Ethically Challenged

Having said all that, I recently came upon an article in LinkedIn that really floored me. This article was published by Inc. Magazine. You too will be surprised by the encouragement of the author to participate in the unethical practices of Suitcasing and Outboarding. And should any of you be subscribers to Inc., think twice about giving them your advertising or subscription dollars.
These links take you to the article and a response to the article. Be sure to read the response and the comments which are more entertaining than the original article:
I look forward to seeing you in Vegas, and hope EXHIBITOR2013 is a great success for all!
Be well.
Kevin Carty
http://twitter.com/kevin_carty
http://www.linkedin.com/pub/kevin-carty/3/800/32a
[subscribe2]