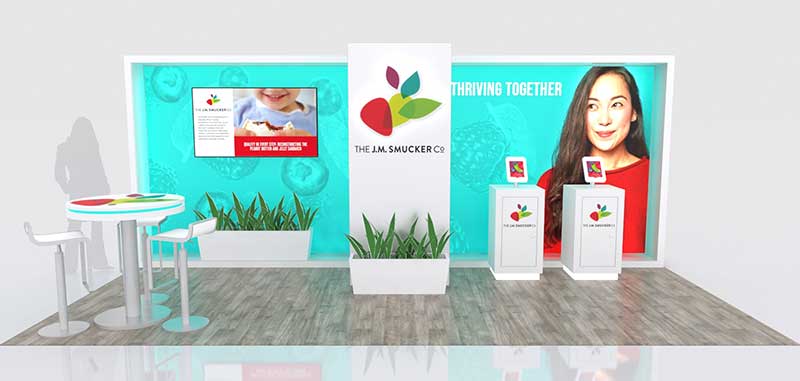 Last summer, we "predicted" (5) post-pandemic display trends (based on hunches, educated guesses, and a six pack of PBR tall boys). So… how well did we do?
What We're Seeing:
Graphics – Not surprising. Mostly for smaller displays; however we anticipate larger graphic orders in Q3 & Q4 as exhibitors dust-off their storage properties.  
Portables – We expected the new Symphony Portable System to do well. However not this well. What's even more shocking… it's being driven by end-users who specifically ask for Symphony.
Rentals – We predicted far more inline than island requests. We're seeing more islands than inlines. Very encouraging!
Custom Modular (and Lightboxes) – The eager beaver exhibitors are driving this. Since shows are still evolving, exhibitors are forced to be flexible. As a result, we're seeing a significant interest in Gravitee Modular Wall designs and SuperNova Lightboxes (both tool-less and modular).
Pandemic – It would end by September 2020. 😉
Well, #5 was a swing and a miss. And #3 is very encouraging. All the others are spot on!
I asked Edie Arambula, Classic's Customer Service Manager, and Jim Shelman, GM Classic Rental Solutions, to share what Classic Distributors have requested over the past two weeks. We thought you might find the trends interesting.
Symphony Portable Displays
Custom Modular (and Lightboxes)
VK-2110

VK-1323

VK-1977

VK-2307

VK-4025

VK-4027

VK-2993
Rental Islands
RE–9047

RE-9093

RE-9118

RE-9095

RE-9119

RE-9123

RE-9124

RE-9127

RE-9129

RE-9135
Rental Inlines
RE-2116

RE-2038

RE-2099

RE-2101

RE-2110

RE-2106

RE-2119
Are you seeing any other trends? If so, let us know so we can share with our sales, project management, and design teams.
–Mel White
mel@classicexhibits.com
http://www.linkedin.com/in/melmwhite
https://twitter.com/melmwhite
**********************************************
Based in Portland, Oregon, Classic Exhibits Inc. designs and manufacturers portable, modular, and custom-hybrid exhibit solutions. Classic Exhibits products are represented by an extensive distributor network in North America and in select International markets. For more information, contact us at 866-652-2100 or www.classicexhibits.com.