Discover (4) new galleries in Exhibit Design Search: PlaceLyft Office Solutions, Office/Retail Lightboxes, Hand Sanitizer Stands, and Safety Dividers. In a recent New York Times article about virus-proofing offices, the authors state, "Companies are quickly trying to reverse the (open office) trend in a low-cost and flexible way. They want to remove chairs and desks and install screens or other dividers between remaining desks."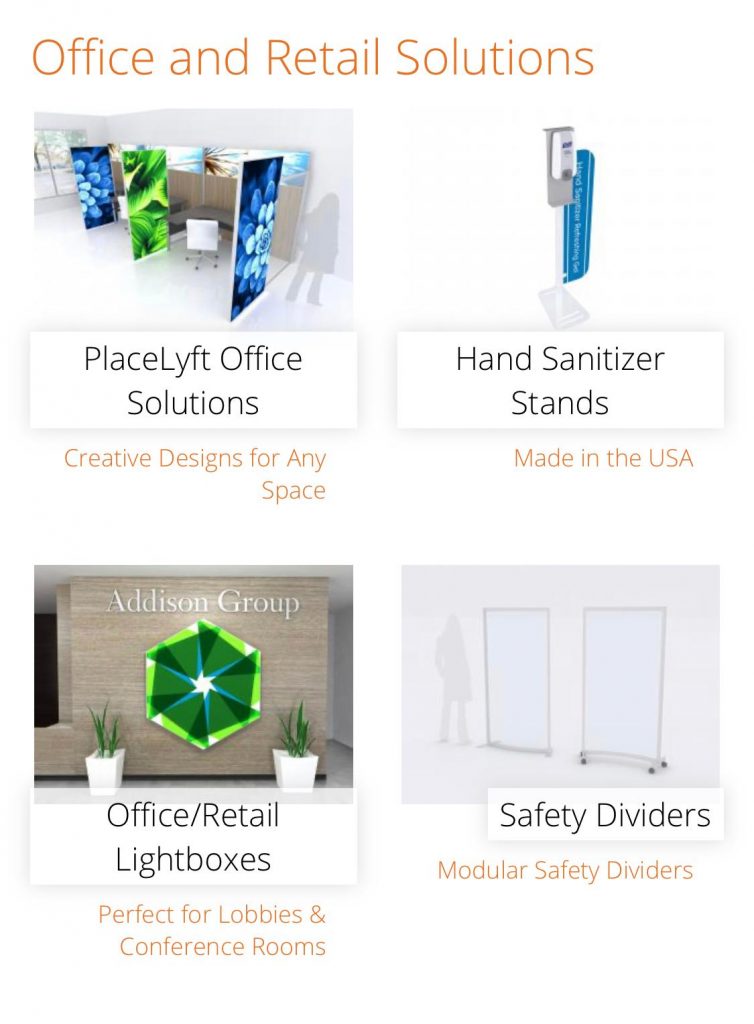 Virus-Proofing the New Office
COVID-19 has forced most businesses to review their work environments as they plan for their employees to return. What they've realized is that most, if not all offices or retail spaces, do not protect employees from airborne or surface viruses. Deciding on next steps, however, can be confusing (and expensive) for many organizations.
The Contemporary Office and Retail Solutions galleries in EDS are designed to make those decisions easier. The four galleries show attractive and cost-effective solutions for any office or retail environment. They include office partitions with easily sanitize-able surfaces, protective safety barriers, durable hand sanitizer stands, and customizable LED lightboxes. There are no hidden prices, and the designs can be customized to any situation.
One of the easiest and most cost-effective solutions is to simply extend the height of existing cubicle partitions from 12-24 inches. Cubicle Height Extenders are designed to provide additional personal protection without extensive modifications. As a bonus, the Height Extenders allow for graphic branding.
Contact Classic Exhibits for more information regarding design and delivery options.
Tags: Classic Exhibits Inc., COVID-19, Office Environments, PlaceLyft