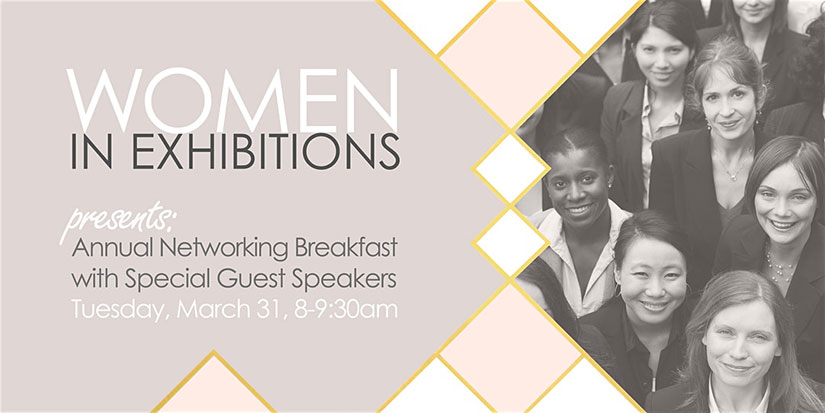 The 3rd Annual Women In Exhibitions Breakfast will be held at EXHIBITORLIVE in the Connection Zone, March 31, 2020 from 8-9:30 am. This once-a-year event brings leading women in the Exhibition and Event industry together to share success strategies, discuss challenges, and make new contacts.
Cost of admission includes breakfast and can't-miss presenters. The presenters will address vital strategies such as confronting the wage gap, promoting yourself, and improving your management savvy.
What Attendees Say About WIE
"It was empowering to be sitting in a room full of women who were actively pursuing their careers in the exhibit industry. There's nothing quite like being with a group of career-oriented women who want to see each other succeed. I am already excited to attend this event next year." – Jessica Diers, Diers Exhibit
"The value that the 'Women's forum' brings at EXHIBITORLIVE is astounding. It is a great opportunity to network with other women in the industry with strong core values that boost other women up. Hearing the speakers is a great inspiration and a big reason I brought my team of 7 women to the event this year. It is also a chance to see how women have changed the tradeshow industry. Year-to-year the group is growing, and that's exciting to see." – Lauren Wheeler, Willwork Global Event Services
"I was proud to be sitting amongst the best and brightest women in the industry. I think we all felt a sense of camaraderie." – Gina Porcaro, Optima Graphics, Inc.
Tickets are available but space is limited. Purchasing tickets in advance is STRONGLY recommended: https://www.eventbrite.com/e/women-in-exhibitions-breakfast-in-the-connection-zone-tickets-91235900033.
Sponsorship Opportunities are Still Available
Show the women of our industry your support while increasing your company's visibility at EXHIBITORLIVE by sponsoring this event.

Special thanks for the support of our established sponsors EXHIBITOR Media Group and Classic Exhibits Inc.
Contact Katina Rigall Zipay for more information (katina@classicexhibits.com).