Trade Show Rentals have undergone a seismic shift not only in design but also in sales. And, this trend will continue in 2019 and beyond. This week, we chatted with Jim Shelman, the General Manager of Classic Rental Solutions. So what should you expect as an exhibitor or a Classic Exhibits Distributor Partner? More of the same, which is a VERY GOOD THING.
Q1. You've been in the Rental Exhibits space for over 20 years. What's different now than say 6-8 years ago?
A lot of things have changed, but there are two things that really stand out to me as major changes. One, is the implementation of customization to rental designs. Almost every order we produce includes some element of customization to provide specific needs that exhibitors request during the design process. Today, it's difficult to spot a rental design, versus a purchased design on the show floor.
The other thing that stands out are the reasons exhibitors decide to rent vs. purchase.
In the past, the primary reason to rent had more to do with only exhibiting in one or two shows per year, and if you were unsure of your long-term show schedule. The thought process was to test the waters with a rental, see how it goes, and purchase once you've committed to exhibiting in multiple shows per year. Now, it has become more about design flexibility, and perhaps not wanting to be stuck with the same design show after show. Or, maybe not wanting to deal with storing, shipping, or repairing a purchased exhibit.
Today, many exhibitors approach each show as a clean slate by working with new rental designs that match their specific show-to-show needs.
Q2. Classic Rental Solutions sales have increased year-over-year since 2010. Nearly 20% in 2018. Why?
There are several factors. With the risk of sounding corny, I'll credit our team of dedicated people, and our incredible distributors, but I also think it's because of our business model. We understand how important it is to be flexible, and to offer customized design services, and continuously add new custom designs to our rental gallery through our Exhibit Design Search feature on our website. And we're committed to adding inventory as needed, to fulfill new opportunities for our distributors.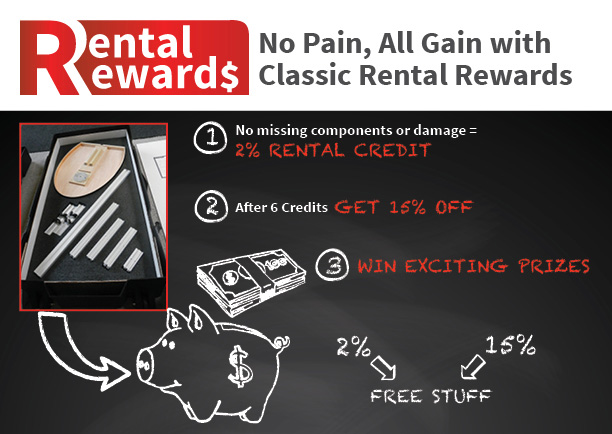 Another key factor is that we have the unique support from our in-house manufacturing professionals that produce new exhibits for our 200+ Distributor Partner Network. All of our rental components are produced right here, and we're able to make last minute modifications.
I like to make it clear that we don't just offer rentals, but that we offer a complete rental program. From start to finish, we have detailed processes that are followed by our production team and project managers. Every rental project gets staged and photographed before shipping. The highest quality standards are strictly enforced. We include setup instructions, and staging and packing photos with every order. After orders are returned, we provide a complete check-in report to close-out the project.
Several years ago, we implemented our Rental Rewards Program, which offers a reward discount of 2% of the total rental and graphics order when your exhibit returns without major damage and/or missing components. The program also offers two annual prize-drawings, and other rewards for our distributor network.
Q3. What are your biggest challenges headed into 2019? Biggest opportunities?
The seasonal nature of the trade show industry is always challenging. Everything hits at once several times throughout the year, which makes it challenging at times, but we plan and adjust accordingly. I've been doing this for a long time, so it's never a real surprise, but it can hit at slightly different times.
2019 should be an amazing year for us. I would say that our biggest opportunities will be to continue to work on larger island design projects. We're doing larger projects all the time, and I expect that trend to continue.
Another big opportunity that I'm anticipating is doing more large quantity component orders. We do large quantity orders for workstation kiosks, monitor stands, iPad kiosks, counters, and charging stations. Our large inventory, and willingness to add more, allows us to offer quantities that others typically don't have available.

Q4. What do you think the typical exhibitor gets wrong about renting a trade show exhibit?
Some of the newer exhibitors think that they are limited to standard designs, and they're surprised when we start the design process and realize that we offer so much more than they were expecting.
Q5. What do you wish the typical Classic Distributor Partner understood about Classic Rental Solutions?
For those who aren't aware and haven't worked with us, I wish that they understood our full capabilities, and our design flexibility. And that we offer a complete rental program with nothing but high-quality "like-new" components. I want them to understand that we can offer something unique for their client base. Something that has proven to work successfully for distributors all over the country.
Q6. Have you seen more event-related rentals vs. trade show rentals? Are their more similarities or differences?
Yes, we ship a fair amount of event-related projects. In the last couple of months, we had multiple large quantity orders for charging stations. And last week we shipped (49) backlit counters to the Wynn Hotel in Las Vegas.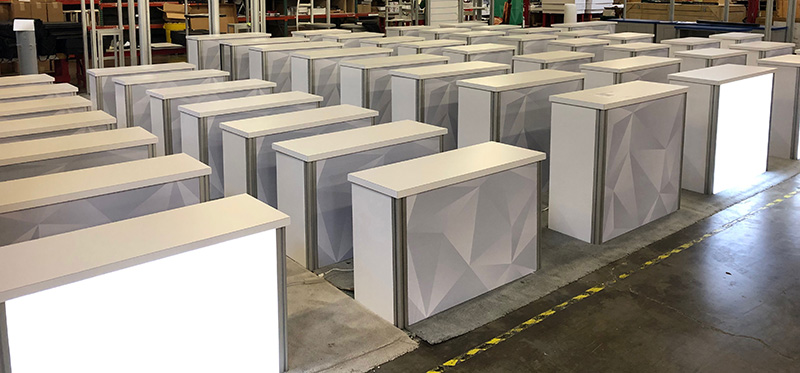 Q7. How has the Gravitee One-Step System impacted your rental options?
Our Gravitee Modular System has been a great addition to our rental program. It works extremely well for towers and conference rooms, but also for entire island and inline designs. It's super-fast and easy to setup and disassemble, so it's used as much as possible to save on labor costs. We see a substantial savings in time during our staging process here in our shop as well. We have a large inventory of standard and custom panel sizes, and we'll continue to add to it.
Q8. Assuming you'll be at EXHIBITORLIVE 2019, what are the three questions you want attendees or Distributor Partners to ask you about CRS?
Yes, I'm planning to be there, and here are three of many questions that I would welcome during our conversations.
How can Classic Rental Solutions assist us with our current rental program?
How do we get started working with Classic for our rental projects?
What are your customization capabilities?
I'm looking forward to the show, and I'd be happy to schedule meetings during, before, or after show hours.
You can contact Jim Shelman at jshelman@classicexhibits.com or at 503-345-0525 ext, 103.
**********************************************
Classic Exhibits Inc. designs and manufacturers portable, modular, hybrid, custom, rental exhibit solutions. Classic Exhibits products are represented by an extensive distributor network in North America and in select International markets. For more information, contact us at 866-652-2100 or www.classicexhibits.com.
Tags: Classic Exhibits Inc., Classic Rental Solutions, Exhibits Trade Shows, Jim Shelman, Rental Displays, Rental Exhibits, Trade Show Marketing