In 1975, David Wallechinsky and his father Irving Wallace published The People's Almanac. Two more followed — one in 1978 and another in 1981. I bought them all. These were not your grandparent's Farmer's Almanacs with weather predictions, quotes, and gardening tips. The TPA was a big fat book with obscure facts, lists, and esoteric information. Reading it made you feel smarter, dangerously so at parties, family gatherings, and bars. If you had any social skills, you quickly learned that a 20-year-old know-it-all isn't endearing.
Knowledge is NOT the SAME as Expertise
I'm reminded of that all too often. Recently, a distributor asked me an exhibit design question. I'm not a designer, but I feel comfortable answering basic design questions. This question, however, required the expertise and knowledge of 3D exhibit designer.
If I was cocky, I would claim that 20+ years of experience makes me qualified. It doesn't. I have exhibit design knowledge, but that doesn't make me an exhibit designer.
Your Ego, My Ego, the Client's Ego
We all love working with an informed client about trade shows and trade show marketing. They ask our advice. We give it. Sometimes we state facts. The booth guidelines for an inline space in North America are XYZ. Sometimes we offer opinions. It's better to hire the Exhibit-Appointed Contractor than the GSC labor. If you are like me, you occasionally wade into information quicksand, and then keep talking until you are way over your head. I would encourage you not to make that mistake. Defer to the experts, like those listed below.
Exhibit Designers
You probably knew I would start with this one. It's a pet-peeve of mine. Having a pen and a napkin doesn't make you a designer. It means you can (and should) share your design advice based on your experience. But at some point, you should seek the advice of a professional. That's why every exhibit house and display builder hires folks who do nothing but design exhibits. They understand current design trends, materials, and accessories. They know how to translate "this is what we do and these are our goals for the show" into a stunning 3D structure.
Builders
Now this just seems obvious… but just because you made a bread board in woodshop, it doesn't make you a carpenter, mill-worker, or electrician. I speak from experience. I see their craftsmanship every day in our shop. We design and detail every project, yet they find ways to improve these projects in both big and small ways.
Show Labor
Whether you chose labor from the GSC or from an Exhibit-Appointed Contractor (EAC), you can be sure the crew has done it at least 1000 times more than you. Not necessarily your exhibit, and sadly not necessarily every laborer. It's been my experience that they know what they are doing and are amazing at problem solving. You'll be rewarded if you respect their skill set, provide them with helpful supervision, and don't freak-out when they take their required breaks. They deserve them.

Account Executives and Project Managers
You probably know them the best. They guide you through the exhibit buying experience. They assist you with show regulations, shipping, repairs, and trade show marketing. They are the ones who pester you about the next show, graphic files, collateral, and promotional products. They want you to succeed because then you are happy. When you are happy, you continue to invest in trade shows.
Consultants, Talent, Service Providers
Our industry has a wealth of seasoned professionals with insider knowledge about improving your trade show ROI. There are trade show consultants, booth staff trainers, in-booth presenters, lead capture specialists, A/V gurus, models, international exhibiting experts, etc. The list is vast and the talent impressive. I've learned over the years that we can only know so much about trade shows. We do a disservice to our clients when we don't steer them to someone who has the talent to elevate their trade show return.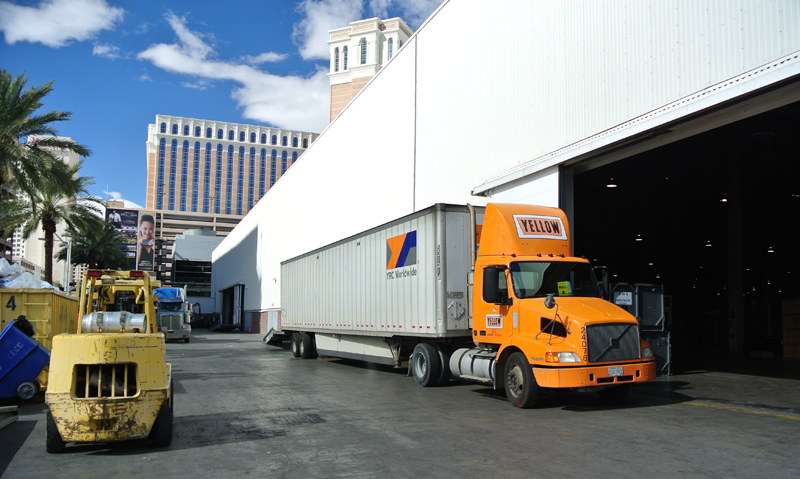 Freight
No offense, but do you really want to spend time learning about freight and logistics? No you don't. You want to go to your grave with the least amount of information regarding freight, wait times, LTL, and the Motor Carrier Safety Administration. Find someone who thinks about it on weekends and holidays and offer them your first-born child. Think of it as your contribution to a better world.
Clearly, this is only the tip of the iceberg when it comes to experts in our industry. Graphic designers, detailers, show organizers, etc. all have unique skills acquired through specialized training or on-the-job skills. Too often, we delve into areas best left to those with more knowledge. While it's flattering to be "the source" for all trade show questions, it's smarter to be the one "who knows the person who knows." That's not something I learned from The People's Almanac.
–Mel White
mel@classicexhibits.com
http://www.linkedin.com/in/melmwhite
https://twitter.com/melmwhite
https://www.facebook.com/Classic-Exhibits-Inc-113601405319757