March 12-16 at Mandalay Bay
I don't know about you, but we are delighted EXHIBITORLIVE is a bit later this year. It was a crazy January at Classic Exhibits, and February has already gotten even wackier with designs, quotes, and orders. Thanks for all the business.
So, what can you expect from Classic Exhibits at EXHIBITORLIVE? [All future references to the show will be "EL." If I have to type all caps and then change LIVE to italics again, I will lose my friggin' mind]. As a reminder, the show runs from March 12-16 at Mandalay Bay. Or translated, March 13-15, which is the show hall dates. I'm never quite sure what anyone is doing on Thursday, except packing their exhibit, but there must be classes, seminars, and stuff going on somewhere. It just doesn't apply to me, so I don't care. 😉
You can get a FREE Show Hall pass by using code #4044. Use it or not. EXHIBITOR hypes the codes to exhibitors. Supposedly we can win a 10 ft space next year by having the most people use our code. Hmmm… I'm sure it's legitimate. I've just never heard anyone boast about their free 10 ft. EL space.
According to Kevin, this is our 23rd year as an exhibitor. Even after 9/11 and throughout The Great Recession, we participated and supported the industry (a pat on the back to us). Location:  #1645 in a 20 x 30 space. Same spot as the past three years. Our neighbors change, but we stay. Not quite sure what that says about us.
Our main focus will be the Gravitee One-Step Modular System. Gravitee sales have soared the past six months, both for purchase and rentals, but like all new products, distributors need to see and touch it. Here's your chance to see me demo it 1587 times over the course of three days. Connect. Plunge. Stack. Connect. 90 Degree. Adjustable Hinge. End Cap. Believe me, I've got it down to a Vaudeville act at this point, minus the burlesque show. It's pretty impressive actually. The system… Not my presentation.
We'll also show our Charging Station designs. These keep evolving based on your requests. Frankly, it's been a lot of fun seeing how this category has grown and changed. The same point could be made for LED Lightboxes. So many leave our building everyday, both single and double-sided, in a variety of shapes. Recently, we are experimenting and selling programmable RGB lights. This is a situation where graphic design is a step behind the light technology, but once graphic designers understand what can be done, you will see some pretty exciting visual effects.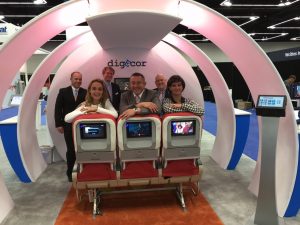 As you may know, Classic Exhibits has supported EL's Portable Modular Awards since its inception. This year, we have five finalists. The awards ceremony will be held Tuesday at the conclusion of the show hall hours (3:30 pm). We would love for you to be our guest. There's no charge (which is one reason we're so graciously inviting you to be "our guest").
All kidding aside, we encourage you to attend and vote for the PMA People's Choice Award. EL will only continue to support this program as long as attendees see it as valuable. We believe, as we hope you do too, that portable modular design should be recognized in our industry. Please attend and celebrate all the nominees and winners.
Finally, we will be serving sweet treats in our booth this year. It's not candy. And it's only marginally healthy. But it's for a good cause and comes around only once a year. We promise to have ALL your favorite flavors. That's all the hints you get.
See you at EL. Don't forget about Strategic Partner Hours on Tuesday and Wednesday, beginning at 10 am.
–Mel White
mel@classicexhibits.com
http://www.linkedin.com/in/melmwhite
https://twitter.com/melmwhite
https://www.facebook.com/Classic-Exhibits-Inc-113601405319757
[subscribe2]
Tags: charging stations, Classic Exhibits, ExhibitorLIVE, Gravitee Modular, LED Lightboxes, Portable Modular Awards, rentals