In the past month, our designs have been copied three times. Three clear examples, all very different in scope. Question:  When do you throw up your hands vs. taking legal action to protect your intellectual property? Thought you might like to read what we decided to do in each situation.
Base Plate.
To be honest, we expected this to happen at some point. About seven years ago, we created an identifiable base plate for our Sacagawea Portable Hybrid Display line. The design made the base plates lighter, distinctive, and easier to carry. We expected other display manufacturers to create their own unique designs. What we didn't anticipate was that a budget manufacturer/importer would simply tweak our existing design. See the minor difference.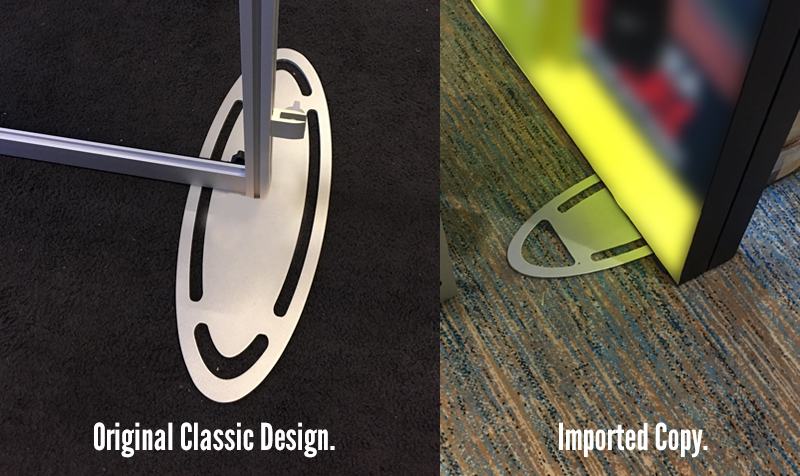 What was surprising was seeing it at an exhibit association event, where members take an oath to honor one another's intellectual property. I asked the owner about the base plate design and basically got a shrug. In other words, it is what it is. Will we pursue this legally? No but it's an annoyance. This manufacturer has purchased parts and pieces from us in the past. We won't sell to them again.
Charging Table.
Over the past year, we've designed and engineered a line of charging tables in various sizes and heights. The tables are clearly identifiable as Classic Exhibits designs, including the LED lights around the perimeter. Other charging solutions fit into one of two categories:  sofas, tables, and chairs with plugs or charging towers, similar to what you would see at an airport. Ours look nothing like those.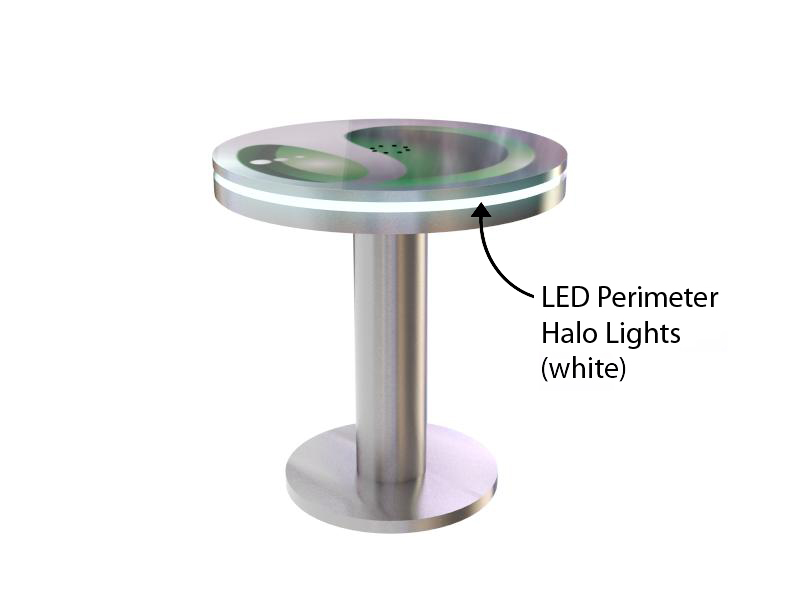 Last week,  I noticed a photo showing our MOD-1432 in LinkedIn… yet, it wasn't. The shape was the same, along with the LED lights, USB charging ports, post, and base. Only the proportions were different. Honestly, we were surprised that someone would copy a design so clearly identifiable with Classic Exhibits. Yes, a round bistro table is a round bistro table, but the copy appeared to have the same LED light pattern and number of USB ports. Frankly, that's being intellectually lazy.
I won't share the photo because it would implicate the customer, rather than the manufacturer. So, what did we do? We sent the owner an email, who was kind enough to give me a call. While he felt their design didn't infringe on the MOD-1432, he did agree to revisit the design and see if some changes were possible. We'll see what happens.
Island Exhibit.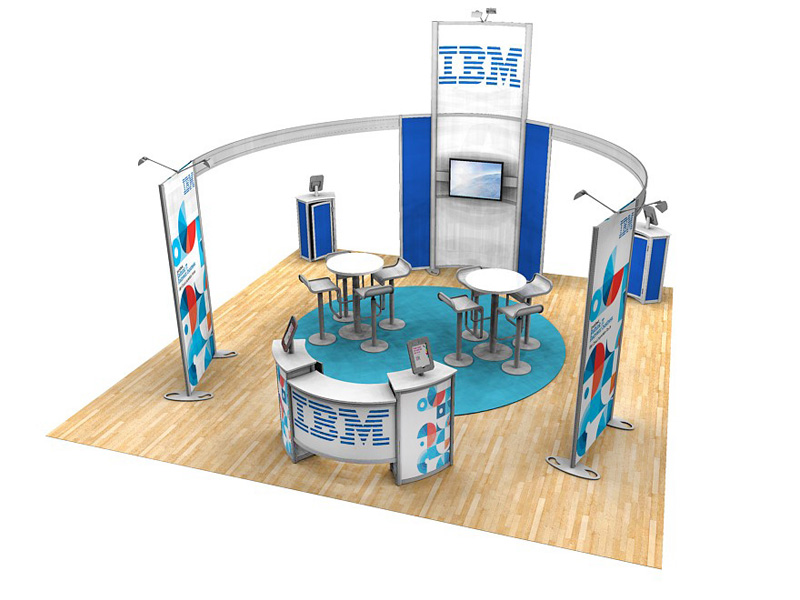 This one will blow your mind. Late last summer, our sister company Eco-Systems Sustainable Exhibits quoted a modified eSmart ECO-4073 island to a Distributor which included several Classic Exhibits counters and iPad stands. Several months later, we were contacted by a graphic designer asking for templates on the island they purchased in September. Except, we never built the island. The graphic designer sent us their invoice, which listed Classic kit numbers.
What the client purchased was a copy of the modified ECO-4073. Some small variations but 98% the same. The Distributor chose to build part of it and purchase other components, but it was an ECO-4073. And the distributor even included our part numbers on the invoice. For legal reasons, I can't go into details; however, we are pursuing this aggressively with an IP attorney and expect a lawsuit to be filed within the next two weeks.
Like you, we are in a very creative business, so we're always surprised when someone takes a design shortcut by copying. It's one thing to improve, refine, expand on a design. It's another thing to blatantly copy. And like you, we have to decide on the best recourse each time. We always address it. Sometimes tactfully, Sometimes bluntly. And sometimes legally. If you don't, then the lazy will do what they do best. Steal your designs.
We would enjoy hearing your experiences and thoughts on this topic.
–Mel White
mel@classicexhibits.com
http://www.linkedin.com/in/melmwhite
https://twitter.com/melmwhite
[subscribe2]