This week I discovered a new emotion — Hangry. It's the moment when you are angry AND happy. It's a little unsettling at first but then Mr. Happy takes charge, and it's all cool. Before you ask, yes Oregon has that new "recreational pot law," but it has nothing to do with that.
Earlier this week, a Classic Distributor sent me two rental furniture screen shots. As you may recall, we launched two Cort Furniture Rental Galleries in Exhibit Design Search about three weeks ago.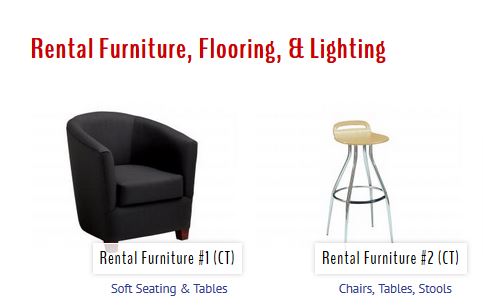 Since then, I've gotten calls and emails from distributors that range from excited to bemused. Several said to me, "I don't get it. I've tried to handle furniture rentals for my clients before, but it's a no-win situation. I do the work and make little to no money."
The EDS galleries change that. They're in retail with an average margin of 33%. You order direct from Cort at wholesale and earn the difference between wholesale and retail. Otherwise known as "doing business" in most industries.
Why Should You Care?
At an exhibit industry event in April, I spoke to several I&D labor companies. I asked them, "What percentage of exhibitors rent furniture these days?" I expected them to say 20-30%. They said, "75-90%." Wow! So, who's making money on this? The furniture rental folks, of course. But the big bucks are going to the General Service Contractors. The furniture is in the show book, and most exhibitors order directly from them.
So, you would expect the prices to be lower. Or reasonable. Not so my silly friend. The GSC's do what they do when they know they can do it (ex. drayage charges). They mix a dash of Caveat Emptor with splash of "what the market will bear." Who can blame them. It's what quasi-monopolies do.
Again, Why Should You Care?
Two Banana Bar Stool images (screen shots from a Classic Distributor):  One from the GSC at $348.60. The other on EDS at $247.00. Same stool with a wholesale price in the mid-$160's — a 110% markup for the GSC, and perhaps more depending on the price from the vendor.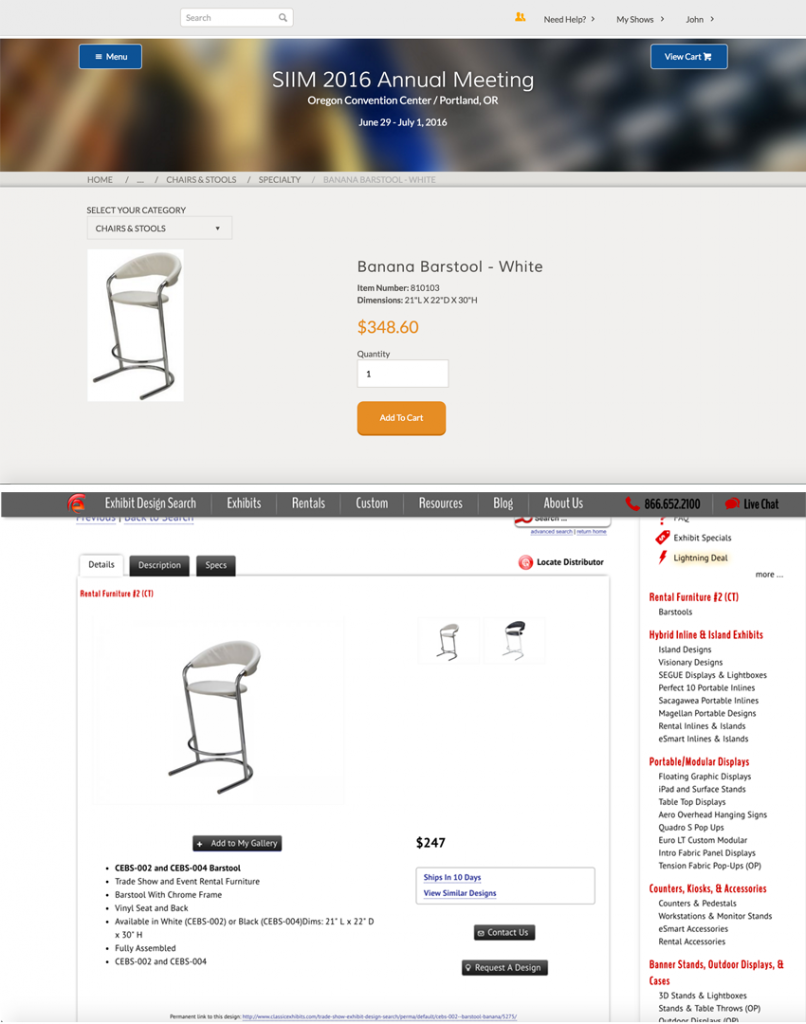 Your client could ask you to order it at $348.60 retail. That would be perfect. But more likely your client will order it themselves. Now if you could show them the same bar stool in EDS at over $100 less, then they would definitely order it from you. Why not? You saved them money, made a respectable margin, and have a happy client. That's everyone's goal.
Can you count on the GSC's pricing always being this egregious? No. They vary the prices depending on the show, and they run specials on certain items. However, you now have a very good chance at getting your client's rental furniture business, if you ask and guide them through the EDS galleries.
So, why was I both angry and happy? I've been on the receiving end of high furniture rental prices with no recourse except to pay the price. And I know those high prices damage the perception of trade shows as cost-effective marketing. Happy… Now exhibitors and Classic Distributors have another option, one that benefits both parties. That makes me very, very happy.
Let us know if you have questions about the two new Cort Furniture Rental Galleries in EDS. Don't see exactly what you need, contact Cort and let them know you are a Classic Exhibits Distributor.
–Mel White
mel@classicexhibits.com
http://www.linkedin.com/in/melmwhite
https://twitter.com/melmwhite
**********************************************
Based in Portland, Oregon, Classic Exhibits Inc. designs and manufacturers portable, modular, and custom-hybrid exhibit solutions. Classic Exhibits products are represented by an extensive distributor network in North America and in select International markets. For more information, contact us at 866-652-2100 or www.classicexhibits.com.
Tags: Classic Exhibits, Exhibit Design Search, Exhibit Furniture Rentals, Furniture Rentals, Trade Shows