I'm asked this question a lot. New distributors will say, "What makes doing business with Classic Exhibits different from other manufacturers?" But, before I launch into this, a bit of a warning. I'm writing this from the hospital, hopped up on drugs before I have surgery. I'm in pain but I will be better in a few hours. So allow me a little latitude if this rambles.
There are No Real Egos
Mel and Kevin co-manage the entire company for a quiet owner. The invisible "Inc." includes Classic Manufacturing, ClassicMODUL (our version of "Home Depot" of aluminum extrusion), Classic Rental Solutions (turnkey custom modular rentals), and Exhibits Northwest (a retail exhibit provider in the Pacific Northwest). Inside all of these divisions is other leadership. Over the years, we have all run into the prima donna sales person who believes without them the company would fold in a matter of days. Headstrong designers who are the creative world's version of the prima donna sales person. And there's always the CFO who someone, somewhere blames for always saying "No."
Well, at Classic, our vision is based on Shared Success. We want everyone to succeed: Distributors, Vendors, Strategic Partners, and Employees. It sounds hokey, but it's genuine. That's not to say there aren't a few potholes and detours, but the "Why we do what we do" is transparent. Every company knows "What they do." Most know "How they do it." But few know "Why they do it." We do.
The Middle Matters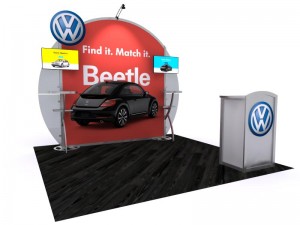 Recently, a blog was written about the middle market for trade show displays. As a recap, most corporate trade show purchases are in the "middle." For the most part, Classic's products do not target the Slightly Better Than Cheap customer (SBTC). We could. It would mean sacrificing on product quality, accessories, packaging, and design. Instead, our products reflect features and benefits not found with SBTC displays. We offer great service, well-designed, high-quality products with world-class packaging, and set-up instructions all at a moderate cost. We're very happy to move upstream on projects. That's easy, whether in materials or design. We do that every day.
At the same time, we're more than happy to pare down designs if the client has a tight budget. That's different than SBTC. We'll provide quality products but with a little less flair. One of the things we are most proud of as a manufacturer is our ability to CNC bend engineered aluminum. It's not an art or guesswork. It's manufacturing precision. Few manufacturers have this capability. If you doubt me, review their kits. But curves have a cost. More curves equals more cost, since it requires more labor and metal. But curves mean our kits are both unique and upscale without being expensive. That's the middle.
Creative Thinking
The old cliche that we need to "think outside of the box" has been beat to a pulp. I believe thinking outside of the box can result in solutions that are cool but out-of-step with what clients want. Thinking near the edge of the box will give fresh ideas yet still keep everything in check. For example, thinking towards the edge of the box creates a way to make the best-looking backlit SEG lightbox in the industry. Thinking outside the box creates inflatable displays like a Halloween fun house!
We Enjoy Working with Our Customers
To put it bluntly, "We give a damn and it shows." Classic understands its role in the process. We enjoy taking on a challenge from design, project management, and production/construction and providing you with a solution. Over the course of time, these wins turn customers into fans and fans into friends. The ultimate goal of making the exhibitor look spectacular at their show or event keeps creativity and problem solving headed in the right direction. And we look forward to doing it again and again. That's the fun part.

We are Honest and Transparent
The only question we won't answer is about our financials. Other than that, you can ask us anything, and we will answer you honestly. We will tell you if we screwed up. In fact, we will tell you that we are going to screw up. We are humans and humans make mistakes. If we do something wrong, we will acknowledge it and work quickly and diligently to correct it. We accept responsibility for our actions. On top of that, we will help you to the best of our ability if YOU make a mistake. We still feel a responsibility to be good and take care of our customers so YOUR clients are still happy with you. Which leads to the next topic.
We're in This Together
We understand that you have options for portable, modular or custom-hybrid exhibits . . . . which is why we push our designers to create distinctive exhibits that are attractive, innovative, interesting, and affordable. If they aren't, then they won't sell.  That is why our project managers work tirelessly to provide well-engineered exhibits that your clients will love from the first show to the last. That is why our Production team obsesses about the details always trying to improve packaging and assembly.
Like You . . . We are Nimble
No one survived The Great Recession unless they had very deep pockets or were extraordinarily nimble. For Classic, probably the best examples are the tablet kiosks and "retail and store branding" projects we're building. That has become a nice piece of business for us. It is not a change in direction. It has broadened our direction.
We are Proud of Our Industry Partners
If you look at Exhibit Design Search, you can guess how much time, energy, and resources have been devoted to this since its inception nine years ago. We made it even better when we asked our industry "pals" to participate in it. We make no money from the sales from of those products. It is simply a way to create a "one-stop shop" for you and your customers. We are proud of our relationships with Optima, Eco-Systems Sustainable, Display Supply and Lighting, and Brumark. They are great companies.
We Haven't Changed Our Focus – Period!
When Classic Exhibits was started in the late 80's, we built a portable panel system and sold it through distributors.  Now, 20 plus years later, we have added many new systems and services, but we still sell them through a network of distributors. If there is anything I would like you to remember about Classic, it's just that. We are a distributor-focused company that DOES NOT SELL DIRECT TO END USERS!
I am sure there are many other reasons. For whatever reason you choose to do business with us, we thank you.
Oh no!!! The drugs are starting to wear off. Best if I don't proofread this. 😉
Reid Sherwood
reid@classicexhibits.com
Tags: Brumark, Classic Exhibits, Display Supply and Lighting, Eco-Systems Sustainable, Optima