Classic Exhibits Distributors:  You didn't stay in business this long by lighting cigars with $100 bills. Heck no! You want a deal.
EXHIBITOR2013 is just around the corner. And, if you're like me, you're wondering, "What can I do at the show that won't cost me any money." Kevin will tell you that's how I think 365 days of the year. Not true. Sometimes I wonder how I can pay even less, thereby making a little money. 😉
Click to download the PDF "10 Totally Free Things to Do at EXHIBITOR2013." Print it my friend. This is information you'll want at your fingertips while you're in Sin City. Don't forget to take the complimentary shampoo and conditioner home with you. If you hide them in your suitcase each day, you'll collect enough to save you at least 50 cents. It all adds up. It all adds up.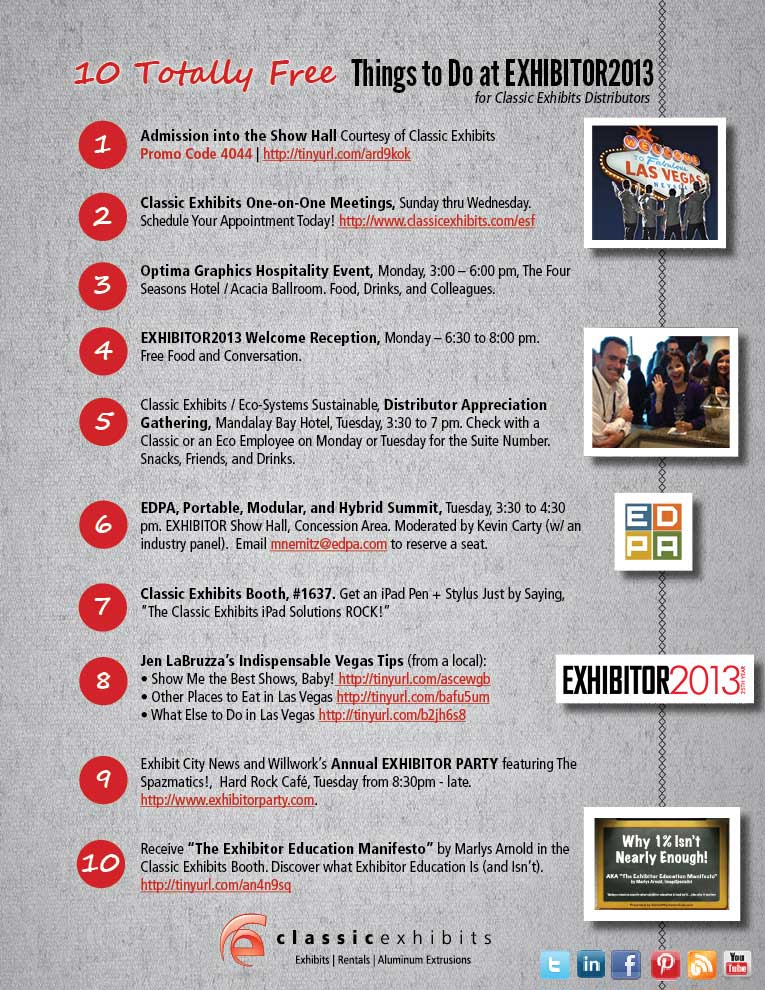 –Mel White
http://www.linkedin.com/in/melmwhite
mel@classicexhibits.com
*********************************
Based in Portland, Oregon, Classic Exhibits Inc. designs and manufacturers portable, modular, and custom-hybrid exhibit solutions and engineered aluminum extrusions (ClassicMODUL). Classic Exhibits products are represented by an extensive distributor network in North America and in select International markets. For more information, contact us at 866-652-2100.
[subscribe2]