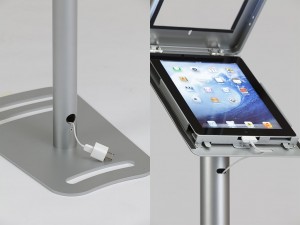 Let me share iPad Kiosk sales from an unnamed Classic Distributor. Last week, I ran a report on this distributor focusing exclusively on iPad kiosk sales over the past four months. This distributor is primarily online, but one I suspect you don't know. They fly under the radar.
On their website, they created a category/menu for iPad Solutions. They also have Exhibit Design Search, which shows iPad kiosks in the Workstations and Counters Galleries. And, they've done several email broadcasts to their customers on iPad options. What are the results over the past four months?
Not bad. When you consider that they focused on MOD-1312/1314 until recently, it's even more impressive. Just this afternoon, I was told to expect an order for 10 more. Nice.
What about Other Tablets?
Although iPads represent the vast majority of orders we're getting, we have gotten a few requests for other tablets such as the Galaxy Tab and ASUS. It requires modification to the clamshell frame ($100 retail modification price), but the solution is sweet. Same anti-theft locks. Same clamshell frame. Same Swivel Stop feature. For cord management purposes, it works best in landscape mode, but if your client intends to use it in battery mode (9 hour battery), landscape or portrait is fine. We may not be able to accommodate larger tablets, but if you have one you'd like us to explore for an order, please let us know.
Unbranded Literature
Download the Unbranded iPad Kiosk Sheet
Download the Unbranded MOD-1312/1314 Sheet (promotional price)
Download the Unbranded MOD-1312/1314 Price List
MOD-1353, MOD-1355, and MOD-1357
Finally, just in case you haven't seen the Newest iPad Kiosk / Brochure Stands from Classic Exhibits, I thought I'd share. These were all designed by Katina Rigall. The details are available in the Workstations Gallery. All include the exclusive Portrait/Landscape Swivel Stop Rotation feature and internal wire management.
-Mel White
http://www.linkedin.com/in/melmwhite
mel@classicexhibits.com
*********************************
Based in Portland, Oregon, Classic Exhibits Inc. designs and manufacturers portable, modular, and custom-hybrid exhibit solutions. Classic Exhibits products are represented by an extensive distributor network in North America and in select International markets. For more information, contact us at 866-652-2100 or www.classicexhibits.com.
[subscribe2]