As someone who writes blog posts, I know there are good ones, great ones, and "Outta the Park" ones. This one by Charles Dugan at American Image qualifies as the latter. It's the best summary of pop up displays I've ever read — concise but detailed, fair but qualified. Here's a link to the original post, or you can read it below, complete with the links. Well done Charles! I look forward to reading the rest of the series where you discuss "Hybrids" and "Modulars."
**************************************
Trade Show Displays: Explanation of Pop Ups
Trade Show Displays have evolved in the last decade, and some of the terminology has evolved too, so we thought we'd go over some of the different exhibition stand construction techniques and what those different displays are called. The journey will take a few posts; in today's article, we'll start with a review of the venerable pop up display.
Pop Up Displays have been around for a long time. They use an expandable accordion frame structure, usually made from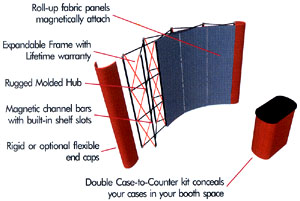 aluminum. This frame collapses into about a 20″ square, approx 30″ tall. When expanded, the frame literally "pops up" into place, hence the name "Pop Up Display".
Separate magnetic bars are hung in front of the frame, using hooks that attach to the top of the frame, and latches that attach to the hubs in front too. Then panels with magnetic strips on the sides and hooks on top are attached; these panels are roll-able, so they can store in the shipping case, and historically have held either Velcro-receptive fabric or printed and laminated mural graphics on the front of the panels.

Construction for pop up displays varies a little from one manufacturer to the next, using slightly different hubs and scissor arms, and offering different accessories. The frames can look almost identical to the casual eye, and sometimes even to an experienced eye. However, there is a range of quality that buyers should be aware of. The least expensive pop up stands are seemingly only intended for a few uses, because the plastic hubs and scissor arms break or bend pretty quickly. More durable pop up display stands use better engineering and stronger parts, and normally come with a lifetime hardware warranty.
Pop up display stands are available in 6ft, 8ft, 10ft, and 20ft widths, normally 8ft tall, to fit almost every trade show booth size requirement. They are also available in shorter, table top sizes. In these different widths, they are offered in a concave curve, a flat shape, and also as a serpentine or "S" shape. Some designs, particularly the floor height flat designs, offer side wall returns too. These different shapes can be combined, as illustrated in the rendering above, which shows a 10ft concave attached to a 10ft flat, with a 3ft side wall return.
Pop up display designs can combine fabric panels and laminated graphics. Most of the higher quality designs offer a variety of accessories; starting with monitor mounts and lights, but also including shelves, shadow boxes and internal lighting, as shown in the rendering above. Shipping cases are often ordered with case wraps, covering them with either a fabric wrap or a printed graphic, to convert the shipping case into a podium to be used at your show.
A variation on the pop up display was released a few years ago, and combines the pop up display frame with tension fabric graphics. One of the best known examples of this pop up display is called the Burst or VBurst display. As with the standard pop up displays, this new style pop up booth uses an accordion-like frame, with a single dye sublimation printed fabric graphic. The graphic is mounted with Velcro to the frame, and normally stays in place on the frame, even while disassembled. This reduces the set-up time for this style of pop up display from 15 minutes or so to one or two minutes — greatly appreciated by exhibitors!
The tension fabric graphic on the Burst pop up displays can come with or without side panels, and, while it is normally left in place, it can be quickly removed to swap out graphics. It can also be tossed into a washing machine, gentle cycle, if it becomes soiled. If these tension fabric graphics are left folded up in the case for too long between shows, the fabric can get a little wrinkled, but the fabric is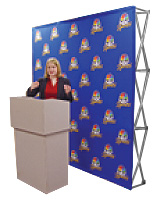 designed to be wrinkle resistant, and bringing a long a portable steamer solves the problem in just a few minutes.
The Burst comes in a variety of different sizes and shapes, including table top displays and floor standing displays, flat and curved, with or without graphic side walls. Because of its instantaneous setup, it is very popular with sports teams, governments, schools, and media outlets that frequently make press releases — 2 minutes and you've got a graphic back drop for your TV appearance or photo opportunity!
As with the standard pop up display, there are many manufacturers that claim to make tension fabric pop up displays that are identical to the Burst. Comparing the different products reveals that some of the frames are easy to break, and the best ones, like the Burst, come with a lifetime hardware warranty.
Similarly, the fabric graphic is difficult to get exactly right — some of the less expensive knock-offs use fabric that wrinkles a lot more quickly and never ever seems to get rid of the wrinkles.
As with the standard pop up display stands, the Burst shipping cases are available with graphic wraps, so the cases can be converted into podiums.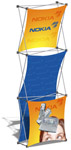 Another recent variation on the standard pop up display is called an Xpressions display. This system also uses an accordion-like frame combined with tension fabric graphics, but uses a lighter weight frame than standard pop ups. The Xpressions frames come in a wide variety of configurations. Each square formed by the frame is called a quad, and there are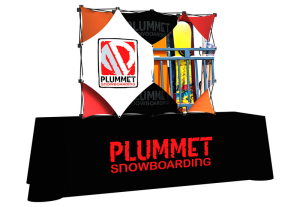 3 quad triangular designs, 1×3 vertical towers, 2×3's, 3x3s, 3x4s, 4x4s, etc.
The most innovative part of the Xpressions displays is the use of multiple graphic skins, which can be attached by buttons to either the front or back of the special Xpressions frames. Multiple skins allows quick changes to individual skins, showing a different product for different clients. Attaching the graphic to the front and back allows some 3D effects, creating different and unique looks for the displays.
Like the Burst, the Xpressions display system also allows the graphic skin to remain on the frame while collapsed. And like the Burst, the Xpressions frame sets up in seconds, and can be stored in a shipping case that converts to a podium. Also like the Burst, the Xpressions is available in both table top and floor standing designs; the table top version uses a smaller frame size, allowing Xpressions Salesmate table top pop up displays to fit into smaller carry bags for easy use in spur of the moment presentations.
The multiple skin graphics on the Xpressions allows a great deal more innovation, in graphics, and also in the hardware, and the manufacturer has been releasing some very intriguing accessories and modifications to the Xpressions displays recently. Both the floor standing and the table top frame sizes offer square graphic skins, rectangular graphics, and diamond shaped skins; all of these can attach in front, in back, or can be stretched from front to back, creating a variety of 3 dimensional effects.
More recent innovations include adding sheer transparent skins (for more 3D effects), backlit skins (LED lighting behind them), and most recently, special adapters and connectors that allow angled connections. This new feature, called Connex, allows users to create some fantastic new circular backwalls and towers – even round rooms. The graphic skins can still be squares, larger rectangles, or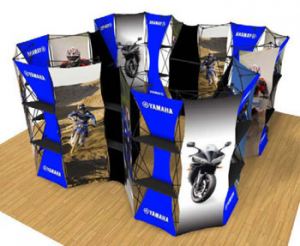 diamonds, and can also include the sheer skin and backlit skin options used on other Xpressions displays. With the new Xpressions Connex pop up displays, the only limit is your imagination!
This completes our review of the Pop Up Trade Show Display category. As noted, the common factor is the accordion-like, "pop up frame" that all of these systems use. The standard pop up stands use roll-able, heavier fabric or laminated graphic panels. These are still very reliable choices for displays — a client two years ago purchased five Quadro S Pop Up Displays, and last month told us that they've been to 75 shows so far with no visible wear and tear!
Newer style pop ups include the Burst and the Xpressions display systems. These feature fabric graphics instead of roll-able panels, making these newer systems a little lighter; since the graphic skins stay on the collapsed displays, setup and take-down is very quick. Whatever pop up display works best, you can find all the details and choices on our Pop Up Display web page.
Next post, we'll review the evolution of Panel Displays, before delving into Modular and Hybrid trade show displays.