Class is in Session
For seven years, we have been committed to "Shared Success." The concept is simple: What can we do to make our distributors better and to help them be more successful. Their success, in turn, makes us more successful. It requires listening, sharing, and implementing ideas to serve them and their customers.
For the past four years, we've talked about "Shared Knowledge." Shared Knowledge is our commitment to make as much information as possible available to our distributors via our website, our design database, and our past order database. This IP has proven to be invaluable to selling Classic exhibits to your clients. For example, many of the kits on Exhibit Design Search include links to the set-up instructions, graphic dim sheets, and photos of those kits (and variations of those kits).
Shared Knowledge University (SKU)
Now we are embarking on the next phase of this program: SKU — Shared Knowledge University. SKU is a comprehensive group training program at the Classic Exhibits facility in Portland Oregon, the first one will be held Monday and Tuesday, April 23rd and 24th.
Product training is not new to us. We average about one training session every three weeks, but those trainings have been small one-on-one sessions with a distributor and/or their sales team.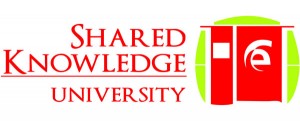 SKU is much the same, but also different. There will be 24 people from 10 companies for a group training schedule. The training promises to be comprehensive and intensive over two full days. It will include all the Classic Exhibits lines, as well as ClassicMODUL Aluminum Extrusion, Classic Rentals, Eco-Systems Sustainable Exhibits (by Eric Albery) and Optima Graphics (by David Brown).
The Eco-systems and Optima sessions will focus on their products and services and highlight how their companies partner with Classic Exhibits.
To say we are "excited" for Monday and Tuesday is to minimize how we are approaching these two days. Mel and I see it as our next step in supporting Shared Success.
For those attending, we look forward to seeing you and to having some good "off hours" fun as well. We are excited to show you what Portland offers during our dinner excursions.
For the rest of you, I will report back on the training and hope you will partake in this new program. We plan to make SKU a regular event three times a year. We will announce the next session soon, most likely in September.
On another note.  Business continues to be positive. We thank you for your business and hope you are experiencing the same success.
Have a great weekend!
–Kevin Carty
http://twitter.com/kevin_carty
http://www.linkedin.com/pub/kevin-carty/3/800/32a
Tags: Classic Exhibits, Eco-Systems Sustainable, Optima Graphics, Shared Knowledge University, SKU, training